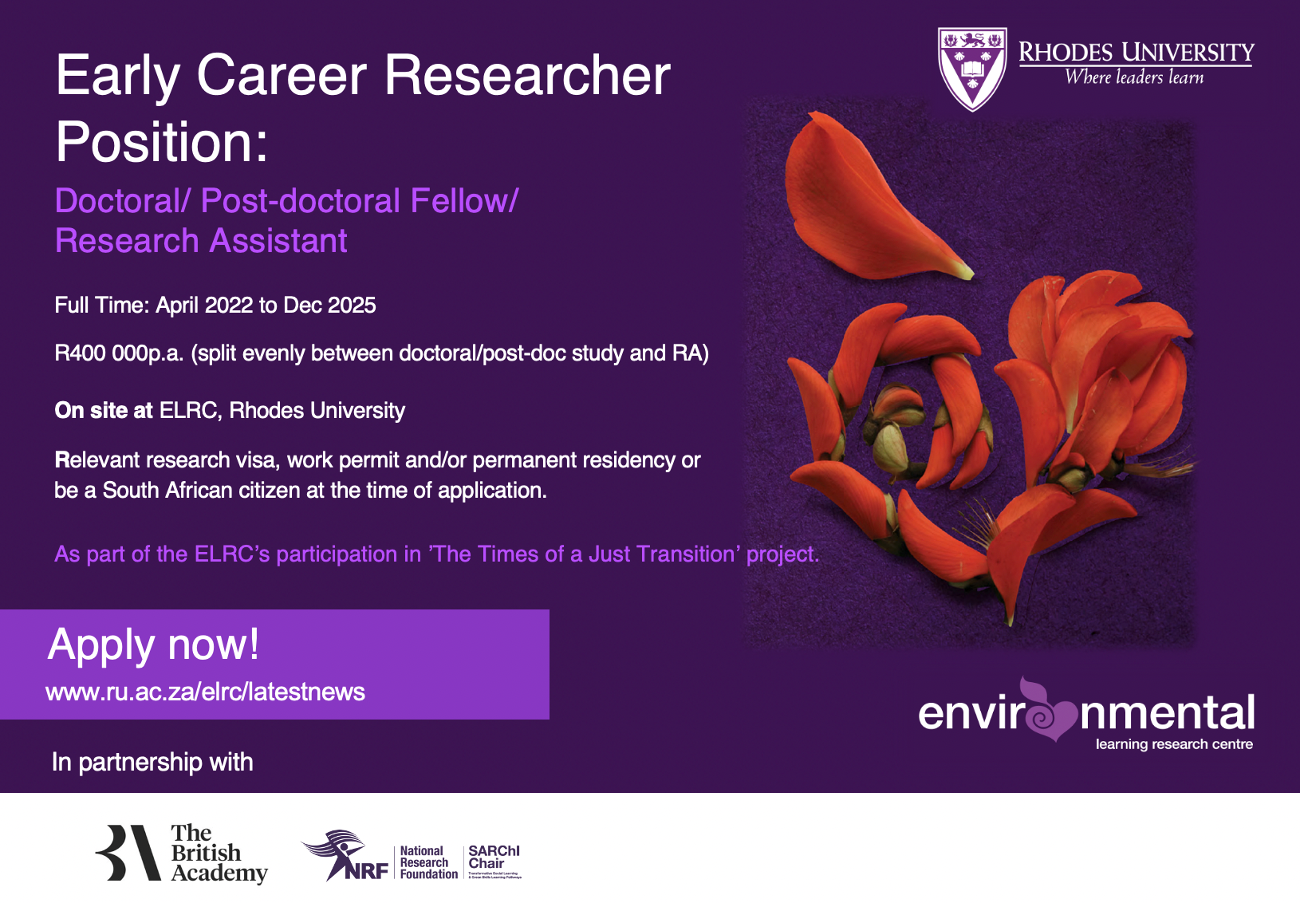 This is a full time contract doctoral/post-doctoral and RA research position for an Early Career Researcher / Post-doctoral Scholar to work with the SARChI Chair on Global Change and Social Learning Systems on a prestigious, and exciting international research project focussing on 'Times of a Just Transition' funded by the British Academy in collaboration with the SARChI Chair.
The Times of a Just Transition programme brings together leading researchers from six continents and 14 disciplines to explore the role of time and temporality in structuring justice in sustainability transitions. The programme comprises 20 independent projects exploring this question from different perspectives – ranging from the times of bodily hunger to intergenerational narratives of time in Indigenous knowledge transitions to the study of apocalyptic narratives in anti-climate populist networks. The PDRA will work in one of these projects (based with the SARChI Chair at RU), but will be linked to the rest of the programmes through participation in the overall programme.
The 'Times of a Just Transition' programme is brought together around the following beliefs:
First, that attending to time and temporality in sustainability transitions has the potential to radically deepen and transform our understanding of how justice is understood, contested, achieved or impeded; and
Second, that this insight can be translated into new tools for political negotiation and public dialogue to articulate and agree routes towards justice in our collective responses to climate change.
The role of the post-doctoral and research assistant (PDRA) on this project is to work alongside the SARChI Chair of Global Change and Social Learning Systems, Distinguished Professor Heila Lotz-Sisitka, to develop research-based insights into the educational and social learning dynamics of possibility knowledge(s) embedded in local languages and a diversity of just transitioning expansive learning processes. The PDRA should be willing to undertake expansive learning research with Eastern Cape communities involved in the Just Transition – inclusive of smallholder farmers involved in food, land and livelihoods transitioning, workers and employers in the Eastern Cape electric vehichle transition in Gqeberha and Buffalo City, and workers and employees working on biodiversity management, climate change adaptation and energy transition practices in the Eastern Cape. The SARChI Chair project 'Ixesha for Justice' meaning 'Time for Justice' is to explore possibility knowledge(s) and temporality concepts in meaning making processes (i.e. cognitive, hermeneutic and regenerative justice principles), and the implications for expansive learning, education, training and skills development for Just Transitions.
Application deadline: 31 March 2023
Read More Early Career Researcher Position