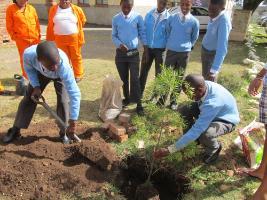 In September 2012, the Rhodes University Environmental Learning Research Centre hosted the annual Environmental Education Association of Southern Africa conference in Grahamstown. The centre was tasked with the 'greening' of the conference. This entailed reflection on the consumption of resources, minimizing damage to the local and global environment, protecting biodiversity and human health, and offering sustainable development options to the local people and economy. One of our chosen foci was travel and its associated carbon footprint.
Conference participants were reminded that every litre of petrol produces 2.35kg of CO2 when burned. At the conference we made use of the Food and Trees for Africa carbon calculator (http://www.trees.co.za/carbon-offset-calculator/carbon-calculator.html) to calculate how many tons of carbon dioxide had been produced from the travel of conference participants. To compensate for their travel footprint, participants were asked to donate money for tree planting in local Eco-schools in order to absorb some of the carbon dioxide.
The conference organisers received a donation of trees by the Makana Municipality towards this project and Mycoroot mycorrhiza from Dr. Joana Dames of Rhodes's Biochemistry, Mircobiology and Biotechnology Department. Participants' donations were used for fencing, compost, bone meal and labour to give each tree a good head-start in life. Conference delegates who chose to make a donation towards a tree received a badge which helped to spread the word about the initiative.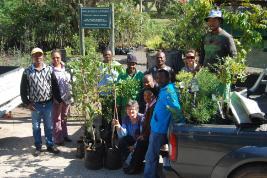 Makana teachers collect trees donated by the municipality. These trees were planted and fenced with funds raised by the EEASA Conference carbon footprint initiative.
During the conference, delegates were invited on an excursion to visit Eco-schools in the Makana area. It was on this excursion when 10 trees out of the total of 60 trees were planted with students, teachers and conference delegates in attendance. In April 2013, the final 5 trees were planted at Archie Mbolekwa High School – another one of the Makana Eco-Schools. Members of Rhodes student organisation WildReach accompanied the action by an educational input for staff and learners and promised to check on trees and fencing and provide continued support if needed.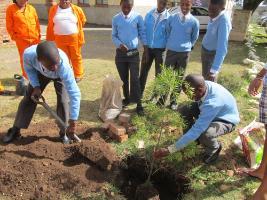 Students from Archie Mbolekwa High School plant the last of the 60 trees.
Learner from Samuel Ntlebi waters the first tree planted through funds from the EEASA Conference carbon footprint initiative.
Thank you EEASA Conference delegates and thank you Eco-Schools for looking after our trees and keeping the carbon sink moving!