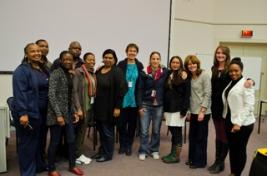 It was an inspiring evening in July 2014 when the Rhodes University Environmental Learning Research Centre (ELRC) post graduate students and staff led by Ms. Presha Ramsarup, a Greenmatter Fellow, and Prof. Heila Sisitka a Senior Greenmatter Fellow, shared their diverse career growth with a group of Rhodes University students who came from a broad range of disciplines. This event was part of the monthly career lounge series that are facilitated by the Rhodes University Career Center, Prof Ric Bernard and the student organisation- the Catchment Research Group (CRG) in partnership with Greenmatter and WWF-SA. The essence of the evening was to demonstrate to the students the vast career opportunities and various possible entry points into the biodiversity sector.
After introducing the ELRC which was the binding thread of this tapestry of this array of stories, scholars (Including Munsie, Zintle, Tich, Caleb, Presha, Sirkka, leanne ) shared how they entered the sector, where they were with their careers, and how they saw their careers panning out. The key things that were emerging from the stories were that:
Because the environmental field is still new and evolving, so were the careers followed and the pathways taken by the individuals to get where they were;
As the contexts were changing, new information was surfacing, new challenges and new solutions were emerging – hence the constant need for research, outreach, education, skills development, policy development and advocacy.
As the environmental challenges were cross cutting across sectors, fields and geographic scope, the scope of careers was also multi-sectoral, multi-institutional,:
Although very few of the lounge panel participants started with environmental studies in their first degree, their stories highlighted some common tools and processes they used at various stages as they grew their careers. These were mainly continuous upskilling as the opportunities appeared, drawing from their previous insights to rethink and reshape their practices, keeping, interacting with and contributing to a network of likeminded groups.
In short, because the environmental permeates all spheres of life, every current career can and should be greened; while skilled development and career pathways are being developed and evolve, there is plenty room for self-specialisation and career shaping.
Although the ELRC focuses on Environmental Education and Education for Sustainable Development, it is a friendly sustainability commons that is open to engagement with everyone as many of us come from a myriad of professions and career background.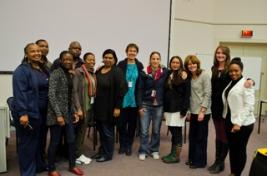 From right to left: Karabo Karabo Chadzingwa (CRG), Jordan Miller (CRG), Sarah Green (Career center), Priya, Leanne, Heila, Presha, Zintle, Caleb, Sirkka, Tichaona, Mumsie.