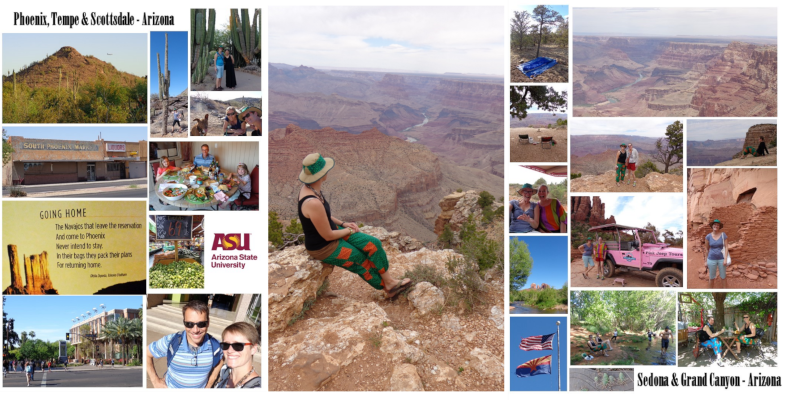 On the 1st of April 2018 I officially started my Postdoctoral Fellowship at the Environmental Learning Centre, and on the 9th of April I was already off on the first international research trip of my career post-PhD. I spent three weeks in Arizona (going from 'A'), United States, and three weeks in Brighton (to 'B'), United Kingdom. A few phrases come to mind which describe the essence of the academic experiences and reflections from the trip: collaborating on collaboration; diversity and contestation; conditional pluralism; opening up and broadening out. I'll unpack each of these as I describe my experiences on this mind and heart-opening trip from Arizona to Brighton and eventually back home.
Lift off: A for Arizona!
In Arizona I visited Professor Michael Schoon and his research group (the 'Col-lab') at Arizona State University. They are based at the School of Sustainability and collaborate closely with the Centre for Behaviour, Institutions and the Environment. My trip was motivated by a shared research interest in collaborative management and governance of natural resources, and our involvement in an international working group (part of the PECS research network). The purpose of my visit was firstly to network and get to know Mike and his research group, learning about the work they are doing on collaboration and sharing the different contexts, methods, and theories we are working with to better understand collaborative processes for sustainable natural resource management. I enjoyed learning about fellow researchers working on cases as diverse as wild horses in Arizona, river restoration in the Colorado watershed, irrigation management in India, international conservation treaties, and firescapes in the Southwestern USA. Interestingly, even from just our few early conversations, we already seem to agree on some of the key enablers of collaboration among diverse stakeholders, including for example long-term relationships and trust, good leadership and facilitation, and a shared interest or vision (see for example this Practitioner Brief on Factors for Effective Environmental Management Collaboration published by Prof Schoon's working group).
We are looking forward to furthering our 'collaboration on collaboration' and will be using the PECS Working Group as a platform to begin comparing case studies of collaborative initiatives across diverse contexts. We hope to tease out the interplay between unique contextual factors that mediate collaboration, and generic enabling factors or lessons that can be lifted out across a range of different contexts. It was encouraging to find that although we work with our cases in different ways, there is a shared excitement amongst the group to find effective and meaningful ways of bringing our cases together and learning from each other in a grounded and generative way.
I found the experience of living in a rapidly expanding desert city, which is further characterised by distant and uncertain water supplies, deep social inequalities and a struggling public education system a real eye-opener: the challenges we face in South Africa are by no means unique, and the world as a whole is changing rapidly. Sustainability-thinking has a key role to play in our responses and we can all benefit from more international exchanges to share ideas on our common challenges. I was inspired by the strong emphasis on sustainability on the Tempe campus of Arizona State University: from the solar panels, to the water-efficient gardens, to the water refill stations which tell you how many plastic bottles you've saved.
Although this academic exchange was the primary purpose of the trip, I was also able to spend a few days of leisure time exploring Arizona. I met up with a dear friend and visited the beautiful red-rock town of Sedona for two days, and then headed to the Grand Canyon. I was absolutely stunned by the sheer size of the canyon. I was humbled by the prehistoric history which is so evident in the ancient rock layers which have become visible over 70 million years of erosion. Sitting on the edge of the canyon looking down into it really gave me a different perspective of scale – both time scales, and spatial scales. It brought home how humanity's time on this planet has just been a blink of an eye. I loved camping under the stars amongst cactuses and Ponderosa pines, hearing coyotes howling at night.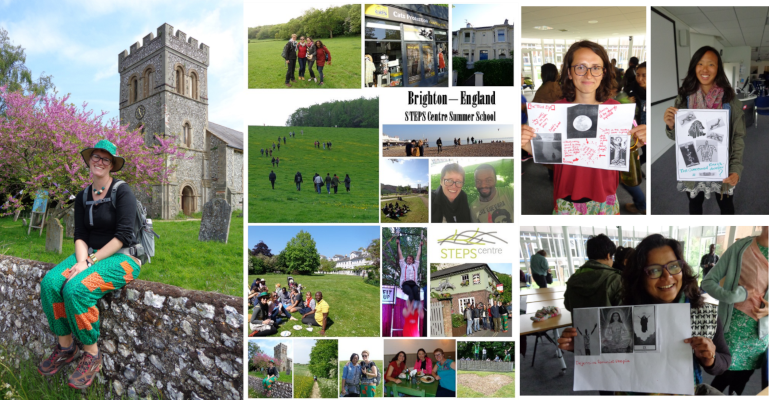 Next stop: B for Brighton! From the big wide starry night skies of Arizona, I hopped on a plane and jumped a few times zones to get to the bustling and festive little city of Brighton in England, UK. Here I came to participate in the STEPS Centre Summer School along with 41 other scholars from 25 different countries. I also had the amazing experience of meeting fellow participant Mnqobi Ngubane for this first time – we grew up a mere 30km apart from one another back home in rural KZN and have been shopping in the same supermarket for 30 years but have never met. It took a shared passion for sustainability and social justice to bring us together at the Summer School in Brighton – what a moment! (You can read more about this feel-good story in this news article).
The STEPS Summer School is built around the 'pathways approach' which is a key contribution into sustainability studies of the STEPS Centre. We debated whether the 'pathways approach' was a brand, a framework, a theory, a methodology or a way of thinking. It seems that it can and should be all of these, depending on how it can serve our work and the normative goals of environmental sustainability and social justice which we work towards.
The diversity of participants on the Summer School felt like a beautiful gift in addition to meaningful interesting conversations and stimulating academic material which was presented to us. However, it also became apparent through various personal interactions and shared experiences that out of diversity, contestation often arises. This was a theme which we explored not only academically by thinking about the challenge of 'navigating plural pathways for sustainability' in an academic sense, but also in how we navigate diversity and contestation in our personal and political lives among people of very different world views, cultural backgrounds, orientations, and levels of experience.
The theme of pluralism was explored in a variety of ways in the Summer School, and am important caveat was introduced to use by Andy Stirling – conditional pluralism. Critics of pluralism raise concerns that a pluralist philosophy might in fact suggest that 'everything goes'. This is not what the STEPS Centre is advocating – rather, they are suggesting that in a complex world, one should recognise a plurality of knowledges, options and alternatives (to match and recognise the diversity and arising contestation inherent in complex social-ecological systems), under various conditions. For example, if exploring alternative energy options, one might consider five or six different energy options, and be open to all of them, but recognise that they all come with different constraints and will be suitable in different conditions and contexts i.e. they come with strings attached. Participatory and transparent processes of dialogue, negotiation and deliberation are necessary for people to discuss the pluralistic basket of options available and come to decisions about ways forward. So maybe the message here is not 'everything goes' but 'many things could go, all have strings attached, and we need to deliberate them openly'.
The notion of 'opening up and broadening out' is founded on this pluralistic orientation, calling for inclusive political and social processes. It soon became apparent that this is a difficult process to manage – how wide should you 'open it up'? How do you facilitate and whom do you invite into 'the open space'? How do you move forward from considering a pluralistic basket of options towards a decision that people can act on, allocate budget to, and decide on clear roles and responsibilities for implementation? Many of us shared practical experiences from our own work and contexts to illustrate the challenges of putting some of these abstract, academic ideas – which we all like the sound of – into practice. These conversations about the practical and everyday and also the personal, professional, and political challenges we face in realising the ideals of the pathways approach continued after the formal sessions, and we have captured some of them in a blog post which we put together after the Summer School.
During the participatory 'student conference' hosted by the participants on the 2nd last day of the Summer School we experienced a creative line-up of activities, performances, presentations and experiential learning opportunities. Thanks to Leah Temper, Dylan McGarry and Lena Weber from the T-Learning and ACKNOWL-EJ teams, I co-hosted a deeply moving process for scholars to explore their multifaceted identities as sustainability scholars. We drew on the 'From Academic to Political Rigour: Insights from the 'Tarot' of Transgressive Research', a work-in-progress written by Temper et al., to facilitate the process. We set the scene through a role-play of fortune-telling. We then created an atmosphere of quiet reflection and introspection, inviting participants to walk along pathways of images laid out on the ground to select images which helped them express different aspects of their identities as sustainability researchers. They could then put these together in a collage and think about a name to describe their researcher identity or 'archetype'. A number of participants shared how helpful and meaningful, but also emotional, this tarot experience was for them. The challenge we face in balancing our multiple identities as sustainability researchers is one that we all share and is something which seemed to unify us in this tarot process, despite many other differences.
It has been such a privilege to be able to spend these 6 weeks connecting internationally with new collaborators, reflecting on my researcher identity and possible pathways for my career in sustainability research, and building my various capacities as an early-career researcher. I have been challenged to think deeply about how to be in this world, and how to navigate the complexities of the personal-professional-and-political realities of conducting normative sustainability research in such an unequal and rapidly changing world. I thank Georgina Cundill and Michael Schoon for funding support and encouragement for the Arizona leg of the trip, and the STEPS Centre for funding my attendance at the Summer School in Brighton. Having gone from A to B, I can't wait to see what C, D, E etc. have in store for me in this research journey!
By Jessica Cockburn, Postdoctoral Fellow at the ELRC