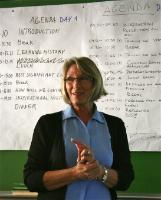 "It's very important to marry learning with doing," said Dr Shepard Urenje, at last week's Supporting Urban Sustainability (SUS) conference. Attending the meeting were Swedish and African partners which included the Makana Municipality and local NGO, Umthathi Training Project. The partners reflected on their year engaging with local environmental and sustainability issues and interactions with cities from around the world. The purpose of the programme is to address sustainability and livelihood issues for urban populations through various small development projects, and to do this more effectively by learning through a network of international partnerships.
The two-day meeting brought out the challenges and successes of each urban initiative, hoping to refine and encourage the participants and their projects. The Makana partners shared their experience of starting three income generating gardens and home gardens in one of Grahamstown's poorest areas. The intention was to restore a culture of agriculture in the area, thereby placing livelihoods and food security in the hands of individuals. The strength of such a project was located in its capacity to empower and encourage personal agency. "The project was not owned by anyone -- not SUS, not Rhodes -- but the people," said Umthathi Director Marlene Mitchener. Mitchener commented that in the beginning when searching for stakeholders to partner with, people and organisations came almost self-selected, there such initiative.
Some of the project's activities included hosting a workshop on World Food Day for youth groups and various other gardening workshops. The project was also represented at the Grahamstown Flower Festival and successfully encouraged the festival to create a category for township gardens -- the only one in South Africa. Throughout the year the main focus or strategic inquiry of the Makana project was constantly referenced to ensure its relevance to the community. As a result, the inquiry shifted to more broadly incorporate the promotion of a green economy.
"Urban areas tend to disconnect people with the environment and this can be a successful way of reconnecting," said Dr Urenje of the project. "This garden is proof that small development projects work because they develop agency."