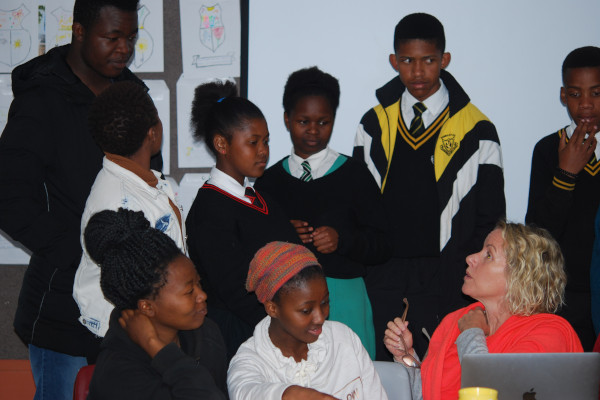 Rhodes > ELRC > Latest News
Makhanda Youth share stories of their City for Documentary
Date Released:
Fri, 16 August 2019 20:15 +0200
Pupils from Seventh Day Adventist School, Ntsika High School and a group of out-of-school youth were hosted by Rhodes University's Environmental Learning Research Centre (ELRC) in a workshop with international film director, Amanda Blue. The workshop was the springboard for a documentary on the lives, well-being and environmental concerns of Makhanda youth. Youths each wrote a letter to their city with inspiration from Amanda who shared some of her touching and thought-provoking documentaries on the human experience. Inspired by the letters, participants were invited to share their stories on camera and, over five days, the youth took the film crew on multiple personal journeys sharing Makhanda's many wonderful and challenging facets.
The documentary is being made alongside the CYCLES research project. CYCLES is an international study led by the Centre for Understanding of Sustainable Prosperity at the University of Surrey and funded by the UK's Economic and Social Research Council. The ELRC is one of six institutions across five continents partnering in this project – eliciting and sharing the stories of youth from seven sister cities in Christchurch, Delhi, Dhaka, London, Makhanda, São Paulo and Yokohama.
Source:ELRC, Associate Prof Ingrid Schudel