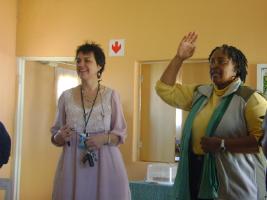 The Umthathi Training Project, located in Grahamstown, Eastern Cape has a new Director in the person of Mumsie Gumede who took over from Marlene Mitchener this year. Today, Friday 7th September, the Environmental Learning Research Centre (ELRC) staff members and postgraduate students, including the representatives of the SADC REEP and the 2012 RU/SADC REEP Alumni made a grand visit to the Umthathi Training Project to joyfully welcome the new Director.
This project started in 2008 with the vision of increasing the number of people in the Eastern Cape with improved quality of life by developing their knowledge, skills, activities and networks, which is necessary for healthy living. This is done through an integrated capacity-building programme in organic food production, nutrition and health, income generation, cultivation and conservation of useful indigenous plants.
The project has staff members complement of 12 with the responsibility of working with schools, communities, 'out of schools' youths, religious groups, and individuals; training them in order to facilitate their development. It also facilitates relationship building and linkages to appropriate institutions and sources of information thereby promoting environmental awareness, cultural awareness, labour-saving techniques to grow and use vegetables, medicinal plants and other useful indigenous plants for increased nutrition, health and livelihood security in homes, schools and wider communities.
The project runs agricultural programmes, community development programmes, school programmes including a radio journalism programme with the aim of producing gardening/healthy living. The slot is on Radio Grahamstown 102, every Friday between 10h30-11h00. For more information, please visit www.umthathi.co.za or their facebook page.