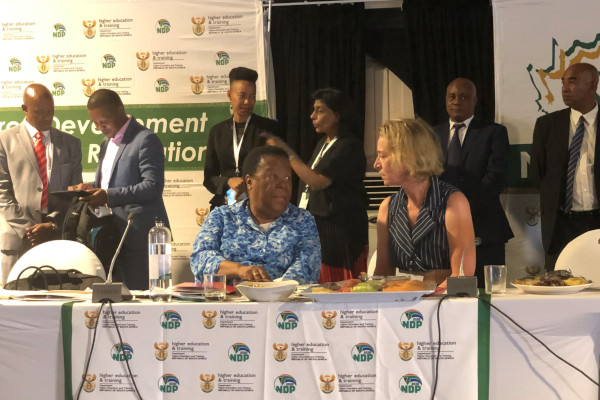 Opening the National Skills Conference on 14 March, Naledi Pandor, Minister of Higher Education and Training, highlighted three things delegates need to attend to:
Quality and excellence
Economy – A better understanding of and responsiveness to "where the economy is going"
Skills gaps – A better understanding of where the critical skills gaps are and how to respond.
Prof Eureta Rosenberg from the Rhodes-Wits REAL Green Skills Programme shared with the Minister the methodology developed in the programme leaflet that, through its laminar, transitioning systems framing and iterative macro – meso - micro process, allows us to identify green skills needs that would otherwise remain hidden. The alternative economics framing that recognizes the commons, households and governance as equally important components of the economy, along with the markets, helps us to better understand "where the economy is going" and what skills we need to help all citizens inclusively participate in the economy and contribute to society – the two high level goals of South Africa's PSET system. Economic growth is important, but cannot be the only lens for developing skills. Rehabilitating mined areas, for example, or fixing poor sanitation or water leaks, might not be recognised as economic growth areas, but can create jobs, more productive working and living environments, and increase human well-being while reducing health and welfare costs. The ability to unlock the funding for such green work, is among the high level green skills (in resource economics, green accounting, financing, investment and banking) we also need.
Minister Pandor noted the need to understand local economic development frameworks when doing skills planning. In the Green Skills research programme we have found similarly that a city or rural regional scale could be the best scale for determining skills needs, and advising education providers, learners and skills investors where to put their money and effort.
Ms Pandor also urged delegates to grasp the fact that we have innovation capability in the country, and that we should not be scared to focus on quality and excellence. Green work requires high levels of innovation and we have indeed already such examples in South Africa: from a group of UKZN students designing a carbon filter for villagers to safely and conveniently purify their water, to the hydrogen-platinum fuel cell developed as a value-add to the mining industry. We need much more innovation for the green economy, of a technical and scientific nature, as well as a social nature. Often our ability to grasp the opportunities offered by new green technologies, like renewables, or mine waste remediation technology, is hampered by our ability to organise ourselves, roleplayers and finances, effectively.
With a ZAR15 billion annual budget and a further ZAR30,8 billion for student support, PSET in South Africa is better resourced than others on the continent and many elsewhere in the world. Minister Pandor suggested that we cannot complain of too few resources. The challenge is to derive better value from what we do have. We need to do better, and "better" means effectively and with impact. We need to focus on outcomes and when we evaluate PSET, we need to focus on impact.
This focus on outcomes and impact was further picked up by the Minister of Planning, Monitoring and Evaluation in the Office of the Presidency, Minister Nkosazana Dlamini-Zuma. All parties also emphasised the importance of partnerships and cooperation. The OECD (Organisation for Economic Cooperation and Development) labour market economist, Dr Marieke Vanderweyer, also noted the need for cooperation among roleplayers in skills ecosystems.
Rhodes ELRC students under the leadership of the SARChI Chair in Global Change and Social Learning Systems, Prof Heila Lotz-Sisitka, have explored the skills ecosystem in the Amanzi for Food programme involving Rhodes University, Fort Cox Agricultural TVET college, Water Research Commission, small-scale farmers and rural youth groups.
In Rhodes' Chair in Monitoring and Evaluation in a SETA Environment, headed by Prof Rosenberg, we will be evaluating the links between all the roleplayers required for successful enterprise development in a township context, to enable those receiving related training, to start and sustain businesses. In this project, funded by the ServiceSETA, the focus will be on the Joza township at Grahamstown/Makhanda and using an activity system methodology.