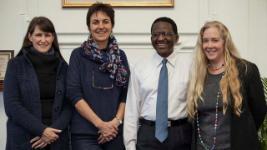 Rhodes has been awarded three more SARChI chairs. The South African Research Chairs Initiative (SARChI) was established in 2006. Minister Pandor has this morning announced the names of the SARChI Chair awardees for 2015, three of whom are from Rhodes: Dr Adrienne Edkins, Prof. Ruth Simbao and Prof. Heila Lotz-Sisitka. This brings to 14 the number of SARChI chairs awarded to Rhodes University, or 7% of all chairs awarded to date.
SARChI is an intervention of the South African government designed to garner and preserve excellence in the area of research and innovation at South African universities. The latest call for SARChI Chairs was reserved for women researchers. With the recent appointment of Lotz- Sisitka, Simbao, and Edkins, the percentage of women occupying SARChI Chairs at Rhodes University is now 50%.
Based in the Environmental Learning Research Centre, Lotz-Sisitka is a professor in Education, and holds the Murray & Roberts Chair in Environmental Education at Rhodes University. For the past 22 years, her research has focussed broadly on education system development and transformative social learning for green, more socially just and sustainable economies and societies at local, regional and international levels.
Lotz-Sisitka explains that being awarded the SARChI Chair will allow her more time for in-depth work on this research interest, and to obtain dedicated time for more research and writing in other areas.
"I am particularly interested in extending the research into a stronger focus on transformative social learning, green skills learning pathways and the implications of this for the common good," said Lotz-Sisitka, "I am also keenly interested in participation in education and learning in a social-ecological system context. I believe that such research is needed if societies are to adequately respond to the ever-burgeoning risks and injustices associated with environmental degradation and ongoing degradation of the commons."
Simbao works in the Rhodes University Fine Art Department as an Associate Professor. Her research for the Chair 'Geopolitics and the Arts of Africa', challenges dominant knowledge structures in the North that produce a skewed discourse on African art. Simbao aims to turn around notions of privilege arguing that rather than being used and labelled by North American and European scholars, African art and scholarship is able to determine its own dominant discourses.
"A critical aspect of my research is reciprocal engagement with scholars in other African countries, which contributes to the development of the local production of new scholarly knowledge on the arts of Africa" Simbao explained. "[Being awarded chair] means having the space to focus on what I am most passionate about – to develop the ideas that keep me awake at night, and to do so with scholars and artists across Africa who are energised by similar concerns and ideas."
Edkins is the Director of the Biomedical Biotechnology Research Unit (BioBRU) and a senior lecturer in the Department of Biochemistry in Rhodes University's Faculty of Science. Her research is aimed at developing a detailed understanding of how eukaryotic cells respond to physical or environmental stress in the presence of toxins or heavy metals, extreme temperatures, lack of oxygen or mutations in genes. Edkins explains that being awarded the position of SARChI Chair will make for better research for both her and her students.
"This award will provide me with the resources, support and time to drive an ambitious research programme that will allow us to become world leaders in our field," said Edkins. "Linked to this is the ability to create new national and international collaborations, and to introduce world class technologies to my laboratory, both of which will increase the training opportunities and research exposure for my postgraduate students."
The award sees a great contribution to South African research knowledge and promises a new generation of high quality researchers for Rhodes University. The three SARChI Chair holders will not only produce their own research and postgraduate students, but contribute invaluably to their individual disciplines and to the benefit of all who work and attend Rhodes as well as other South African universities.
This concentration of chairs does wonderful things for the intellectual space of Rhodes, the smallest established institution, making up 0.75% of the sector. The latest SARChI call was reserved for women researchers, and has succeeded in bringing the percentage of women chairs supported by this national programme up to 40%.
SARChI was established by the Department of Science and Technology (DST) and the National Research Foundation (NRF). It is a strategic intervention of the South African government designed to attract and retain excellence in research and innovation at South African universities. In particular, the programme is aimed at increasing national research capacity, both through the creation of the chairs themselves and through the development of postgraduate students, the generation of new knowledge makers. It is also intended to support the realization of South Africa's transformation into a knowledge economy in which the generation of knowledge translates into socio-economic benefits. Since the programme's inception, 154 Research Chairs have been awarded in various disciplines and research fields and the programme has been successful in retaining leading South African scientists in the university system and attracting leading foreign researchers and expatriate researchers to South Africa. The award this week of 44 new chairs occupied by women will significantly increase the capacity of this impactful national programme. Minister Naledi Pandor has championed the awarding of chairs to women incumbents.
Amongst the first SARChI chairs awarded in 2006 was Africa's iconic woman researcher, Distinguished Professor Tebello Nyokong, who from her laboratories in the Nanotechnology Innovation Centre at Rhodes University has become amongst the most productive and influential researchers on the continent, attracting accolades and recognition from across the globe.
Main photograph: Dr Adrienne Edkins, Prof. Heila Lotz-Sisitka, Dr Sizwe Mabizela and Prof. Ruth Simbao
From left to right: Dr Adrienne Edkins, Prof. Ruth Simbao and Prof. Heila Lotz-Sisitka
Photographer: Ruan Scheepers
Article by: Dave Mann