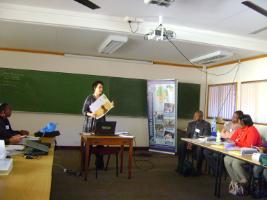 The Southern African Development Community (SADC) Regional Environmental Education Programme (REEP) commenced today the 27th of August, her yearly Rhodes University/SADC International Certificate in Environment and Sustainability Education Course at Rhodes University, South Africa. This year's course is slated to take place for two weeks, ending on the 14th of September and the overall theme is "Leadership for Environmental and Sustainability Education in SADC."
In attendance are 14 participants who are all environment and sustainability professionals from the Southern African region including Democratic Republic of Congo, Lesotho, Namibia, Malawi, Zimbabwe, Swaziland, Tanzania, Seychelles, Zambia, Mozambique and South African. These participants were expected to attend the course with a pre-course assignment focused on
reviewing their practices in environmental and sustainability education over the past 5-10 years. This they did by identifying what they consider leadership roles and leadership practices to be, identification of factors that enable or constrain their leadership roles and practices, description of new emerging environmental and sustainability leadership opportunities in their work context
and finally to identity what needs to be done to expand environment and sustainability actions in their workplaces and countries.
Presentations lined up to assist participants in furthering their Education and Sustainability Development (ESD) leadership roles and practices in SADC include new directions in water science, new direction in learning theory, new direction in environmental science; sustainability leadership in Africa; ESD learning processes and capabilities; expansive and social learning trends and new development; educational quality; and reflexive and systems approaches to evaluation. Other presentations will focus on topics such as course design and reflexive professional development; from Tbilisi to Tbilisi: 35 years of environmental education and ESD internationally; and sustainability leadership in Africa.
Presenters invited to feature during the two weeks course are respected professionals from various disciplines and fields including Prof Heila Lot-Sisitka, Prof Tally Palmer, Prof Fred Ellery, Prof Owen Skae, Prof Jay O'Keefe, Dr Sheona Shackleton, Ms Laeticia Greyling, Mr Charles Chikunda, Dr Geogina Cundill, Mr Tichaona Pesanayi, Mr Dick Kachilonda, Ms Ingrid Schudel, Prof Peter Corcoran, Michelle Craig, Prof O'Donoghue and Mr Clayton Zazu. Participants are very enthusiastic about the course and have expressed their various high expectations such as learning new leadership skills and styles; gaining expertise in material development to enhance their leadership roles and practices; overcoming challenges in exhibiting their leadership roles; improving policy; meeting the ESD challenges of the 21st century and so on. For further information please contact the course facilitator, Mr Caleb Mandikonza on caleb@wessa.co.za