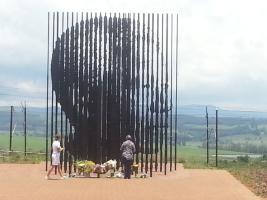 Staff and scholars at the Environmental Learning Research Centre, like others around the world offer their sympathy to Graca Machel and the Mandela family at the sad passing of apartheid activist, liberator, former President of South Africa, world leader and champion of children's well being, Nelson Rolihlahla Mandela (18 July 1918 - 5 December 2013). We were sad to see you go Tata Madiba, and you will be greatly missed. You provided a strong moral compass for all of us. Phumla Ngoxolo.
Former President Nelson Mandela, during his term as Chairman of SADC, physically signed the SADC Regional Environmental Education Programme into being. This, as we know, has been a magnificent programme in the SADC region, and has touched many of our lives. In 1997, in his term as President of the Republic of South Africa, Nelson Mandela endorsed the work of the Environmental Education Association of Southern Africa, and the 1997 Annual Environmental Education Association of Southern Africa (EEASA) Conference, which had the apt title at the time of 'Progress or Paradox'. He sent a letter of support to the conference, which was one of EEASA's first big international environmental education conferences, held in Howick, just near the site where he was captured. So many EEASA and SADC REEP scholars have visited that site over the years, where today a magnificent sculpture stands. It was also President Nelson Mandela's government that strongly supported the inclusion of environmental concerns into the Reconstruction and Development Programme, and who recognised that the right to a healthy environment is also a human right, as captured in the South African Constitution. It was also during his time that the environment was included in the South African national curriculum for the first time, with a strong social justice / human rights approach.
Tata Madiba will be remembered for many things, but the one that stands out for us, is his love of and commitment to children and their well being. To remind us of his message and to reflect on his life, Professor Heila Lotz-Sisitka, Director of the Rhodes University Environmental Learning Research Centre, wrote a paper capturing both his commitment to children, as well as the commitment that we all still need to make to their well being. The paper entitled 'We must put our own children first' can be downloaded below. The paper will be published next year in revised form, in book on Intergenerational leadership, learning and sustainability, to mark the end of the UN Decade of Education for Sustainable Development.
‌
Caption: Mandela capture memorial, outside Howick.