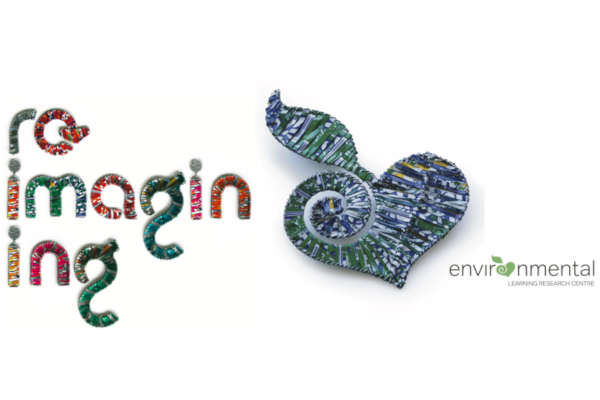 The Environmental Learning Research Centre (ELRC) is excited to announce a bold new platform within the National Arts Festival programme entitled: Re-imagining Creative Practice in Sustainability
The Re-Imagining Festival is a celebration of ecological citizenship and the ELRC's learning and wisdom. It is a gathering together of an eclectic group of practitioners in order to share with visitors the role that creative practice has played in re-imagining sustainability in the context of global south realities. The festival was founded in 2010 by Dr. Dylan McGarry, a senior researcher at the ELRC, who is also a multimedia artist, theatre-maker and environmental sociologist. Of the platform, Professor Heila Lotz-Sisitka, who has always encouraged and nurtured arts-based research and action at the Centre, says "We need radical new forms of environmental education.... we need to do the (care)full work of enabling creative and materially significant environmental adaptation practices that emerge from situated and contextually significant contexts and cultures." McGarry meanwhile reflects that "Our imagination is a product of nature and equally as vulnerable and worthy of protection as a rare species of flower or frog".
This years Re-Imagining Festival programme is co-curated by Kyla Davis, an accomplished South African director, performer, theatremaker, activist and mother. She is the founder and director of Well Worn Theatre Company, an independent physical theatre company best known for creating wildly entertaining plays around eco-social themes. McGarry and Davis met during the build up to the 17th UN conference of the parties (COP) climate negotiations hosted in Duran in 2011, where they worked as creative activists aboard the Climate Train. The train operated as a social activist circus, travelling to seventeen towns in South Africa, listening and surfacing stories of social and environmental justice in South Africa in order to share at COP17. The train was a vehicle for mobilising deep empathetic and creative processes among participants. The Climate train was a project they co-created alongside many others, and this Re-Imagining Festival re-unites some of those same practitioners almost a decade later. Well Worn's repertoire of recent work for young audiences was invited onto the Main Festival programme in 2019. All four productions explore the themes of eco-social challenges; whether responding to water pollution and access in 'Galela', plastic pollution in 'Plastocracy', to early childhood experiences of industrialisation and reconnection to nature in 'Rat Race' and also exploring the link to social movements responding to the climate crisis in 'Burning Rebellion'.
Kyla is a South African pioneer in using creative practice not only as a medium for communication and translation of knowledge, but also as an instrument in developing new knowledge and exploring embodied practice-based research. Her experimental site-specific work Swarm Theory, in collaboration with Daniel Buckland and a sixteen-strong physical theatre ensemble, explores the role of empathy, intuition and careful attentiveness of those around us, as well as the wider ecosystem, in developing a keener more proactive response to collective action for the common good. Of the Human Swarm, Kyla says that it is a 'playful, physical meditation on the possibilities of collaborative human intelligence'. Swarm Theory can also be seen on this year's Main Programme at various locations across Makhanda.
Together McGarry and Davis have developed an inspiring mini-festival packed with theatre and performance, exhibitions (a group show of environmental scholar activists entitled Wisdoms), films (a series of short films exploring creative responses to very particular global south environmental challenges) and workshops and talks (visiting guests from Egypt and South Africa explore the relationship between creative practice and decolonising sustainability). With this programme, the ELRC also collaborates with the recently renamed Amazwi - South African Museum of Literature (formerly known as the National English Literary Museum). The exhibition curated by Tom Jeffery explores the ways in which South African literature expresses the complex relationship between humanity and nature.
The four day programme will form a living classroom for ecological citizens, where our fellow community members are our teachers. As McGarry reflects:
"... it is more than just a festival, it is a social learning classroom for ecological citizens, the classrooms we need now do not resemble anything we are familiar with, they are amorphous, uncanny and opportunistic, they sit both in the traditional outer realms between apprentice and mentor, but also in the inner realms of intuition, imagination and inner perceptivity - our classrooms need to be suitably strange and filled with stories, songs and lots of colourful paint".
The festival also overlaps with the Masters in Environmental Education learning week, where festival visitors can meet the students, researchers, and professors of the centre and explore the various creative ways in which responses to socio-ecological problems are crafted together carefully at the ELRC.
The Re-Imagining Festival is supported by the South African National Research Foundation/Department of Science and Technology Chair in Global Change and Social Learning Systems at Rhodes University, as well as in-kind contributions from Well Worn Theatre Company.
Programme day-by-day below. To view the programme by venue and read more on the various exhibitions please click here.
Thursday 27 June
Friday 28 June
Sat 29 June
Sunday 30 June
Please note:
All events are free except for 'Galela', 'Plastocracy' and 'Rat Race'.
Tickets for these performances may be booked via the links or on the NAF website