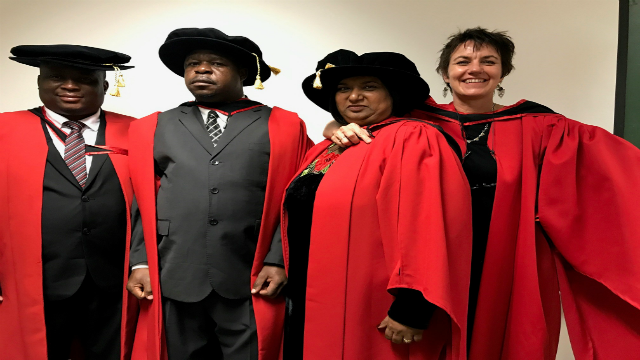 Three PhDs and 8 M.Eds graduate!
The 2017 graduation ceremony saw three new PhDs graduate from the Environmental Learning Research Centre! Their work spans the southern African region, and makes contributions to knowledge at the cutting edges of community-based irrigation scheme development, teacher education, and green work and learning.
Their work exemplifies the scope of the ELRC research programme which produces knowledge of transformative enviornmental learning, quality education for sustainable development, and the greening of work and learning in its three related research programmes.
In addition to the three PhDs, the programme also saw eight Masters scholars graduating with contributions to the same three research programmes. Four of the Masters studies focssed on enviornmental learning in workplaces, while another two focussed on transformative social learning in communities, and the rest focussed on environmental learning in the formal curriculum, addressing interesting topics such as how to integrate renewable energy knowledge into teachers' education.
Chisala Lupele obtained a distinction for her Masters research, which studied the use of community radio in the award winning Amanzi for Food programme. Chisala was also there to receive the Vice Chancellors Community Engagement Award with Kim Weaver, who represented the award winning team.
Aristides Baloi's PhD focussed on transformative social learning in community-based irrigation scheme development in Mozambique. Engaging with farmers, trainers, and market system actors in two sites over a three year period, Aristides examined how farmers' learning of associative irrigation scheme practices can be expanded via co-engaged research and learning processes. The study offers a new model of transformative social learning which contributes to post-colonial curriculum transformation, and to improvement of agricultural livelihoods, well-being and sustainability amongst farmers moving out of poverty.
Caleb Mandikonza PhD focussed on mediation processes that support teacher educators to integrate sustainability principles and practices into teacher education programmes. The study produced co-engaged, in-depth case studies of changing practice with teacher educators over a three year period in two SADC countries. It shows how change-oriented learning support for teacher educators shapes collective agency for curriculum and institutional transformation. The findings are already informing a UNESCO Education for Sustainable Development Teacher Education Initiative in 60 institutions in 9 SADC countries.
Presha Ramsarup's PhD thesis offers the first in-depth, systemic and critical understanding of environmental occupations and their emergence via learning pathways in South Africa. Importantly, the study uncovers key gaps in the post-schooling skills development system that need to be addressed if South Africa is to develop the occupational learning pathways needed for inclusive, sustainable development. The study offers new methodology for learning pathways research that is already being taken up at national level to inform green work and learning pathway development.
The studies will shortly be available on the Rhodes University electronic archives where all of the studies conducted in environmental education have been electronically archieved in the Rhodes Digital Commons.
Congratulations to all!