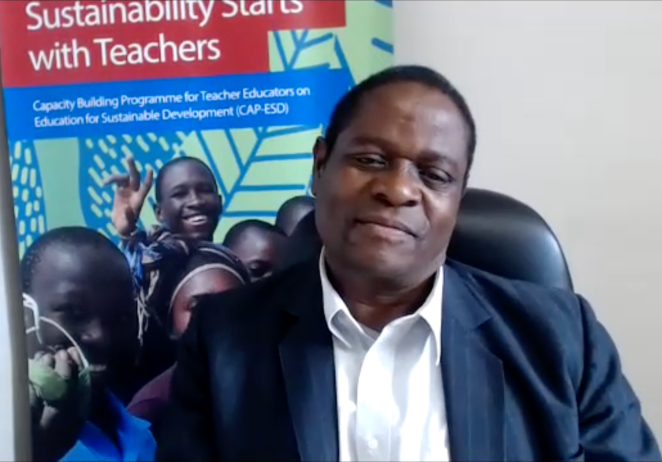 Dr Charles Chikunda's introduction to environmental education began with a short course offering at Rhodes University in the early 2000s. At the time he had already completed a Masters degree from the University of Zimbabwe. It was in this short course programme that Dr Charles connected into a community of practice, which helped shape the progression and trajectory of his career. The connections made then still exist today, over a period of more than 20 years.
Dr Chikunda embarked on a PhD in Education at Rhodes University, under the guidance and supervision of Professor Heila Lotz Sisitka at the Environmental Learning Research Centre. The focus of his study centred around Science Education and Education for Sustainable Development.
Currently, Dr Chikunda works with the United Nations Educational, Scientific and Cultural Organization, in the Regional Offices of Southern Africa, as the National Programme Coordinator for Sustainability Starts with Teachers programme. This is a capacity-building project that spans across 11 SADC countries, integrating sustainability principles into education and training environments, and reinforcing Education for Sustainable Development into national education policies in the southern African region, and that which aligns to the United Nation's Sustainable Development Goals, specifically Goal 4.
His specialist areas of professional interest include stakeholder engagement, professional & capacity development and training to support resilience building. He is also involved in merging conceptual frameworks for resilience learning with various stakeholders at different levels.
Some pearls of wisdom that Dr Chikunda shares with young academics is to take the time and energy to deeply invest in and develop your professional interests, and be patient in this process. A deeper understanding positions you for future opportunities. He also really encourages investing in your community of practice, and allow yourself to grow and develop within these networks.