Our Pledge
‌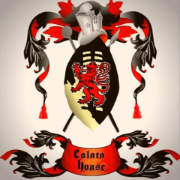 We have chosen to name our house after Fort and James Calata, and as a residence, we as Calata House pledge:
to strive towards achieving academic excellence and intellectual growth.
to uphold the values of diligence, Integrity and to foster a sense of pride.
to be leaders within society and to serve others with honour and loyalty.
To embrace the philosophy of Ubuntu and remain humble in our search for humanity.
to be gentlemen at all times and to uphold the values of chivalry and respect.
finally, we pledge to treat all individuals equally without regard to race, religion, gender, sexual orientation, language, ethnicity, disability or national origin.
All members of Calata House should uphold these values wherever they are. Let us be confident that they will be instilled in the minds and hearts of the future leaders that will come to pass through the hallowed doors of Calata House. Wherever we may be these values shall remain immortal.
By Katuna Kamuhanga, Senior Student 2012,
On Behalf of the students of Calata House at
The Desmond Tutu Hall Naming Ceremony
Wednesday, 7th March 2012.
Last Modified: Thu, 13 May 2021 12:01:29 SAST