Hall Crest
‌Hugh Masekela Hall Crest: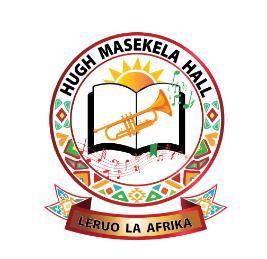 EXPLANATION FOR COMPONENTS OF THE HUGH MASEKELA HALL CREST:
Circle: Showing togetherness/unity, ubuntu, continuity.
Sun and its rays: Representing hope, a new dawn and day, passion, light and perseverance.
The open book: Education in all aspects, gaining wisdom; blank for open possibilities and creating your own story.
Trumpet and music notes: Music and creativity, being loud and bold, self-expression, Hugh Masekela world renowned for.
African Print: Africanacity; the African identity.
Words in bottom banner: Inspired by a quote from Hugh Masekela, it brings together what he stood for, the richness of African culture.
Written in Sesotho it reads ''The wealth of Africa''.
Gold in the banner: Representing the inherent wealth of Africa, as per the words in the banner, since the continent is rich in minerals like gold; also reflecting African excellence, which Hugh Masekela emphasized.
The crest and explanation were designed and created by the students of Hugh Masekela Hall in 2022.
Last Modified: Mon, 25 Jul 2022 11:51:56 SAST