World AIDS Day
Rhodes University celebrated world AIDS day with a address by Constitutional Court Judge Edwin Cameron and a UBOM production. For more detail please refer to:
http://www.ru.ac.za/latestnews/name,71217,en.html
Financial wellness presentations during September 2012
As part of the build-up to Financial Wellness Week in October, the Staff Wellness Programme together with FAMSA presented a one hour informative session on Financial Wellness. Each session covered the topics of Attitude towards Money (budgeting), Garnishee Orders and Hire Purchase. The presentation was repeated ten times to ensure all staff could attend and was furthermore presented in IsiXhosa and English. The slogan was : "Be the master of your own wallet"
The total number of staff attended was 162. More advance financial presentations are planned to maintain the momentum started with this presentations. Thanks to FAMSA for presenting and to the relevant Line managers who agreed to their staff attending.
Bonitas Wellness day at Rhodes - October 2012

Bonitas medical fund celebrated wellness week at Rhodes with a range of tests done. These tests were free of charge and consist of:
1. Blood pressure testing
2. Glucose testing
3. HIV/Aids testing (Optional)
4. Cholesterol testing
The total amount of participants was 85 with an average age of 45 years (62.3 % males and 37.6 female).
For the complete analysis please refer to Bonitas Wellness Day Report
RHODESLYMPIC during Wellness week 1-5 October 2012
In the spirit of this year's Olympic Games, the Human Resources Division has teamed up with Rhodes Sport to host the first ever casual tournament, encouraging all staff members to get active and enjoy a friendly, early evening game in support of physical and social wellness activities.
Kicking off on 2 October (Wellness week) department's play a game of basketball, mixed netball volleyball and five-a-side soccer at the Rhodes sporting facilities. Competition was fierce but the sporting fields also provide an ideal platform to meet colleagues.
Final Results:
1st Sports Admin
2nd Chemistry Department
3rd IT & HR
Thanks again to all participating members and work areas.
Wellness Walk - January 2012
In support of the Staff Wellness Programme, a physical and social event in the form of a 'Walk for Wellness' initiative took place during lunch time on Friday, 1 March 2013. The activity involved a walk to the Botanical Garden, while Mark Hazell and Philip Crous from the Grounds & Gardens Division enlightened us with interesting facts surrounding the garden's history, vegetation and folklores.
Tegan Crymble from the Human Kinetics & Ergonomics Department was on hand to measure the effect of exercise on the body and share some enlightening information on the subject. Such an effect on the body became even more apparent when the group of 38 participants were lead up the 250 steps of Jacob's ladder and resulted in elevated moods and laughter, despite feeling closer to 5000 steps. Thanks to the participating staff of Grounds & Gardens, Finance Division, Human Resources Division, Sports Admin and a large group of participants from the Housekeeping Division for their role in making this a memorable and healthy lunchtime event.
A follow up event is on the cards!
Please see the photos of the exhaustion, sweat, and overall enjoyment that accompanied this event.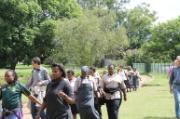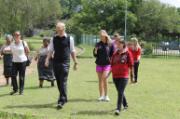 Last Modified: Tue, 29 Apr 2014 11:06:02 SAST