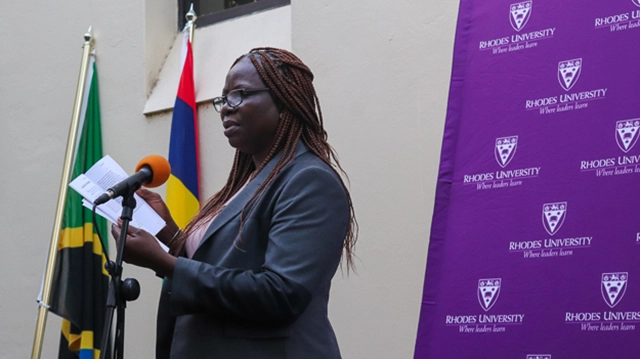 By Nothando Calane
Students, members of the Ink Society and staff at Rhodes University recently participated in an open mic event in celebration of Women's Month. The event, themed "Celebrating African Women Writers", was to honour and shine a light on African women authors.
Books and poetry by influential African women authors, including Chimamanda Ngozi Adichie Leila Aboulela, Mariama Bâ, Adhiambo Owuor, and Zo Wicomb, among many others, have been on display at the English Department since May (Africa Month).
"The African authors exhibition inspired this open mic event. The two departments (English and Internationalisation) decided to build on this to celebrate Women's Month," explained Orla Quinlan, Director of Internationalisation at Rhodes University.
Professor Arthur Mukenge, Head of the Department of French Studies, joined the event and introduced Distinguished Visiting Professor, Togolese author and gender activist Professor Marcelline Tchassim, who was visiting his department at Rhodes University that same week. Prof Tchassim has published many books, including novels, fiction and poetry, which were also on display. Additionally, she obtained the "Grand Prix De La Littérature Togolaise" in 2020. She read powerful poems from the collection "Elle", which means "She" in French. Full of powerful imagery, the poem encouraged women to use the talents and fortitude they were born with to uplift themselves.
"The poem read by Prof Tchassim resonated with me. As an African woman, I am gentle, graceful, and respectful to the elders and men but strong at heart. I am always ready to carry the burden of others, and I love it when I am called 'mother'. I believe that what makes me powerful as a woman," said Christina Makamo, a visiting staff member from Mzuzu University, Malawi, currently hosted by the International Office on an intra-African mobility programme.
Makamo read a poem by a Malawian child about the domestic abuse of her mother. The Director of Institutional Equity and Culture, Dr Claire Kelly, who was in attendance, also read a poem.
The open mic event hosted by the International Office, in collaboration with the Department of Literary Studies in English, also served as a platform for very talented students and staff to share their own powerful poems and spoken word, either by women or dedicated to the women in their lives and community.
In closing, the Head of the English Department, Professor Lynda Spencer, reminded attendees why they had come together and advised: "As Women's Month continues, let's remember to celebrate and uplift the voices of women, particularly those from Africa, who continue to shape our world through their words."