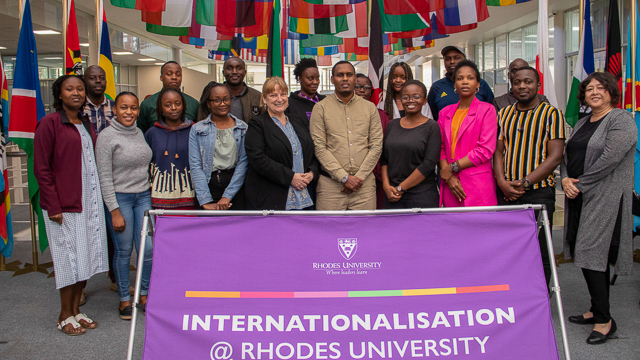 By Lwando Ntenda
The Kenya High Commission Education Attaché, Mr Adan Mohamed Ibrahim, accompanied by Ms Ditlalane Mapadimeng, visited Rhodes University recently as part of a national mission.
Mr Ibrahim explained his mission was to revive relationships and follow up on the status quo at South African universities since the COVID-19 pandemic. His focus was to reignite what was, share experiences in higher education and training, research technology and innovation, and explore potential areas of scientific and technological cooperation between the South African and Kenyan public universities.
The first meeting of the visit was a conversation with the Director of Internationalisation at Rhodes University, Ms Orla Quinlan. Both parties discussed the impact COVID-19 had on universities in South Africa and Kenya and the new resolve and commitment that both countries have to the internationalisation of Higher Education. South Africa gazetted an official Policy Framework on the Internationalisation of Higher Education in 2020. The Education Attaché shared that Kenya now has a national policy on the Internationalisation of Higher Education.
Furthermore, Kenya and South Africa signed eight Memoranda of Understanding to enhance and broaden bilateral relations, trade and investments between the two countries during President Kenyatta's State Visit to South Africa from November 22-24, 2021.
The task at hand, said Mr Ibrahim, is to "make the bilateral relationship between the two governments even more meaningful at the level of collaboration between higher education institutions in Kenya and South Africa". Mr Ibrahim was particularly interested in the potential for increased engagement between Rhodes University and Kenyan universities.
Following a lunch event, a second meeting occurred when Mr Ibrahim and the Kenyan students, currently registered at Rhodes University, sat together to discuss experiences and ideas.
Mention was made of a lobbying exercise to both governments to consider improving the conditions for Kenyan students in terms of fees and other opportunities. Student staff mobility is sought after and needs to be facilitated.
Lexy Andati, one of the Kenyan students at Rhodes University, explained that the discussion was quite fruitful. It afforded Kenyans at Rhodes to further interrogate how they can proceed with plans and aspirations that they had tabled at an earlier gathering for Kenyans at Rhodes University.
When the meeting finished, Mr Ibrahim bid farewell to the International Office staff, expressing his appreciation for his warm welcome. He found the conversations with the staff and students most helpful and said that Rhodes University was now his "new home". This was also echoed by the team who accompanied him.
Mr Ibrahim explained that he intended to continue the relationship and build on this initial encounter with follow-up visits.
The International Office is open to facilitating discussions on any proposed collaborations between Rhodes University and Kenyan universities.
Source: The International Office