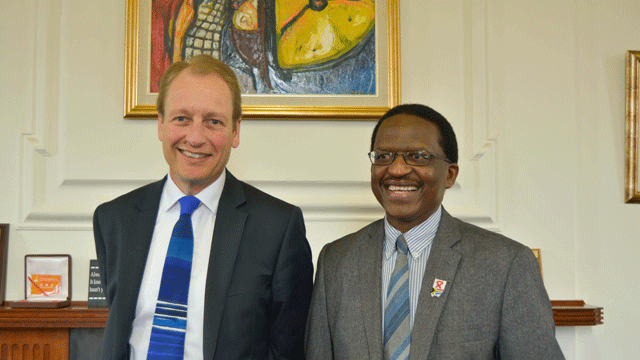 On Friday 6 May 2016, Dr Sizwe Mabizela, Vice-Chancellor of Rhodes University was delighted to host Professor Paul Boyle, President and Vice-Chancellor, and Ms Suzanne Alexander, Director of the International Office, Leicester University, UK https://le.ac.uk/. Rhodes University has a long-standing successful partnership with Leicester University. Established in 2000, and 53 student exchanges later, it is about to get a boost! In 2015, Leicester University successfully applied for Erasmus Plus, European Union, funding, which may be used until mid-2018, and which will provide financial support for further engagement between academic and support staff and student exchanges. The Erasmus Plus Programme aims to assist Higher Education student and staff mobility between partner institutions and provides funds to cover travel, housing and living expenses.
The visit to Rhodes University followed attendance at the British Council Going Global Conference 2016 in Cape Town https://www.britishcouncil.org/going-global, where Professor Boyle participated in a panel discussion of leaders committed to driving gender equality, specifically through the #HeForShe movement; a United Nations Women Solidarity movement for gender equality. Professor Boyle has taken a leading role in establishing Leicester University as one of only ten universities worldwide that is acting as an 'impact champion' for the United Nations #HeForShe global solidarity movement for gender equality, with the aim of engaging and encouraging men and boys to take action against the gender inequality which women across the world face.
The visit began with a meeting to discuss potential academic and research collaboration with members of the academic leadership team: the Vice-Chancellor of Rhodes University, Dr Sizwe Mabizela; the Deputy Vice-Chancellor: Academic and Student Affairs, Dr Chrissie Boughey; the Dean of Law, Professor Rosaan Krüger; the Dean of Humanities, Professor Tom Martin; the Dean of Commerce, Professor Dave Sewry; the Dean of Education, Professor Di Wilmot and the Director of the International Office, Ms Orla Quinlan. Several areas of potential interest were identified.
This discussion was followed by a tour of the Rhodes University campus with the very knowledgeable Micheal Marangxa, a meeting with the Director of the Confucius Institute at Rhodes University, Professor Marius Vermaak, and a meeting with The Director of Community Engagement, Ms Diane Hornby. The guests also had the opportunity to visit a student residence and engage with a number of full time students about their experience of being at Rhodes University.
Exchange students who are here for one semester, with whom they met for lunch came from partner institutions from The Netherlands, United Kingdom, France and the United States of America. Students discussed their overall experience at Rhodes University. Highlights included field trips with lecturers. For example, one student had just visited the Karoo and experienced first-hand, the environment in which a novel she had read as part of her course work, had been written. The recent student protests were a big topic of conversation and exchange students shared their experiences and the decision-making processes they went through, in terms of their approach to the protests, which varied from active participation to taking photos, as part of photo-journalism projects.
Professor Boyle interrogated the students about their academic experience at Rhodes including access to lecturers, workloads, the tutoring system and integration with South African students. The students were unanimous that their experience had been challenging and enriching and that they would highly recommend the experience to students in their home institutions.
While the International Office Manager, Helen Pienaar, and Ms Alexander then discussed details about renewing the exchange agreement, Prof Boyle visited Joza and other parts of Grahamstown to learn more about the context of Rhodes University and the history of Grahamstown, co-incidently witnessing a student protest at the local police station en route.
Ms Alexander later commented that "Our Vice-Chancellor, Professor Paul Boyle, and I learned so much from our visit, both about higher education in South Africa as well as the very special characteristics of Rhodes University. We are confident that Erasmus+ funding will help us to develop a meaningful partnership between our two universities. We're sure that Leicester students will benefit hugely from the experience of studying at Rhodes, and we look forward to welcoming both students and staff from Rhodes to Leicester."
Caption: Professor Paul Boyle, President and Vice-Chancellor, from Leicester University and Dr Sizwe Mabizela, Vice-Chancellor of Rhodes University. Rhodes University has a long-standing successful partnership with Leicester University.