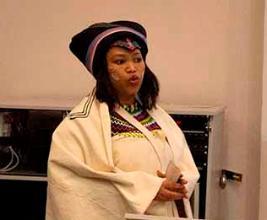 ANNUAL MULTILINGUALISM COLLOQUIUM 2018
The Rhodes language committee hosts a multilingual event yearly. The main purpose of this event is to celebrate and embrace multilingualism in South Africa. The Rhodes University committee acknowledges and support the use of many languages in academic and in social spaces. This event also aim to promote African languages so that they can be exploited in higher domains and enjoy the same privileges. The event host different multilingual topics every year, students and community members are invited to partake in this ceremony by contributing their experiences, knowledge and abilities in using more than one language. The topics will always try to promote official languages of the province i.e. isiXhosa, seSotho, English and Afrikaans. Contested are always encouraged to use at least two of the above languages. The event always have incentives involved. Participants stand a chance to win great prices whilst the audience is kept entertained with good music and refreshments.
This year this event took a different approach, for the first time in the history of multilingual colloquium staff members of Rhodes University were allowed to take part in this competition, as such two winners were announced, the overall winner from staff members and overall winner from students and a runner up. This year's topic was the role of tutors in unpacking and repacking as a dimension of LCT: A case for multilingualism. The keynote speaker prof Salochana Lorraine Hassan began with a lovely engaging presentation about the role of tutors in promoting multilingualism in the classroom. Salochana Lorraine Hassan is employed at the Cape Peninsula University of Technology where she heads the Academic Staff Development Unit at the Fundani: Centre for Higher Education Development. Previous to that she worked at the University of Botswana as head of the Teaching and Learning Unit. She was also employed at the prestigious St. Georges University of London in the field of Medical Education. She holds a MSc. (Biochemistry) obtained from the University of Kwazulu-Natal and a PhD in Education from the University of Pretoria. Her research interests include: academic staff development, problem-based learning, educational transformation and evaluation of tutorials. She was supported by the staff panel Ayanda Qomfo from the Library and Xolelwa Mbuyephi from admin who dressed in her traditional attire and they both shared their experiences. The Student panel Zikho Dana; Anjugu Taimako and Pam Eapen who shared their experience on how tutoring have allow or deny them a chance to be multilingual. The program below briefly summaries the course of this event:
ANNUAL MULTILINGUALISM COLLOQUIUM 2018
PROGRAMME
18.00: MC Hleze Kunju welcome
18.05: MC to introduce guest speaker
Title: TUTORS' ROLE IN 'UNPACKING' AND 'REPACKING' AS A DIMENSION OF LCT: A CASE FOR MULTILINGUALISM
18.10: Guest speaker: Salochana Lorraine Hassan
18.35: Staff Panel
Ayanda Qomfo - Library
Xolelwa Mbuyephi – Admin
18.45: Student Panel
Anjugu Taimako
Pam Eapen
Zikho Dana
19.00 Q & A
19.10 Announcement of Competition Winners
Overall STUDENT WINNER: LWANDO NTENDA – R1200.00
Overall STAFF WINNDER: GILLIAN RENNIE – R1200.00
Runner-Up: Thokozani Dladla – R600.00
19.20: Winners to read their essay:
1. Lwando Ntenda – Student Winner
2. Gillian Rennie – Staff Winner
19.30: Vote of thanks
19.40 END
You are therefore invited to be part of this ceremony from next year onwards and stand a chance to learn more about multilingualism and win big prizes. Stay on this page to learn more about the topic and date for next year's multilingual colloquium.
Source: ANNUAL MULTILINGUALISM COLLOQUIUM 2018