Biography of Nelson Mandela
"During my lifetime I have dedicated myself to this struggle of the African people. I have fought against white domination, and I have fought against black domination. I have cherished the ideal of a democratic and free society in which all persons live together in harmony and with equal opportunities. It is an ideal which I hope to live for and to achieve. But if needs be, it is an ideal for which I am prepared to die".


Nelson Mandela
Excerpt from Mandela's statement from the dock, Rivonia Treason Trial, Monday, 20 April 1964, in Pretoria's Palace of Justice.

Rolihlahla Mandela was born on 18 July 1918 at Qunu. He spent his early childhood in the Transkei, being groomed to become a chief. Mandela matriculated at Healdtown Methodist Boarding School and thereafter attended Fort Hare University College where he became involved in student politics. It was at Fort Hare that he met Oliver Tambo, and they were both expelled in 1940 as a result of their participation in a student strike.
Mandela left the Transkei, partly to avoid an arranged tribal marriage, and moved to Johannesburg where he was employed as a mine policeman.
Shortly after, he met Walter Sisulu who assisted him in obtaining articles with a legal firm. Completing a BA degree by correspondence in 1941, he then studied at the University of the Witwatersrand towards an LLB. In December 1952, Mandela and Oliver Tambo opened the first black legal partnership in the country.
Together with Sisulu and Tambo, Mandela participated in the foundation of the African National Congress Youth League (ANCYL) in 1944 and in 1948 he served as its national secretary.
In the late 1950s Mandela became national president of the Youth League, and in 1952 was appointed national 'volunteer-in-chief' of the Defiance Campaign. In this capacity he travelled around South Africa enlisting disciplined volunteers prepared to break apartheid laws. The campaign officially opened on 26 June 1952 with Mandela and 51 others breaking curfew regulations as their first act of defiance.
In December 1952 Mandela and a number of others were arrested and charged under the Suppression of Communism Act. Mandela was sentenced to nine months' imprisonment with hard labour, suspended for two years. He was also served with a banning order prohibiting him from attending gatherings for six months, or from leaving the Johannesburg magisterial district. For the following nine years his banning orders were continually renewed. Although Mandela, by now deputy national president of the ANC, was banned from gatherings, he continued to work with small groups of Congress members. He was instrumental in the formulation of the 'M Plan' (named after him) whereby ANC branches were to be broken down into cells to cope with the possibility of underground activity.
In September 1953 renewed bans required Mandela to resign officially from the ANC. From then on, except during the year of the treason trial, Mandela's leadership was exercised secretly.
In December 1956 Mandela was one of 156 political activists arrested for and charged with high treason. Four-and-a-half years later, on 29 March 1961, Justice Rumpff found the accused not guilty. As well as being an accused, Mandela played a legal role in the trial as the original defence lawyers withdrew during the 1960 state of emergency. In 1959, with the treason trial still continuing, the ANC planned an anti-pass laws campaign. It was, however, pre-empted by the PAC, which called for mass anti-pass protest on 21 March 1960. It was during one of these protests that the Sharpeville massacre took place. Shortly thereafter, both the ANC and the PAC were banned, and the government declared a state of emergency. During the emergency approximately 1 800 political activists were imprisoned without charge or trial.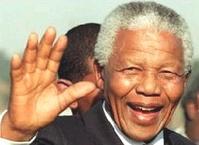 Nelson Mandela
Evading arrest for incitement, Mandela went underground. He and Sisulu travelled secretly around the country organising the strike, and Mandela (nicknamed the Black Pimpernel at the time) remained a fugitive for the next 17 months.
At about this time, Mandela and some of his colleagues concluded that violence in South Africa was inevitable, and it would be unreasonable for African leaders to continue with their policy of non-violence when the government met its demands with force. The decision to form Umkhonto we Sizwe (MK) was made, and Mandela became MK's first commander-in-chief.
On 5 August 1962 Mandela was captured near Howick, Natal. He was tried in Pretoria's Old Synagogue and in November 1962 sentenced to five years' imprisonment for incitement and illegally leaving the country. He began this sentence in Pretoria Central Prison.
While Mandela was in prison, police raided the underground headquarters of the African National Congress at Lilliesleaf Farm, Rivonia, arresting, among others, Walter Sisulu, Govan Mbeki, Raymond Mhlaba, Ahmed Kathrada, Dennis Goldberg and Lionel Bernstein. The Rivonia trial commenced in October 1963 and Mandela was brought from jail to join the other eight accused being tried for sabotage, conspiracy to overthrow the government by revolution, and assisting an armed invasion of South Africa by foreign troops. Mandela's statement from the dock after conviction received worldwide publicity. On 12 June 1964, all eight of the accused, including Mandela, were sentenced to life imprisonment.
A massive 'Release Mandela Campaign' was launched in 1982, both within South Africa and abroad. This included worldwide celebrations of Mandela's 70th birthday in 1988, marked by a 12-hour music concert in London broadcast to over 50 countries.
In December 1989 he met the new state president, F W de Klerk. In addition to meeting government representatives, Mandela was able to meet with senior members of the United Democratic Front, the Congress of South African Trade Unions and other political groups. On 2 February 1990, in his opening of parliament speech, State President De Klerk announced the unbanning of the ANC and other political parties. Mandela was released on Sunday 11 February 1990. He immediately addressed a mass rally in the centre of Cape Town.
On 9 May 1994 Mandela was elected unopposed as President of South Africa in the first session of the National Assembly. His presidential inauguration took place the next day at the Union Buildings in Pretoria and was attended by the largest gathering of international leaders ever in held in South Africa, as well as about 100 000 celebrants on the lawns in front of the building. The ceremony was televised and broadcast internationally. In his inaugural speech Mandela called for a 'time of healing' and stated that his government would fight against discrimination of any kind. He pledged to enter into a covenant to build a society in which in which all South Africans, black and white, could walk tall without fear, assured of their rights to human dignity 'a rainbow nation at peace with itself and the world'.
Mandela has travelled frequently since 1992, visiting the United Kingdom, Belgium, Portugal, the USA, Zambia and Taiwan. He has received a number of joint awards with FW De Klerk including the Prince of the Asturias Prize for International Co-operation (Spain 1992), the Philadelphia Liberty Medal (USA, 1993); the Nobel Peace Prize (Norway, 1993); and has received honorary degrees from over fifty Universities, including an Honorary Doctorate of Law from Rhodes University in 2002. He donated part of the Nobel Peace Prize award to charities for children and also announced that he would contributed R150000 of his annual salary to a presidential trust fund created to aid street children and child detainees. Mandela's autobiography, Long Walk to Freedom, was published in 1994, and soon became one of the year's best selling books in South Africa.
Mandela retired from active political life after his first term of office as President. He does however, continue to play an active role in mediating conflicts throughout the world. He also devotes a large amount of his time fundraising for the Nelson Mandela Children's Fund.
Last Modified: Fri, 15 Jul 2011 15:02:35 SAST