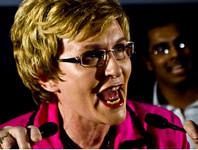 Helen Zilles latest DA Today newsletter, released on Sunday, is devoted to Zilles analysis of the Western Cape farm strikes. And the provincial premier hasnt packed any punches, seemingly seeking to shift responsibility for the labour unrest from Western Cape farmers to unionists and the ruling party.
Among other assertions, Zille claims that ANC councillors in the Hex River Valley worked as labour brokers while publicly railing against labour brokering, and that the ANC deliberately fostered xenophobic tensions among workers to drive its agenda.
Helen Zille clearly doesnt think the media did a particularly good job in getting to the root of the farm strikes which took place in the Western Cape over December and January. Though she doesnt say as much explicitly, its evident from the language of her latest newsletter, where she makes frequent reference to the real story and what really happened, in implied contrast to the versions of reality put about by politicians, picked up by the media, and swallowed by many members of the public.
Heartless white farmers and labour brokers make super profits by using divide-and-rule tactics to drive down workers wages as their lives deteriorate: this, in Zilles view, became the dominant (but entirely misleading) narrative of the labour dispute. She fingers the ANC for fuelling this narrative, but notes too that unsurprisingly, this narrative was parroted by many observers.
Zille believes this version of events was wrong, and she doesnt trouble to mince her words. The truth was the exact opposite, Zille writes; I have rarely come across a case study that so graphically illustrates the disjuncture between perception and reality.
Why is Zille writing about the farm strikes now, almost two months after matters appeared to die down She explains that the Western Cape is in a lull between storms, with further protests on the horizon, and that clear-sighted analysis of the strikes is necessary now to meet the challenges of future unrest. But she also expresses a belief that this kind of analysis may only be possible once the dust has settled anyway.
At the height of a crisis, when perceptions are sharply polarised, people arent prepared to question their pre-conceptions, she writes. They only see the evidence that supports their prejudices.
Zille doesnt make any exceptions here, so its fair to assume that she acknowledges that the DA may be just as prone to hotheaded conclusion-jumping as the rest. Its worth noting, though, that Zilles views on the farm protests dont appear to have altered much since the height of the crisis.
The newsletter just fleshes her ideas out more fully, but Zille has maintained from the start that the strikes were politically motivated and politically fuelled; that the likes of unionist Nosey Pieterse were charlatans; and that there were xenophobic tensions underlying the dispute. From the start, too, Zille has sought to reframe the debate away from farmers and wages towards the ANCs desire to destabilise the Western Cape.
All these notions get an extended airing in her latest newsletter, but have been Zilles refrain virtually from the first murmurings of the Western Cape labour dispute. So whereas many others may not have been seeing clearly at the height of the crisis, it seems, Zille has maintained enviable omniscience throughout.
Zilles newsletter only has criticism for one farm: Keurboschkloof, the export grape farm outside De Doorns where the workers protests began in September last year. This farm, Zille wrote, was owned by a white farmer called Pierre Smit, but following his death, the farm was taken over by a Black Economic Empowerment (BEE) consortium that immediately CUT WORKERS WAGES from an average of R14,51 to R10,60 per hour. The company which controls Keurboschkloof is SAFE, the SA Fruit Exporters. SAFE is not in itself a BEE consortium, as may be quickly established from a glance at its website .
But SAFE does have 50% control of a BEE agriculture project called Bono Holdings, which SAFE founder Anton de Vries described in a December interview as one of the rural development departments biggest partners.
Zille explains near the newsletters end the source of her particular outrage about the Keurboschkloof situation: an article from Dutch business magazine Quote, which features an interview with de Vries. The article , published in October last year, presents de Vries as attributing his company's success to its high-level South African contacts and ability to profit from South African land policies and partner with national government. (The piece ends with a particularly egregious quote from de Vries in which he explains that black women are at the top of the ladder in South Africa.)
Zille never explicitly states why she considers this article to be the best of all available information on the farm strikes, but the implication is clear: the DA was painted as the enemy of the workers, but actually it was a farm which allegedly holds tight links to the ANC, and which profited from ANC policies, that precipitated the whole mess by paying its workers low wages. Its not a hugely explosive revelation, but it vaguely fits within Zilles wider argument that the DA was unjustly demonised during the labour dispute, and the ANC unjustly valorised as the workers champion.
The newsletter gives the impression that Keurboschkloof is the only bad farm in the Western Cape, however. Zille comes out to bat for the other farms: While the ANC was slamming heartless white farmers, many of them were actually paying their workers more than the minimum wage that had been set by the ANC minister of labour, Mildred Oliphant, in consultation with Cosatu, Zille writes.
The higher wages available in the Western Cape, Zille suggests, provides one of the reasons why tens of thousands of desperately poor people leave their homes in far more fertile regions across Southern Africa to seek work on the rocky mountain slopes of De Doorns and other farms in the Western Cape.
Her source in this regard is a paper published by the UCT Development Policy Research Units Ben Stanwix in January this year, titled Minimum wages and compliance in South African agriculture. Stanwixs research found that in the Western Cape and Gauteng, agricultural employers tended to pay close to or above the sectoral minimum wage even before it was introduced in 2003.
Working from data from the Labour Force Survey 2000 2007, Stanwix shows that farm workers in the North West, Limpopo, Mpumalanga and the Free State have been substantially poorer off than their Western Cape counterparts
Stanwixs research also suggested that there was very little enforced incentive for Western Cape farmers to comply with the minimum wage laws. In 2007, Stanwix pointed out, the simple probability of a farmer being visited by a labour inspector was just 11%, with relatively small financial penalties resulting even if a farmer was caught out.
For the average Western Cape farmer it is financially beneficial to risk paying sub-minimum wages, given the low probability of being caught and the fines that would result, Stanwix concludes. And yet, despite this, Western Cape farmers have been better about wages than anywhere other than Gauteng, it would seem. The question clearly hovering over Zilles newsletter is: Why havent other provinces experienced similar agricultural disruption
Zilles answer, at least partially, is that it is in the ANCs interested to foment unrest in the Western Cape in the hope of winning the province from the DA. She stops short of directly laying out an accusation that the ANC masterminded the protests, but she maintains that ANC politicians sought to spread the unrest across the province for their political advantage.
Two ANC councillors come in for extra targeting in her newsletter on the grounds of hypocrisy and double-dealing: Nelie Barends and Pat Marran, both of whom she accuses of acting as labour brokers to supply Hex River Valley farms with seasonal labour. (She also claims that Barends tried to supply Keurboschkloof with scab labour when its workers went on strike.)
Labour broking has, of course, been a political hot potato over the past two years. The ANCs 2009 manifesto on labour broking included a resolution aiming to address the problem of labour broking. Cosatu took the fight to Mangaung last year but the ANC opted for regulation of the practice rather than an outright ban.
During the Western Cape farm strikes workers expressed anger that they were being exploited by labour brokers; Zille claims that a consortium of labour brokers sought to extract from farmers R10 per day for every worker the brokers placed in a job, against the wishes of workers.
When the Daily Maverick contacted Nelie Barends on Sunday to ask whether he and Marran were labour brokers, as asserted by Zille, Barends was unequivocal: Shes mad. Barends described himself as a community leader who only became involved with strike action when the community asked him for guidance. No, no, I am not a labour broker, Barends repeated several times.
[Zille] is jumping to conclusions. She is panicking now. She must come down and talk to the farmers, because they refuse to give workers the [new sectoral minimum wage of] R105. Now she is attacking us instead.
Zilles spokesperson did not respond to a request for comment on Sunday on her evidence to support the claim that Barends and Marran are labour brokers.
Zille also used her newsletter to criticise refugee rights NGO Passop and its director Braam Hanekom, who she described as seeking to unionise the workers for the Cosatu affiliate, the Food and Allied Workers Union (Fawu). She also specified that Hanekoms uncle was an ANC Cabinet member (Science and Technology Minister Derek Hanekom), with the implication being that Passop was using its work with farmworkers to further the interests of the ANC and its allies.
Hanekom told the Daily Maverick that he was disappointed that the premier has decided to bring my family into her statement when describing me, something I think is neither here or there. He denied that Passop was politically aligned in any way, saying that the organisation has been outspoken in criticism of both ANC and DA policies affecting refugees. We have even taken government to court to highlight injustice committed by ANC-led national departments of police and the Department of Home Affairs on several occasions, Hanekom said.
He said that Passop supported the unionisation of workers because unions provide an inclusive structure in which workers from various backgrounds and nationalities can debate and raise issues related to wages, working conditions and tensions between different groups. Hanekom said he gave his support to Cosatu and Fawu because they were established, democratic and tried and tested unions.
Zille claims that xenophobic tensions in the Western Cape farmlands were stoked by the Department of Home Affairs decision to grant a special amnesty to Zimbabwean workers while leaving Basotho workers illegal. This is an idea supported by a 2009 paper by Wits researcher Jean Pierre Misago titled Violence, Labour and the Displacement of Zimbabweans in De Doorns, Western Cape, dealing with the causes of the violence towards Zimbabweans that erupted in De Doorns in 2008.
Hanekom has said previously, however, that De Doorns circa 2008 and De Doorns circa 2012 were two very different places, in terms of immigrant dynamics. Relations among foreign nationals in De Doorns prior to the labour disputes late last year were exceedingly peaceful, Hanekom maintains. He has been critical throughout of Zilles claims of xenophobic tensions in the area, which he suggested could take on a self-fulfilling prophecy function.
On Sunday, he again called her comments in this regard dangerous and reckless. Hanekom did agree with Zille, however, that the selective amnesty policy of the Department of Home Affairs threatens the stability between workers of different nationalities.
Zille s analysis of the farm strikes undoubtedly contains some important truths, and will equally certainly be condemned by the ANC, and so it goes. Yet again, however, her analysis is noteworthy for the absence of any acknowledgement that farmers might be underpaying workers, or that workers might have legitimate gripes. Reading her newsletter, it was hard not to be reminded of an article by the Financial Mails Gillian Jones which appeared last December.
De Doorns workers appeared puzzled when questioned about a political motive to their protests, Jones wrote. Food prices are getting higher and higher. We just can't afford to eat any more, so we decided to strike, said Anna Mjoli. DM
Photo Caption: Democratic Alliance leader Helen Zille launches her partys manifesto for the forthcoming elections at the University of Johannesburg, Saturday, 14 February 2009.
Picture: Jaco Marais/SAPA
By REBECCA DAVIS
Rebecca Davis studied at Rhodes University and Oxford before working in lexicography at the Oxford English Dictionary. After deciding she'd rather make up words than define them, she returned to South Africa in 2011 to write for the Daily Maverick, which has been a magnificilious decision.