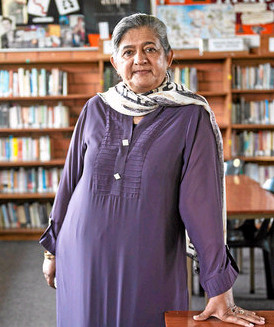 The winner of the Lifetime Achievement Award at the National Teaching Awards, Bilkes Vawda, tells the M&G what it takes to be a good leader.
It is as if Bilkes Bhano Vawda is talking about how she renovated her own home. "When I first got to this school in 1991, there was just sand here where we're standing and there was no shade," says the former principal (65) at Marlboro Gardens Combined School, which is near Sandton on the edge of Alexandra township.
"We put in paving, these picnic tables you see here, these classrooms, the sports fields …" she turns and points to a new soccer field.
In the near distance, the matchbox houses of Alex shimmer in the ­midday heat.
Last week, Vawda shone when she received the Lifetime Achievement Award from President Jacob Zuma and Basic Education Minister Angie Motshekga at the National Teaching Awards in Midrand.
As a principal for 14 years and a teacher for 38, she was a worthy recipient of the award that recognises a public school teacher for their contribution to quality ­education in South Africa. She has seen hundreds of pupils pass under her watch and go on to achieve great things.
"It's so rewarding when a former pupil comes running up to the office and says, 'come outside quickly and see the car I've bought myself!' "
This week, she is back at the school she retired from this year, attending a much humbler event: school assembly. But this time she isn't just a beloved former principal — she is a celebrity her pupils have seen on TV and in the news­papers. They cheer and wave as she walks on to the podium in the school courtyard.
"I am also from a disadvantaged background," she told the 1 300 pupils, speaking quickly and clearly. "I grew up in a yard with 12 families sharing [just a few] toilets."
She comes from Newcastle in northern KwaZulu-Natal.
"You do not need to have money to make a success out of life. I am living proof of that. You just need to work tirelessly for what you want."
After assembly, pupils run up to Vawda to give her goodbye letters. "You are the light inside darkness," one from a young pupil reads. "The hero of my education."
Eighty percent of the pupils come from Alexandra, Vawda tells me. "Many of them live in one-room shacks with their grandparents because their parents have left town in search of work or have died from Aids. Only 70% of their guardians manage to pay the R2 500 a year for school fees."
These "extremely poor" pupils live in troubled socioeconomic circumstances, she says. On average, three pupils at Marlboro Gardens Combined School fall pregnant a year. They are encouraged to stay at school as long as possible, and when they do not come to school, work is sent home to them to try to keep them up to speed.
Another manifestation of pupils' difficult living conditions is teen gangsterism. "But if everyone is kept busy there's no time for gangs."
The same goes for teachers. "If a work day ends for you at 2.30pm when the last bell rings, then you're not working hard enough."
Vawda would arrive every day at school at 6.30am and leave only after evening meetings. She would walk into those meetings, she says, with the right body language: "Very confident, dignified and upright … You have to be seen to be busy and productive."
Vawda is matronly and looks ­eminently huggable. Luckily, I didn't hug her because she says she was not "overly friendly with pupils and teachers".
"I don't believe in over-familiarity," she says as she shows me around the neat, well-resourced buildings that still have that make-do-with-what-you-have feeling about them.
But her "over-familiarity" is a relative term — teachers and pupils keep coming over to hug her. "How are you, my child?" she says to one. "Hello my boy, how's your maths?" to another.
The group of grade 10 pupils says that they liked the fun activities she organised while she was principal. "And she didn't just stand over there," pupil Ameer Adams says. "She would do the activities with us."
The matric pupils achieve a 100% pass rate year after year.
Her efficiency was clearly attractive to donors. Johannesburg City Parks donated a playground to the school, and the Japanese government gave it 40 computers, which was lucky because "school fees and government subsidies don't go far".
Throughout our time together, Vawda smoothly gives instructions to the teachers she "couldn't have done this without". She is clearly not ready for retirement. "I'm going to coach student teachers now," she says as we part.
Photo Caption: Bilkes Bhano Vawda committed herself to giving children the best start possible.
Photo by: Delwyn Verasamy, MG
Story by Victoria John
Victoria studied journalism, specialising in photojournalism, at Rhodes University from 2004 to 2007. Read more from Victoria John Twitter: @Victoria_JohnMG
Source: Mail & Guardian