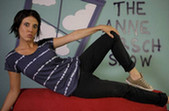 Bloemfontein-born Anne Hirsch is one of a growing number of global comedians and entertainers who aren't sitting around waiting for a TV broadcaster or record label to pull it together to offer them exposure.
Instead, they're using their own YouTube channels to get their material out there. And, in the case of 'The Anne Hirsch Show', it's far funnier and fresher stuff than the normal content on local TV.
By now we all know the YouTube mythology. You're a struggling creative artist, ploughing away at your craft, uploading webcam videos of yourself that nobody ever watches, and then – BOOM! One day, somebody important – or somebody who knows somebody important – happens to see your video, and you're made.
It's what happened to Justin Bieber, aged 14, after his dutiful mom kept uploading videos of her son performing RnB songs in the family home. Justin Bieber owes his career to YouTube. (So too does Rebecca Black.)
But actually, that model feels slightly outdated nowadays. There are, no doubt, still people who hope to be "discovered" off YouTube. Increasingly, however, young entertainers around the world are using YouTube as an end in itself rather than a means to an end.
And it's YouTube which is pushing this: the company wants to be seen more and more as a kind of"next-generation TV", rather than somewhere you go to watch a 10-second clip of a sneezing panda.
As one way of taking this notion forward, YouTube –owned by Google since 2006 – announced in April that the website will be running a Comedy Week from May 19-25. "It's the largest-scale attempt yet by YouTube to programme its billions of hours of video and lead viewers to its growing channels of original programming," the Associated Press reported.
Cape Town-based comedian Anne Hirsch has been using YouTube to showcase her work since August last year. On her YouTube channel, every Wednesday she uploads a new episode of an hilariously anarchic talk show,The Anne Hirsch Show, on which she interviews a different local celebrity each week.
It's unlike anything you'll have seen locally before: South African broadcasters and interviewers tend to have a fawning relationship with celebrities, as exemplified by shows like Top Billing.
Hirsch, in the persona of an awkward fangirl, makes her celebrity guests play 30 Seconds, snip off locks of their hair, and, in the case of model Candice Boucher recently, carry out a parodic bikini shoot.
Hirsch got started in comedy a few years ago, when she entered a comedy night at Cape Town's Zula bar on a whim after completing her MA in drama. "It was horrifying," she remembers now, in characteristically self-deprecating style. "I did a character called Patty Patta, a TV journalist. I wore a jacket that was entirely open at the back, because the viewers only saw me from the front, and I had a wig and pretended to be receiving messages on an ear-piece. I was terrible."
It's unlikely that she was terrible: Hirsch went on to win the second series of So You Think You're Funny, the TV talent show hosted by David Kau which crowned the funniest new comedian in the country. "For my audition I did Patty Patta again. I figured it might grow on people," she says. As she progressed through the show's rounds, however, she had to let the Patta character go. "It is quite remarkable that I won," Hirsch claims. "Ninety percent of my material was puns about celebrities, to be quite specific."
Her interest in celebrities is what sparked the idea for the format of The Anne Hirsch Show. "I thought it would be nice to have a show where I interview famous people," Hirsch says simply. "A lot of my stand-up has been about celebrities: how we construct them, society's obsession with them… and of course I also wanted to meet famous people who I liked." The major problem, however, was that Hirsch didn't know many famous people.
"Then I remembered I went to drama school with someone who was engaged to [Afrikaans electronic band] Heuwel Fantasties member Pierre Greeff, so I Facebooked her," she explains. "And then my cousin's best friend's daughter, Jade de Waal, was on Masterchef SA." Greeff and De Waal became the first two guests for her show.
The talk show – filmed at an all-female, solar-powered production house called Zootee studios – follows a very simple format. The celebrity guest of the week sits down with Anne in front of a wall spraypainted with The Anne Hirsch Show, following an invariably awkward hug from Hirsch that lingers just that little too long.
Hirsch takes on the persona of a devoted, creepy, deeply awkward fan of the celebrity, who also happens to be a raving narcissist: she asks her guests questions like "Would you rather go camping… with Anne Hirsch, or stay in a five-star hotel… with Anne Hirsch?"
When the interview is about to end, Hirsch parodies the normal conventions of talk shows, telling her guests that "you don't leave empty-handed!" Instead of some conventional memento, however, she gifts them with a swab of her own DNA in a clear plastic bag.
Hirsch says the persona she adopts for the show is a vastly exaggerated version of her normal self. "In the studio we call me 'Heightened Anne'. It's like the Anne in my head. I would love to be her all the time, but I just think that would be exhausting." One noteworthy aspect of the show is how well her celebrity guests respond to her bizarre treatment.
Over the course of a 16-episode first season, and 10 episodes of the ongoing second season, Hirsch has interviewed everyone from Danny K to Mark Lottering, and they all come off extremely well: funny, nice, and game for anything.
"Obviously I love all my guests, but Mark Lottering was maybe my most unexpected, because he enjoyed it so much and it was so great watching him enjoy it," she says. "[Ex Springbok Nude Girls frontman] Arno Carstens grabbing my ass was also a highlight, as was getting [Freshlyground lead singer] Zolani Mahola into her pyjamas."
Hirsch's first season of episodes were all around 20 minutes long. "That's because we thought someone like MTV would sweep in and take them all, so we made them perfectly TV-ready," she says cheerfully. When it became clear that this wasn't forthcoming just yet, Hirsch and her small production crew started adapting the format to become more YouTube-appropriate. "We've learned that they have to be shorter,"
Hirsch explains. "It's about understanding what YouTube is and how to fit in. The major problem in South Africa is bandwith, and as a result the YouTube scene here is very much still evolving."
YouTube announced in March this year that its growth had reached a point where almost one out of every two people who use the Internet visits the website. That's a global audience of over a billion. And as the video-sharing website has expanded, so too has the number of people making quite serious money off it.
Back in 2010, Business Insider estimated that there were at least 10 YouTube stars who made over $100,000 (almost R1 million) per year purely from uploading regular videos, featuring themselves, to YouTube.
That number is likely to be far higher today. One of the YouTubers rumoured to be making that kind of money is a South African 18-year-old called Caspar Lee, who was virtually unknown in his home country until Sarah Britten wrote a piece about him for Memeburn last October. Lee, who now lives in London, uploads videos of himself discussing topics of interest to teenage girls – like what boys like in teenage girls –and he has over 800,000 subscribers to his YouTube channel.
"Ja, someone like Caspar Lee is huge, but not a lot of people in South Africa know about him," Hirsch says. What is the key to Lee's massive online success? "He's gorgeous, and he has a certain teen market overseas which is Internet savvy and has the right resources."
Hirsch's show still has a while to go before it reaches the kind of viewing statistics that someone like Caspar Lee enjoys. "Our views aren't yet what we would want them to be," she admits. "But do you throw the whole concept out of the window because of that, or do you say, 'Well, we're enjoying this, let's see where it goes?'"
There are a number of other South African comedians who use YouTube more or less regularly as a vehicle for their content. Hirsch cites the example of comedy duo Derick Watts & the Sunday Blues, whose recent animated upload, "How Humans Eat Their Food", was a big hit, racking up over 2 million views to date. Musical comedian Deep Fried Man also uses YouTube to air his songs, like the Justin Bieber parody If I Was A Guptathat he uploaded a few days ago.
The debacle over inflated Internet radio listener figures last year seemed to be an indication that South Africans still aren't used to consuming longer forms of entertainment online. But Hirsch points out that most South Africans with Internet access do end up watching a couple of short YouTube clips per week.
There's an attempt underway by other YouTubers, like Caspar Lee's sister Theodora, to try to convince South Africans how simple it is to subscribe to YouTube channels, and upload their own content.
Hirsch says her dream guest for the show would be US actress Angelina Jolie: "It would seal the bond between us, and show the world that we truly are best friends." On a local level, however, her sights are fixed firmly on DA parliamentary leader Lindiwe Mazibuko. Hirsch leans forward. "Lindiwe, if you are reading this, please reply to my emails," she says.
By Rebecca Davis
Rebecca Davis studied at Rhodes University and Oxford before working in lexicography at the Oxford English Dictionary. After deciding she'd rather make up words than define them, she returned to South Africa in 2011 to write for the Daily Maverick, which has been a magnificilious decision.
Source: The Daily Maverick