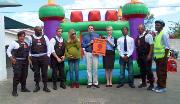 It's been a helluva week in South African news. More evidence on Nkandla, Helen Zille going nuclear on The New Age, the SABC's failure to secure live broadcast rights to the Proteas' Test series against Pakistan – it's enough to bring you down. But here at the Daily Maverick, we discovered something this week to lift the spirits. It's the pilot of a local mockumentary called Armed Response – and hopefully someone has the guts to turn it into a TV series.
It must be admitted that mockumentaries aren't for everyone. Some people can't cope with the awkwardness that is central to the comedy. Others reflexively accuse all new mockumentaries of "trying to copy The Office", ignoring the fact that while Ricky Gervais's series remains the gold standard, mockumentaries are now a well-established genre in their own right. In fact, they have been for an awfully long time: This Is Spinal Tap, the classic film parodying rock documentaries, came out in 1984.

In South Africa, there hasn't been much of a mockumentary tradition to date, though in the past year we've seen the release of two such TV series: kykNET's Rugby Motors, about a garage in Milnerton, and SABC3's Those Who Can't, about the goings-on in a school staffroom. The appeal of mockumentaries lies in the fact that they can be produced cheaply; they allow for the satirising of not just a particular profession or group of people, but also of the genre of documentary itself; and when done well, they can be very, very funny.

Over the past month, a pilot for a show called Armed Response has become something of a viral hit on the South African Internet. Set in a family-owned private security company called "React", the premise of the show is that the business has opened its doors to a camera crew for a month to demonstrate its commitment to what it calls "Armed Responsibility". Brother and sister owners Debbie and Alwyn – played by local actors Emily Child and Pierre Malherbe – are awkward but well-meaning white liberals whose attempts at "community outreach", in the form of a "fun-day" for Aids orphans, make for cringeworthy hilarity.

The focal point of the show, however, is the company's hiring of Thomas Nyoka (Sipho Mahlatshana), a young man burdened with a pressing sense of his own entitlement. During his welcome interview with boss Alwyn, Thomas instructs his half-brother Muzi (Sinelizwi Songca) in Xhosa to relay his demands for his job as a rookie security guard. "Overtime is out, I have a Pantsula group in the evenings," Thomas says sullenly. "Do I get a company car? I saw a Toyota Tazz outside, if you think I'm driving that piece of shit, you need to think twice." All Thomas ends up with, on the lowest-rank of the company ladder, is a bicycle and a silly helmet.

In the best tradition of mockumentaries, Alwyn is a boss who takes the business of private security very seriously. "Crime is a disease, and the police are the immune system, and you guys are the anti-retrovirals," he earnestly explains to his staff, while anxious sister Debbie attempts to correct his unintentional double-entendres. Writers Donovan Graham and Greg Parvess explained that the show is not a critique of the South African private security industry, and neither does it intend to mock the characteristic South African preoccupation with violent crime. The show is set in Cape Town rather than Johannesburg because they felt the former was "slightly less hardcore" when it comes to armed response.

"We chose a private security business because unlike other industries, it allows for us to throw together white-collar and blue-collar workers, people of different race and class. That makes for some juicy interactions," said Parvess. To prepare for the writing of the script, Parvess and Graham spent some time shadowing a real armed response company.

"It's quite a fascinating industry because it exists in this kind of shadowy area in our law," says Graham. "They serve a necessary function, but aren't always well-regulated. And there's obviously a lot at stake – if you're a plumber, and you mess up, the consequences aren't very serious. Here it's the opposite, and that allows for some dark, edgy humour."

The pilot is indeed quite edgy, which is what makes it seem utterly refreshing (set against a context of anodyne local soapies), but also what may limit its chances of being picked up by risk-averse local broadcasters. "This isn't Ancient Greece," hisses Alwyn at an employee (Greg Purvess's Grant) who is at risk of being overly familiar, though well-intentioned, with the visiting orphans.

Some of its funniest moments riff off language barriers: a trusting Alwyn asks Thomas to translate a perfectly politically-correct speech to the children into Xhosa. "You must make sure that you always wear protection and that your partner does as well," Alwyn intones. "You must treat your women right. Don't just make her cook. You must take her to nice places," Thomas tells the kids in Xhosa. "Make sure that they know the lines of communication are always open," continues Alwyn. "But you must watch her. She mustn't go, 'hey, hey, look here, look here'," translates Thomas.

"Basically trust is essential," concludes the naive Alwyn. "Because you'll show her where the gutter is and she must go 'waah, waah, waah', and cry to her sister," Thomas finishes.

Humour which plays off this kind of difference can be seen as risky in the South African context, where displays of unity are prized. "We want to use the comedy as a vehicle to explore things you often can't talk about," says Graham. "Obviously we're constantly weighing up jokes to see if we've gone too far – we have to be sensitive to that."

Actor Mahlatshana says he feels comfortable with the degree of envelope-pushing in the show. "If I found it offensive, I wouldn't have done it," he said. "I know the line." He said that he has played it to Xhosa-speaking audiences who "loved it".

The pilot was shot on a shoestring budget over the course of two days in September, after a long process of script refinement from Graham and Purvess. All cast members worked for free. Emily Child, an actress who Graham describes as "grotesquely talented", said she was immediately sold on the quality of the script.

"I've been looking for something like this for ages," Child said. "It just tickled me immediately. When it's such great writing, it just makes it all very easy and enjoyable."

The show's actors and writers concurred on a feeling that there is currently a gap in the South African market for cutting-edge TV comedy. "In many ways the stand-up comedy scene is more vibrant," said Child. "Because those guys ask the difficult questions,' agreed Parvess. "And it's cheap," Graham added.

"I used to find Julius Malema funny," murmured Mahlatshana.

The pilot has thus far racked up over 6,000 views on video-sharing site Vimeo: not at all bad for a 24-minute long local product spread purely by word of mouth. Graham says the reception has been overwhelmingly positive: he believes it has succeeded in creating a "buzz" which they're hoping will propel it into the laps of decision-makers at local broadcasters. In this way, they would be able to produce a six-episode first series.

"I'd like it to end up on TV, I don't really mind where," said Graham. "I think it could appeal to a broad audience." They spoke of the possibility of attracting a corporate sponsor, though noted that the experiences of FNB this week may lead to even greater risk-aversion among corporates in terms of their marketing choices.

For our part, we hope someone has the sense to take these guys on. These days, we could all use a few more laughs. Especially from the kind of comedy that makes you writhe uncomfortably even as you chuckle: think of it as a kind of medicine.
Written by: Rebecca Davis
Picture credit: Daily Maverick
Rebecca Davis studied at Rhodes University and Oxford University. This article was published on Daily Maverick.