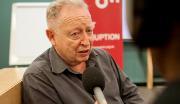 There was no birthday cake and no champagne as Corruption Watch briefed media on its first birthday on Thursday. Director David Lewis is hopeful that in its second year, Corruption Watch can shift the tides by engaging the public and taking more cases to court.
When the Hawks arrested Reverend Josias Mabaso it was hailed as a victory in the fight against corruption in schools. Mabaso was the principal at two schools on Johannesburg's East Rand that received R20 million from the Gauteng education department. After visiting the school and seeing hungry students with tattered uniforms, teachers without salaries, and dismal school infrastructure, Lead SA's Terry Volkwyn and Yusuf Abramjee became suspicious. Mabaso offered to pay them R7 million to keep quiet but was set up by Abramjee and the Hawks, arrested and charged with corruption.
Mabaso's arrest was a rare victory against corruption in schools, which Corruption Watch says is one of the most concerning trends it has observed after one year of operating.
"The most disturbing form of corruption has been happening at school levels. This involves theft of funds, goods and equipment by principals and teachers. Even more disturbing are cases which indicate that parents, through school governing bodies, are also involved in corrupt awarding of tenders," said Corruption Watch director David Lewis.
Hawks spokesman Paul Ramaloko said corruption in schools is indeed a concern and the priority crimes unit has recently received many reports on the issue. "We will see many people taken to task," he added. "It is rife," said Ramaloko, speaking to the Daily Maverick over the phone, "but we are winning the fight."
A 2011 Transparency International report, however, agrees with Corruption Watch's findings on corruption in schools. Despite education receiving the highest allocation from the state budget, it found a lack of openness, integrity and accountability meant the money wasn't be used to effectively improve education. Local level corruption resulted in students not having access to the basic resources they need, it found.
Lewis, who briefed media on Thursday on Corruption Watch's first year of operations, said 11% of corruption reports received by the organisation related to schools. (Complaints about traffic police corruption accounted for 14.4% of complaints lodged with Corruption Watch.)
"We are asking the public to tell us more about what is happening in schools with regards to corruption," said Lewis. "We would like to promote awareness and work together to deal with this type of corruption."
In Corruption Watch's first year it engaged youth during a slot on radio station Yfm and through its Tjotjo videos, a cartoon that points out acts of corruption and encourages viewers to report criminal acts. This year, it wants to engage provincial departments of education, but targeting youths themselves remains a key concern. "There's very disturbing data about the involvement of youth in corruption worldwide," said Lewis. They are often more lax towards corruption and instilling a culture against the crime will build an active citizenry for the country's future, he added.
The institution also found concerning reports about corruption in small towns, with 40% of tip offs concerning small towns, just shy of the 42% from metros. "There's a real pattern that where the media is not present corruption is particularly rife," said Lewis, speaking at the Gordon Institute of Business. With 50% of Corruption Watch's resources devoted to a "quasi-newsroom", Lewis said 2013 will see it engage community radio stations and small towns as it spreads the anti-corruption message.
But will it make a difference and does anyone care? Writing in the Daily Maverick Ranjeni Munusamy made the keen observation this week that South Africans are suffering from "scandal fatigue": "There is only so much outrage that can be vented at the occasional protest march or by calling into radio stations. But the fact is that the public is helpless to fight the tide of corruption and abuse in the state and therefore the tolerance threshold for outrageous scandal is increasing. South Africa is being forced to put up with kleptocratic behaviour, and the mechanisms for accountability and recourse are being undermined by the disdainful reaction of those implicated."
After one year of Corruption Watch, Lewis said the organisation is seen as legitimate, but also feels people "are incredibly skeptical on whether anything can be done." He said some people's attitude towards corruption was that it would always be there, like our need to breathe.
But in 2013 Lewis said the organisation will try new ways to dissuade officials from committing corruption. Section 34 of the Prevention of Corrupt Activities Act requires "any person who holds a position of authority and who knows or ought to reasonably have known that any other person has committed [corruption…] the offence of theft, fraud, extortion, forgery or uttering a forged document, involving an amount of R100,000 or more, must cause such knowledge or suspicion to be reported to any police official." If an official does not report what they know, they are committing a crime. Lewis said no one has been charged on Section 34 before. "We want very much to compel prosecution on the requirement to report corruption."
In 2013, Corruption Watch is also considering taking civil action against those who commit corruption on behalf of communities who have been prejudiced. "Most significant is the message to a tender board's chair that you may not only be criminally prosecuted and lose job, but also lose your house and car… We really are interested in pursuing this area."
The graft watchdog is fighting against the tide, despite continuous reports of corruption and an increasingly complacent public. But with targeted campaigns, it hopes to inform the public and take a few corrupt scalps in 2013.
Written by: Greg Nicolson
Picture credit: Daily Maverick
This article was published on Daily Maverick.