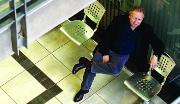 South Africa appears to be facing a tsunami of corruption. That's the bad news. The good news is that there are crusaders taking out the bad guys at the knees. One such organisation is Corruption Watch, which celebrates its first year this week.
A.D. 2013 is going to be a hell of a year for corruption busters waging an earnest war on graft in the public and private sectors. The Public Protector's investigation into Nkandlagate will continue, despite a Public Works report that was largely received as a 'whitewash' of the scandal. Thuli Madonsela's team is not the only party digging for the truth on the additions and upgrades to President Jacob Zuma's private residence in Kwazulu-Natal. Other investigations are being conducted by the Auditor General and the Standing Committee on Public Accounts.
The man associated with one of the biggest fraud cases this country has ever seen is currently in court. That is, of course, the Fidentia case, and the man is J Arthur Brown, who faces charges of fraud, corruption, money laundering and theft. When he appeared in the Western Cape High Court on Tuesday 29 January 2013, Brown made additional admissions, ostensibly because he wanted to "save the court some time".
This is perhaps one of the cruellest fraud cases to play itself out in local history, because Brown allegedly embezzled funds to the tune of some R1 billion from a trust that helped to serve the financial interests of the widows and orphans of miners who died in mining accidents. The case that the state is making is that Brown used this money in a pyramid scheme for his own personal gain. Brown has been on record in the media as saying he finds it difficult to sit still and listen to the battery of allegations against him. He has said that many of these allegations can be explained away in just "five minutes". South Africa now has the chance to see him do just that.
The Seriti commission into the arms deal continues, although it has been shaken by a credibility crisis after Advocate Norman Moabi, a senior investigator for the commission, resigned. His three-three page resignation letter charged that the judicial commission was being steered by a "second agenda" and that it was not transparent.
The DA has asked SARS to launch an investigation into Zuma's taxes, and there's the matter that after three years of battling, the DA got a Supreme Court of Appeals ruling effected that forces the National Prosecuting Authority to make available the so-called Zuma tapes.
Also coming soon is the case against former Northern Cape MEC and provincial ANC chairman John Block, who is facing racketeering, corruption and fraud. Two other ruling party executive members were picked up on allegations of tender irregularities at the same time that the Hawks swooped on Block. The former politician's wife is also in trouble. Noluthando Block will have her day in court for an alleged fraudulent stokvel scheme that saw 1,732 people lose their savings. Other big names on the court roll this year include Julius Malema, who looks set to be back in the Polokwane Magistrates Court in Limpopo on 23 April 2013.
With all of this action happening on the fraud front, why is Corruption Watch – which celebrates its first birthday imminently – bothering to go to court to get its hands on a Special Investigating Unit (SIU) report that is a number of years old? Together with the Treatment Action Campaign, the corruption busters are headed to court to overturn the SIU's refusal to part with documents that detail the unit's investigation into corruption and mismanagement within the Gauteng Department of Health.
"We have a division of a couple of lawyers who engage in policy work and impact litigation work, and we are, together with our fellow litigants in this process, the Treatment Action Campaign, particularly concerned with the healthcare system, where corruption is an extremely serious problem," says David Lewis, speaking to Daily Maverick close on a year after his first interview, after he'd just taken office. "We are interested in freedom of information, we are interested in access to information - it is our life's blood and what powers us," Lewis explains.
The reason Corruption Watch is being relentless about this is that the SIU was instructed to investigate specific allegations of mismanagement and corruption in the Gauteng Health Department, whose service delivery records can charitably be described as seriously wanting. "The prevalence of corruption in that provincial department is notoriously high, and the report was the subject of a proclamation issued in 2010. It is now three years later and we still haven't seen hide nor hair of the outcome of these investigations. We asked the SIU to give that report to us and they have refused. We are going to court with them over what is effectively an important determination."
It is likely that Corruption Watch and the TAC will have to pursue the matter all the way to the Constitutional Court, but Lewis says the effort is well worth it in the broader fight for open information. Lewis believes that the Promotion of Access to Information Act (PAIA) is a great piece of legislation, because in terms of the law, the default constitutional PAIA position should be that a concern like Corruption Watch should have access to information (like the SIU report), and only in exceptional circumstances should or could this be denied them.
"When it comes to matters of corruption, the default position by certain organisations in this country appears to be: 'We will not give you access to information, and will only do so if a court instructs us to do so.' We want the court to lay down a series of practices that will affirm SA's default position which should be that the public has access to information," Lewis adds.
South Africa is a signatory the Open Government Partnership, which is all about making governments better by making them more accountable, effective and transparent. Zuma jetted in for the launch of this initiative on Tuesday 20 September 2011, because South Africa was a founder member of the effort, along with seven other nations (Brazil, Indonesia, Mexico, Norway, Philippines, United Kingdom, United States). For the sceptics amongst our readers, there are even photographs of a beaming Msholozi with US President Obama, Brazilian President Dilma Rousseff, Norwegian Prime Minister Jens Stoltenberg, and Philippines President Benigno Aquino – see for yourself. "The Open Government Partnership is a new multilateral initiative that aims to secure concrete commitments from governments to promote transparency, empower citizens, fight corruption, and harness new technologies to strengthen governance," the OPG website reads.
"You can't just go and sign onto conventions because it looks good, and then conduct yourself differently when you come back home," Lewis tells Daily Maverick. "We like the fact that the government is signing on to those conventions - we think that they should, we think it is appropriate. But we also want to use them to hold them accountable to practices inside the country, that accord with what it is that they have committed themselves to outside the country."
South Africa is also a signatory to the Organisation for Economic Co-operation and Development (OECD) Anti-Bribery Convention as well as the United Nations Convention against Corruption. The latter was an important factor in deciding the matter of Glenister v President of the Republic of South Africa and Others.
The Glenister case (also known as the 'Hawks Act') was brought against Zuma et al by anti-corruption lobbyist and private citizen Hugh Glenister. This legal action has its genesis in the disbanding of the Scorpions and the creation of the Hawks Directorate for Priority Crime Investigations. Glenister's court victory was hailed as a "monumental judgment in defence of the poor" by Daily Maverick opinionista, Pierre de Vos, who teaches Constitutional law at the University of Cape Town Law Faculty:
"Corruption is a human rights issue and the only way for a state effectively to combat corruption is through the creation of a truly independent unit that investigates corruption with a view successfully to prosecute all those who have engaged in corrupt activities," wrote De Vos at the time of the ruling. "The Scorpions were abolished and a new unit — the Hawks – were created to investigate 'priority crimes'. But yesterday in the judgment of Glenister v President of the Republic of South Africa and Others a majority of judges of the Constitutional Court (in a brave and brilliant judgment authored by Deputy Chief Justice Dikgang Moseneke and Justice Edwin Cameron), found that the Hawks were not sufficiently independent and that the state had therefore failed to fulfil its obligations to respect, protect, promote and fulfil the rights in the Bill of Rights," De Vos wrote at the time of the ruling.
De Vos' piece points out a quote by Kofi Annan which was used in the case. It goes: "There can be no gainsaying that corruption threatens to fell at the knees virtually everything we hold dear and precious in our hard-won constitutional order. It blatantly undermines the democratic ethos, the institutions of democracy, the rule of law and the foundational values of our nascent constitutional project. It fuels maladministration and public fraudulence and imperils the capacity of the state to fulfil its obligations to respect, protect, promote and fulfil all the rights enshrined in the Bill of Rights. When corruption and organised crime flourish, sustainable development and economic growth are stunted. And in turn, the stability and security of society is put at risk."
The case made was that corruption hurts the poor the most. It does this, as De Vos's piece points out, "by diverting funds intended for development and by undermining a government's ability to provide basic services. Corruption thus perpetuates inequality."
It is this belief that drives Lewis and the organisation he manages as a servant of the public. "Corruption really is a conspiracy against the public, in a way that murder is an attack on a particular individual. That is not to decry the importance of murder as a crime, but corruption falls into that category like 'crimes against women' or 'crimes against immigrants'. Corruption is really a crime against a social category, and that social category, most broadly speaking is the public, but those most deeply affected by corruption are the poorer parts of the public."
It is because of this that Lewis understands that an important part of his mandate is to engage the public in a working partnership with Corruption Watch. "Given the fact that corruption is a conspiracy against the public, the public must participate in rejecting it. As important as law enforcement is, and I don't underestimate law enforcement's role in fighting corruption, wide-scale graft must be resolved by serial acts of prosecution," Lewis says.
But the Nkandla-sized question that Daily Maverick wants Lewis to answer is whether South Africa is winning or losing the war against corruption. "In the last while, the environment around corruption has changed," says Lewis. "There are a lot more people who are talking about corruption, and there are a lot more people who are outraged about corruption. Two or three years ago sometimes even quite intelligent people, but who were admittedly quite self-interested, were anxious to present corruption as some kind of suburban preoccupation."
Adds Lewis: "I think that the last couple of years have shown that this has changed." He adds that people are phoning hotlines, complaining, laying charges, sending in reports and even taking to the streets. "Are there still people at very high levels of government and in the private sector who seem unbelievably tolerant of corruption? The answer is yes. Are we reaching this difficult to define tipping point? I think in some institutions we are. In some institutions we are at a dangerous place. But it is too early to say whether we have won or lost the war."
But we are reaching a point where corruption is, in some geographies and places, becoming systemic. "When corruption moves from becoming present in the system, to being the system you have a real problem. The worse it is the worse it is, and the worse it is the worse it gets. That is another feature of it, and which is it why it has to be tackled so urgently."
The message from Corruption Watch is that this is a war that everyone needs to participate in. The fight every South African patriot must wage is to not pay bribes, to report corruption, to take a stand in the very battle that would consume the most vulnerable in our society, devour our democracy and ingest us all. The time to take up "arms" against this sea of destruction is now.
Written by: Mandy De Waal
Picture credit: Daily Maverick
This article was published on Daily Maverick.