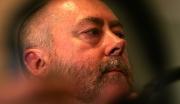 This week the world's eyes have been fixed on 'Dr Shock' – Aubrey Levin, the Apartheid psychiatrist on trial for sexual assault in Canada. But back home, 'Dr Death' – Wouter Basson, the former head of the Apartheid chemical and biological warfare programme – seems to have found a new calling. Just last week, Basson gave a 'motivational talk' to Cape Town members' club Kelvin Grove.
"Dr Wouter Basson: A Motivational Talk", ran the blurb on the website of the Kelvin Grove club. "Born on 6 July 1950, Wouter Basson is a South African cardiologist, practicing in the Northern Suburbs of Cape Town and former head of the country's secret chemical and biological warfare project, Project Coast, between 1980 to 1990." The lunchtime event took place on Friday, 25 January, and was reportedly sold out. On the Kelvin Grove Twitter account, an update from the same day read: "Dr Wouter Basson is speaking at the Club Luncheon; a good turnout of members to listen to him and enjoy a luncheon thereafter."
Kelvin Grove is a private members' club in Newlands, Cape Town. A stately establishment set in lush grounds, it boasts of being the biggest sports club in South Africa, as well as offering regular members' functions like the monthly club luncheons Basson addressed. "Mention the name, Kelvin Grove, to those who have not yet experienced the many faceted nature of this unique club, and words that may spring to mind are: history, heritage, tradition and excellence," its website reports.
Another word that might spring to mind is "anti-semitism": the club is notorious for not having allowed Jewish members for many years. In 2004, the Cape Argus printed a photograph of Newlands taken in the early 1940s, with the accompanying caption: "In the foreground, the Kelvin Grove club looks like a large farmstead at the centre of thickly hedged cultivation. The pretensions of gentility are misleading: what Kelvin assuredly was then was a bastion of Waspish Cape Town's more brutish impulses – no Jews allowed." Times have mercifully moved on from then, however, and Jewish members are now welcome at the club.
Exactly why Kelvin Grove chose to extend a speaking invitation to Basson is unclear. When the Daily Maverick contacted the club to ask this and other questions, we received a terse response from marketing manager Corine Sharp. "Trust you will respect the Club's decision in this regard – we are a private Club and under no obligation to respond," Sharp emailed.
This is entirely true: as a private entity, Kelvin Grove is also entitled to ask whoever it pleases to addresses them. Nonetheless, the choice of Basson as "motivational speaker" is strange, screamingly so. While Basson's court case in 2002 acquitted him of 67 charges – including drug possession, fraud, embezzlement of R36 million and 229 murders – some of these acquittals were the result of legal technicalities. For instance, Judge Willie Hartzenberg had to dismiss a charge relating to Basson's alleged involvement in 200 deaths in Namibia because the crimes took place in a different country.
There are still many questions that hang over Basson's head. It is for this reason that Basson is the subject of an ongoing investigation into unethical behaviour by the Health Professions Council of South Africa (HPCSA). Basson faces four charges of unprofessional and/or unethical conduct. The hearing was postponed in November 2008 after Basson appealed to the High Court to halt the inquiry on the grounds that it was "unlawful, unreasonable and unfair". But Judge Eberhard Bertelsmann dismissed the matter without leave to appeal, and the inquiry resumed. If Basson is found guilty, he will lose his license to practice medicine: he currently works as a cardiologist at the Durbanville Mediclinic in Cape Town. The HPCSA did not respond to a question from the Daily Maverick on Tuesday as to the progress of the inquiry.
In an article written in October 2011, Institute for Security Studies senior researcher Chandre Gould outlined the importance of the HPCSA inquiry. "The HPCSA hearing is the only remaining forum that may hold Basson to account for his actions," Gould wrote. "Basson was head of a programme that was both offensive and defensive – in other words its purpose was both to develop defences against chemical and biological weapons, and to develop chemical crowd control agents."
Gould, who was the TRC researcher into Basson's programme (Project Coast), points out that evidence introduced in both Basson's criminal trial and the TRC hearings indicated that Basson had ultimate control of the top secret military project, involving bizarre and unethical experiments including the testing of Mandrax on soldiers. When Basson was interviewed by filmmaker Bob Coen for the documentary Anthrax Wars, screened in 2009, Coen asked him about rumours that Project Coast worked on developing an "ethnic weapon", the "black bomb". Basson responded: "That was great, ja, that was the most fun I've had in my life."
Under Basson, scientists also tried to develop an anti-fertility vaccine. Gould notes that during the TRC hearings, these scientists testified that they believed this vaccine was intended to be administered to black women without their knowledge or consent. Basson was also involved in the Roodeplaat Research Laboratory, known to have conducted biological warfare experiments on animals including dogs and horses. In one case, baboons were slowly poisoned to death over the course of seven days. Details like these cast severe doubt on Basson's testimony to the HPCSA last year that he was acting "for the benefit of mankind and to limit loss of life".
"Basson will rely on collective amnesia to cloak his past actions," Gould writes. "Under this mantle he will maintain that his actions have no relevance today, that they exist only in the past and are more than compensated for by his subsequent 'good deeds' as a private cardiologist." And indeed, it is likely that this need to reframe himself as nothing more sinister than an eminent cardiologist is what motivates Basson in accepting the likes of Kelvin Grove's invitation.
This is not the first of these talks that Basson has been slated to give in recent years. In February 2012, he was advertised as addressing a fundraising dinner in Paarl in aid of Amado, an NGO which provides horse-riding facilities to disabled children. The publicity blurb described him as "the well-spoken surgeon who saves lives". Subsequent outcry was such that it's not clear whether the event went ahead. But indeed, Basson is described by those who know him as charismatic, intelligent, and an excellent doctor. He is also reportedly unafraid of bringing lawsuits against those who refuse to forget his Apartheid history.
UCT Health Sciences Faculty Professor of Public Health, Leslie London, told the Daily Maverick that he felt Kelvin Grove's invitation to Basson was ill-judged. "I think it inappropriate for someone who has a professional misconduct inquiry against him ongoing, who admitted to running a chemical and biological warfare programme in contravention of existing international medical ethical codes, and whom the TRC identified as having procured lethal weapons, to be given a billing as a motivational speaker," London said.
Nonetheless, the talk seems to have gone down a treat. The Kelvin Grove club responded to a tweet questioning its judgement by saying: "He spoke well & those members present found his talk interesting. It's best to keep an open mind." What the warm reception given Basson speaks of, however, is not so much an "open mind" but a testament to the shortness of our national memory.
"Basson feels comfortable to say: 'I closed this chapter of my life about 20 years ago and now work as a dedicated medical practitioner helping hundreds of thousands of patients… This case is politically motivated. I just wish I could get on with my life'," wrote Gould. "The implication in his statement is that we should also just forget the past and move on. The victims of the CBW [chemical and biological warfare] programme however remain mostly unnamed, some having lost not only their lives but also their identities. Their families are unlikely to be able to 'move on'."
Written by: Rebecca Davis
Picture credit: REUTERS/Mike Hutchings
Rebecca Davis studied at Rhodes University and Oxford University. This article was published on the Daily Maverick.