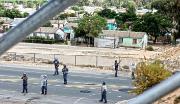 There was a glimmer of progress in the Western Cape farmworkers' labour dispute on Tuesday, in the form of a reported breakthrough in negotiations between farmers and unions in Clanwilliam which may set the model for the rest of the province. As news spread of the death of 25 year-old Letsekang Tokhwane, however, De Doorns residents continued to voice frustration at what they see as a heavy-handed response from police.
The biggest news out of De Doorns on Tuesday was the fact that the death toll from the farmworkers' strike has now reached at least three. Letsekang Tokhwane joins Wolseley tractor driver Michael Daniels and Ceres farmworker Bongile Ndleni, both killed last November, as the third victim of the Western Cape labour unrest. Tokhwane's death rightly made headlines, but reports from the ground indicated that De Doorns was in most respects fairly quiet on Tuesday compared to events last week.
While 42 people were reportedly arrested for public violence on Monday, on Tuesday Sapa reported only five arrests in Barrydale of individuals who refused to disperse from a blockade of the R324. Western Cape health authorities announced that four clinics in De Doorns were closed on Tuesday because "we cannot afford to put our health workers who work at these clinics at risk," according to a statement from health MEC Theuns Botha.
Public hearings into the wage dispute resumed across the Western Cape on Monday evening and were set to continue on Tuesday in Paarl. A significant breakthrough was reported in the town of Clanwilliam, however, where farmers are said to have agreed to a worker wage increase of R105 a day after negotiations with unions. (The increase was initially reported as being R110 a day, but later this appeared to have fallen to R105.)
Speaking at a press conference on Tuesday night, Cosatu Western Cape secretary Tony Ehrenreich said that unions were prepared to call off the strike if other farming communities were willing to follow the Clanwilliam example. He also said that the strike's end would be dependent on an agreement with farmers that no disciplinary action would be taken against striking workers once they returned to work. "We are now close to resolving the dispute sooner rather than later," Ehrenreich said.
A daily wage of R105 falls well below the R150 that unions were initially demanding, but it is also significantly higher than the R85 a day which Agri Wes-Kaap said last week was the highest offer farmers could make. The Daily Maverick was unable to reach Agri Wes-Kaap for comment on the matter on Tuesday evening.
While Cosatu thus revealed itself to be in a reasonably conciliatory mood on Tuesday, fiery rhetoric continued from Bawusa general secretary Nosey Pieterse. At a rally in De Doorns, Pieterse told the crowd: "Tomorrow morning when you wake up, you will have five De Doorns on your hands, at least. We are intensifying the struggle, comrades, because we have a duty to do so."
This emotional language was echoed by Bawusa legal advisor Carina Papenfus, who sent the Daily Maverick a picture of an 11 year-old girl apparently shot with a rubber bullet in the eye. "This could be worse than Marikana because people aren't scared," Papenfus said. "They are happy to die for this when their children are being shot."
Papenfus described the community in Stofland – the informal settlement outside De Doorns – as being increasingly angered and frustrated by perceived actions of police brutality. While police have only said of the death of Tokhwane that the matter will be taken up by the Independent Police Investigative Directorate (IPID), eyewitness accounts, if accurate, paint an exceedingly grim picture.
An eyewitness who spoke to eNews Channel Africa (eNCA), claimed that Tokhwane, a Lesotho national, was shot by police while working in his spaza shop. She said that police then chased him to a construction site where police beat him, bundled him into a Nyala, and then continued to assault him. Carina Papenfus further claimed to the Daily Maverick that Tokhwane was then driven down the road and dumped out of the Nyala. The eyewitness interviewed by eNCA alleged that Tokhwane eventually dragged himself into a hole where a friend found him.
Rumours were swirling on Tuesday afternoon that Tokhwane's was not the only death, but Cape Winelands health spokeswoman Joanne Otto explained to the Daily Maverick how she believed the stories had arisen. After Tokhwane passed away at Cape Town's Tygerberg Hospital, Otto said, police initially couldn't get hold of his next-of-kin and so returned to Stofland to look for relatives to inform. "When the police were seen going back into the spaza shop and neighbouring houses, the rumours began to spread that there was more violence."
Otto urged caution in this regard: "We must be very careful, because the rumours are now flying thick and fast." She said that as far as medical authorities were aware, Tokhwane's was the only confirmed death in this round of strike violence. "The only patient [admitted to hospital on Tuesday] was in Wellington, with very minor injuries," she said.
The community of Stofland, however, is not willing to risk any further deaths at the hands of the police. Local leaders and community members, frustrated by what they see as wanton and brutal actions of the police force, have invited representatives of the Human Rights Commission to visit Stofland tomorrow to see for their own eyes injuries visited on local residents. They are hoping that steps like this will also lead to greater attention paid to whether cases referred to the IPID are actually investigated: there appears to be a widely-held perception that police officials face no penalties for actions undertaken while trying to control the strike action.
If the Clanwilliam deal can be extended as widely as Cosatu hopes, the end of the current labour dispute may indeed be in sight. But this would be premised on a number of fairly difficult conditions. Many farmers elsewhere are likely to say that whatever their Clanwilliam associates have agreed to, they cannot afford to raise wages to the same level. Workers will have to persuaded to adjust their expectations down from R150 a day. And Cosatu will need to prove its ability to call off the strike – far from a foregone conclusion in a situation where only a tiny fraction of farmworkers are officially unionised.
Written by: Rebecca Davis
Picture credit: http://dailymaverick.co.za