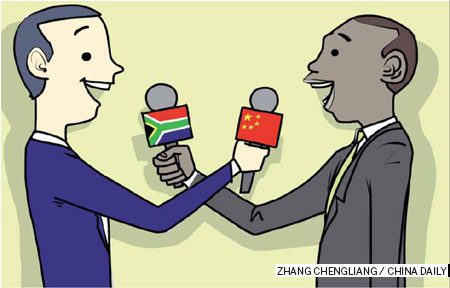 The formal invitation extended to South Africa by China late in 2010 to join the BRIC formation of emerging economies (Brazil, Russia, India and China) is a confirmation of the growing economic ties between China and South Africa.
The expanded trade between these two countries is seen by many as an opportunity for South Africa to meet its development needs. For China, the interest in South Africa as an emerging market forms part of its growing interest in Africa for resources, markets and diplomatic support. But this involvement has not been unequivocally welcomed.
While, for some, China's growing concern in Africa is seen as an opportunity for the continent to grow its economies and become a stronger presence in international markets, others are concerned that the economic boost China brings to the African continent comes with too high a price tag.
Some of these critics go as far as to say that China's involvement in Africa constitutes a new type of imperialism and a "scramble for Africa".
The relationship between China and Africa goes back a long time. When examining current Sino-African relationships within a new global world order, it would therefore be useful to avoid simplistic oppositions and caricatures, and opt for a historically informed view of the ongoing complex dynamics marking the relationship between these two regions.
The first instance of "Sino-African contact" can be traced back to 1415, when Zheng He of the Ming Dynasty (1368-1644) visited more than 30 countries in Africa. Official relations between Africa and China in contemporary times can be seen to start in 1955 with the first Asian-African Conference in Bandung, Indonesia, aimed at promoting economic and cultural cooperation.
The development of China-Africa relations in the 21st century gained impetus when China started looking for new sources of energy and natural resources to sustain its rapid economic growth. In 2010, China became the continent's largest trade partner, making up 10.4 percent of Africa's total trade, representing a tenfold increase over the previous decade.
This growing involvement led to questions as to how China's renewed interest in Africa should be viewed - as a benign partner or as a threat for local economic interests and political values? It has become commonplace to hear oppositions like "partner or predator", "friend or foe", "partner or colonizer" used when the implications of China's involvement in Africa are discussed.
South Africa's relationship with China can be understood both as part of South Africa's global repositioning in the post-apartheid era and the country's emergence as a regional power, and as part of a broader geopolitical realignment that involves the "Rise of the Rest" in Fareed Zakaria's terms.
The formal diplomatic relationship between South Africa and China was initiated shortly after South Africa's formal transition to democracy, restoring ties that were broken during the apartheid years. This paved the way for an evolving relationship between the two countries.
The bilateral understanding between China and South Africa has now been extended to the new BRICS alignment of emerging countries.
But the usefulness of this grouping to describe the changing international relations has been debated. Some pundits have called for a broadening of the group to include Mexico, Indonesia, South Korea and Turkey. Others have pointed out that the political and economic systems of the various BRICS countries differ vastly.
Several commentators have remarked on the relative smallness of South Africa's economy in relation to its partners in the group, and yet others have emphasized that the economic basis of the categorization does not necessarily provide a basis for analysis of the ways in which social and cultural dynamics are being shaped by these new global shifts.
It has also been remarked that the neat acronym of BRICS suggests a collaboration of emerging economies that might still turn into fierce competition for resources.
However, regardless of how one views the similarities and coherence between these countries, the emergence of this grouping constitutes a challenge to the existing world order and signals the desire of the global South to reshape international relations on their terms.
China's role in post-apartheid South Africa is marked by historical legacies, and contemporary political and economic power relations. Whether viewed as a positive engagement or a negative impact, the size and impact of this engagement cannot be ignored. It can therefore be assumed that the relationship between these two countries would enjoy significant media coverage. The question is how this relationship would be portrayed.
Western reportage about China's involvement in Africa has often been characterized by fearmongering or a paternalism that emphasizes the threat China poses to African countries. It is not difficult to find examples of Orientalist stereotypes in many Western media discourses.
While media coverage of the China relationship in South African media also sometimes displays a lack of nuance or simplistic stereotyping, systematic content analyses over the past three years carried out by research company Media Tenor have found that contrary to what may be expected, the South African media have not been overly negative in their reporting.
Media coverage has started out by displaying a carefully optimistic attitude toward China's involvement, and in the past two years coverage has become more favorable.
China is considered a newsworthy story both in general and business news, and the majority of reports focus on economic aspects, such as the market position of China, mergers and economic cooperation, general economic issues, companies and economic policy, China's situation in the global economy, economic regulations, executives and management. Little attention is paid to the social dimensions of the closer interaction between China and South Africa.
The analysis suggests that coverage of China in South Africa is more balanced than one might have expected. Instead of portraying China either as a savior or close partner for African states, or as an exploitative neo-colonial predator, coverage seemed fairly balanced. What is more, China consistently receives considerably more coverage in total than the other BRICS countries.
When coverage of South Africa by the Chinese media is considered, the picture is however more negative, with concerns being expressed about crime and the economic situation.
These analyses suggest that overall a more balanced view of China is emerging in the South African media. Individual reports may still display stereotypes or superficial attitudes, but when considered on the whole and across a range of media platforms, China is not represented in either a starkly positive or starkly negative light.
It would seem that a cautiously optimistic attitude characterizes South African media coverage. What is clear from the volume of coverage of China is that the relationship between South Africa and China, strengthened by their membership of BRICS, will increasingly become media-driven.
The impact and importance of the media in how the future of this relationship unfolds is likely to increase with the presence of Chinese media on the continent, namely Xinhua News Agency, CCTV and this newspaper, China Daily. These will add to the diversity of perspectives on China-Africa and in all likelihood further intensify the media discourses around the new geopolitics of which this relationship forms part.
Written by: Herman Wasserman
Picture credit:http://africa.chinadaily.com.cn
Professor Herman Wasserman is deputy head of the School of Journalism and Media Studies, Rhodes University, South Africa. He is editor of the journal Ecquid Novi: African Journalism Studies. This article was published on China Daily website (http://africa.chinadaily.com.cn).