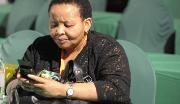 On Monday, a multi-party parliamentary discussion was held to hear submissions on gender-based violence from civil society and decide on a "decisive" way forward. It was a reassuring sign that gender-based violence is being taking seriously by Parliament, but there were still a few concerning aspects to the discussion – not least Women's Minister Lulu Xingwana fingering Satanism as a root cause, and the repeated mention of "family values" without clarifying exactly what's meant by that term.
It has been almost three months since the gruesome rape and murder of Bredasdorp teenager Anene Booysen caused politicians to declare that enough was enough. The two accused in the Booysen case appeared in court again on Monday, with the trial postponed until 21 May to allow the state to prepare further evidence. Last week, an estimated 3,000 people nationwide participated in South Africa's longest-running and largest rape demonstration, the Silent Protest, which began life at Rhodes University in Grahamstown but this year spread nationally for the first time: a further indication that South African society may be reaching some kind of a tipping point in its response to gender-based violence.
That's not to say, however, that there are many indications that the rate of incidents of gender-based violence is slowing. Just last week, the bodies of a woman in her 40s and her two children (aged five years and four months respectively) were found dumped in two pit toilets near King William's Town. The Daily Dispatch reported that the bodies had multiple stab wounds, and the hands and feet of the mother had been bound with wire. A week previously, in Elliotdale in the Eastern Cape, an 89-year-old woman and her four- year-old great-granddaughter had been found stabbed to death.
Minister of Women, Children and People with Disabilities Lulu Xingwana visited the home of the latter set of murder victims over the past fortnight, where she was quoted as blaming "drug abuse and witchcraft" for the reasons rapists targeted older women and young children. On Monday, addressing the multi-party caucus, Xingwana also pointed to the "growing" number of teenagers who choose to "serve Satan" as one potential cause of gender-based violence. While there was a case last month of a teenage girl stabbed to death in Randfontein as part of what was alleged to be a "satanic attack", such incidents are thought to be extremely rare in South Africa, though every now and then hysteria rises on the subject.
Xingwana did not suggest that Satanism was the leading root cause of gender-based violence in South Africa; rather, she mentioned it as part of a list of potential factors, including drug and alcohol abuse. But many activists would agree that the focus she chooses to put in her public statements on the largely unsubstantiated idea that Satanism and witchcraft play an important role in gender-based violence is unhelpful, to say the least. It is abundantly documented that the majority of gender-based violence in South Africa takes place within the quotidian domestic sphere, within intimate partner relationships, as Xingwana has previously acknowledged in speeches, rather than at the hands of lurking Satanic bogeymen. To outsource the threat of gender-based violence to "Satanists" or "witches" means that we avoid focusing on the everyday systemic conditions and gender inequalities that can give rise to such violence.
A different, but related, problem was also evident in the language use of some of the parliamentarians making submissions to the multi-party hearing on Monday. The phrase "family values" was bandied around quite frequently, with the suggestion that gender-based violence could be tackled by means of a return to those values. But what exactly does "family values" mean? It's a phrase that we have heard quite a lot from the government of late: in October last year it released its "Green Paper on the Family", which suggested that "the family", and the "marital unit" is key to social cohesion.
Writing for City Press late last year, gender activist Melanie Judge argued that such an approach "entrenches, rather than transforms, patriarchal power inequalities". The notion of the family, she wrote, is not intrinsically "nurturing", as the paper proposed: "In reality, many families 'nurture' unequal social relations between men and women, rich and poor, black and white, queer and straight". The paper called for a "family perspective" to inform policymaking – but Judge questioned what that might mean when it came to issues of gender-based violence and the rights of sexual minorities in particular.
"What might consideration of the 'family perspective' mean for the rights of a woman who seeks a restraining order against her abusive husband?" Judge wrote. "How might a 'family perspective' be applied when a lesbian child is evicted from the home because her parents claim her sexuality doesn't accord with 'family morals'?"
The fact is that many conceptions of traditional "family values" go hand-in-hand with rigid gender roles and gender power imbalances. It's debatable how much we can romanticise the site of the "family", either, when so much gender-based violence in South Africa happens within it: as Judge writes, "The green paper's hallowed 'family' is often a pretty unsafe place".
Another phrase we heard more than once on Monday, and which often accompanies mention of "family values", was the need for "moral regeneration" in tackling gender-based violence. It was then-deputy president Jacob Zuma who spearheaded the "official" Moral Regeneration Movement in 2002, which in 2010 was found to have little to show for the R22 million which had been poured into it. But it remains a popular concept: in December last year, a group of senior religious leaders wrote to Zuma calling urgently for a recalibration of the country's "moral compass".
The question in this instance, however, is whose morality we would be regenerating. It was slightly disconcerting, on Monday, to hear a parliamentarian from the Eastern Cape greet the multi-party discussion "in the name of Christ", for instance, in what is supposed to be a secular space. It's known that moral stigma can often hamper both gender and health interventions. Representatives from sex workers' rights groups Sweat and Sisonke testified to the hearing as to the negative responses sex workers often receive from both police and healthcare workers as a result of stigma, with nurses "shouting abusive comments [at sex workers] in crowded clinics". A 2011-2012 Women's Legal Centre study found that of 308 sex workers interviewed nationally, 70% had experienced some form of abuse at the hands of police, rendering them naturally more reluctant to seek legal redress for gender-based violence.
The same kind of moral stigma can also have a devastating impact on the lives of – in particular, though not exclusively – working class black gay people, whose rights are protected by the Constitution in theory but often not in practice. The Triangle Project reported on Monday that lesbians who attempt to report violence to police, for instance, are often subjected to "verbal abuse and demeaning treatment", again raising the likelihood that such acts will be under-reported or not prosecuted with vigour. Between 1998 and 2009, the Triangle Project pointed out, there were 31 recorded murders of lesbian women, with just one conviction in that period.
The Triangle Project suggested too that the implicit assumptions about gender roles present in policy documents like the "Green Paper on the Family" may feed homophobic violence, as it's believed that the practice of so-called "corrective rape", in particular, may be fuelled by sanctions against women's transgression of prescribed gender roles. A representative from Sweat possibly put it best when she suggested that a better framework for the discussion was "human rights", rather than "family values".
As was clarified later in the discussion, it's perfectly possible for a notion like "family values" to have a role in informing policy-making – as long as what is meant by that term is specified quite precisely; as a "loving, safe, respectful upbringing", perhaps. This may seem like an unimportant semantic point, but when there are complex cultural associations clustered around such terms, it's vital that they be unpacked – particularly when used by significant public figures.
Written by: Rebecca Davis
Picture credit: Daily Maverick
This article was published on Daily Maverick.