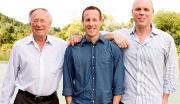 South African paediatric oncologist Cyril Karabus has been held in the United Arab Emirates for 234 days. Acquitted of manslaughter a fortnight ago, he was subsequently informed that the prosecution will appeal. While Karabus is due to appear in court yet again on Tuesday, his family says that beyond the emotional toll of the case, their costs are rising daily.
On 21 March, it seemed that it was all over. After umpteen postponements and delays, the Abu Dhabi Criminal Court ruled that Dr Cyril Karabus was not responsible for the death of Yemeni child Sara Al Ajaily in 2002. It came to this ruling after the Higher Committee for Medical Liability found that Dr Karabus had not been negligent in his treatment of the girl, and had not forged her hospital records.
"I feel fantastic, I met a lot of nice people here but I just want to go home now," Karabus told UAE newspaper The National outside the courtroom after hearing the verdict. The 77-year-old doctor knew, however, that it was possible things might not be quite as clear-cut as they seemed. "I think things should be all right," Karabus said, "But until I'm on that plane and flying through the air, I'm uncertain what the future will be."
Karabus was right to be uncertain, despite the initial jubilation at the news of his acquittal, which was greeted as a kind of diplomatic coup for South Africa. All sorts of parties were credited with having expedited the long-delayed arrival of justice in this issue. International Relations Minister Maite Nkoana-Mashabane held a press conference to announce Karabus's acquittal, where she told journalists (including Daily Maverick's Khadija Patel) that the Department of International Relations and Cooperation (Dirco) had written to the UAE demanding Karabus's swift movement through the UAE judicial system.
Sekunjalo chairperson Iqbal Survé also put a word in on Karabus's behalf, able to lend a hand – and "credibility to the process", in his own words – due to his personal and business links to the Middle East. It seemed that these intercessionary measures had all paid off; but once news broke a week later that an appeal would be launched against Karabus's acquittal, it appeared that the cogs of UAE justice were still moving to the beat of their own drum.
Karabus's family had hoped that he would be back home in Cape Town by 1 April, his 78th birthday. But with the appeal announced, Karabus's passport continued to be retained by authorities, and an indefinite stay in the UAE awaits.
When Karabus appears in court on Tuesday, it is unclear what arguments the prosecution will mount in order to appeal his acquittal – particularly given that the medical committee which examined the case exonerated Karabus of any wrongdoing. "We didn't realise that there was any basis for an appeal," Karabus's daughter Sarah told the Daily Maverick on Monday. "Of course they have the legal right to appeal. But because they won't tell us what the basis for the appeal is, we can't prepare any defence until we hear it in court for the first time."
Sarah Karabus said that it was "pretty devastating" for the family to hear of the acquittal and then of the subsequent appeal. "It was the very first time we got our hopes up," she said, speaking of the news that her father had been acquitted. "We really thought he might be coming home."
Meanwhile, the Karabus case continues to have global repercussions. The Cape Times on Monday led with a story that the World Medical Association (WMA) is to advise doctors worldwide of the risks related to working in the UAE, where medical malpractice is considered to fall under the ambit of criminal law. The South African Medical Association (Sama) had hoped to persuade the global medical body to call for a health labour boycott of the UAE, but an advisory to workers is the most that the WMA is willing to consider at this time.
The WMA council met in Bali late last week, where it passed a resolution stating that it believed that Karabus's treatment in the UAE "fails to meet international fair trial standards and he should be allowed to return home immediately", and encouraged member associations to make health workers aware of the risks of UAE medical work. Medical association spokesman Mzukisi Grootboom, who attended the meeting, told the Cape Times that this was "unprecedented" action for the WMA.
Sarah Karabus told the Daily Maverick she was hopeful that this step might prevent doctors from finding themselves in Karabus's position in future, but that she doubted it would have any impact on the authorities with regards to Karabus's case. Her father voiced a similar opinion to the Cape Times, saying: "I don't think they'll care".
Every day that Karabus remains in the UAE, the cost to his family mounts. "The bills have been over the R2 million mark now," Sarah Karabus confirmed on Monday. She said that her family had been deeply touched by the number of donations they had received towards Karabus's expenses, particularly from fellow doctors and nurses. The major part of the detained doctor's costs are his legal fees, but everyday living expenses in the UAE – where Karabus has been staying with another South African doctor since his release on bail in October – are also very high.
The reason why Karabus took a brief locum shift at the Sheikh Khalifa Medical Centre in Abu Dhabi was that a career spent working in South Africa's public health system had left him in poor financial shape for his future. For many years, Karabus led the unit of paediatric oncology at Cape Town's Red Cross Children's Hospital. He was "very much at the forefront of accessing treatment for South African and African children who needed it", former colleague Professor Heather Zar told the Daily Maverick last November.
"He's an extremely frugal man. He's barely bought a new pair of shoes in 15 years," Sarah Karabus said. "I've also worked in the public health care system for years and salaries have improved immensely – they are good now. But in my dad's time, they weren't. If he had gone into private practice, or if he had gone overseas, like many of his peers, he wouldn't have had to do any locums. I wish his pension had been enough to support him."
When Karabus appears in court on Tuesday, there are a number of potential outcomes. There may be some kind of postponement or delay, as has happened on numerous occasions in the Karabus case before. If the prosecution presents the evidence for an appeal, the defence may have a turn to rebut, or the judge may simply decide to throw the matter out. Sarah Karabus said on Monday that her father was hopeful of the latter.
"I spoke to him this morning. While last week he was pretty depressed, today he's just got a feeling that it's all going to be over soon," she said. For her part, she wasn't allowing herself to get her hopes up again just yet. "I just don't know what to say any more."
Written by: Rebecca Davis
Picture credit: Daily Maverick
Rebecca Davis studied at Rhodes University and Oxford University. This article was published on Daily Maverick.