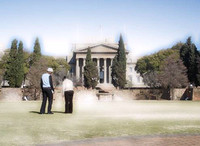 Following an expose about a professorial sex pest published in Wits' Vuvuzela last year, and Sunday Times' front page lead at the beginning of March 2013 about alleged abuse at the drama school, the institution has reeled.
Within days the scandal deepened, implicating more lecturers, while Wits' alumni state that sexual predation has been ongoing at the university for decades.
It is claimed Wits has added insult to injury by turning a blind eye.
A little over a month ago, the creaking floodgates that retained decades of secrets about alleged sexual predation at University of the Witwatersrand (Wits) in Johannesburg strained, and then would hold no more. After a series of leaks, it was a story in a national Sunday newspaper that would see the mass spilling of a public shame.
The academic institution celebrated for its research prowess and for producing four Nobel Prize Laureates stood accused of an unspeakable scandal – fostering an environment that protected staff alleged to be sexual abusers.
It took two years to launch an investigation into accusations of sexual predation despite an earlier report of rape, and then only after the public outcry that followed The Sunday Times' shocking report of Sunday 03 March, headlined: 'Senior Wits lecturer accused of being sexual predator'.
The Sunday paper gave voice to ten former students who accused the deputy head of the university's dramatic arts department, Tsepo wa Mamatu, of preying on young women over a period of six years.
A rape report was first filed against wa Mamatu in October 2011 after a student claimed she'd had drinks with him, gone to his room and lost her virginity. She stated in an SMS: "I woke up no longer a virgin and I'm uncertain what happened."
The public 'outing' of wa Mamatu was a watershed, and soon accusations coalesced against other members of staff as students and alumni started telling their own stories.
"When I read the article (in the Sunday Times) I thought 'rien a changé'. Nothing has changed – it has just gotten a bit worse. I feel like I have some sense of culpability because I think maybe if I had made it public and reported him there may have been something that would have been done to prevent this going forward," said former Wits drama student, Dana Kidson, speaking to Daily Maverick on the phone from the UK.
Kidson realises intellectually that she's not responsible for what happened at Wits some 30 years after she left, that the perpetrators are the guilty parties. Still she's left with emotions of anger, blame and guilt for not reporting her own incident.
Kidson's story is typical of the accusations that have been spilling forth from students and members of the alumni who now feel compelled to break their silence. "Why did some of the staff there think that every new batch of first years was a nice new box of chocolates that they could open to have a bite at whatever looked interesting?" the one-time Wits drama student asked.
Like other alumni, Kidson is accusing Wits of fostering a climate where abuse flourished, an environment where staff could and would readily 'approach' students for sex. The nature of this pervasive culture is well articulated in an open letter sent to the institution's leadership by a group of the alumni of the school of dramatic arts.
Addressed to Vice-Chancellor and Principal Loyiso Nongxa, and other members of the university's leadership, the words in the open letter hit hard. "In light of the recent allegations of sexual misconduct on the part of a senior lecturer in the department, we wish to register our dismay, our shared distress at the very notion that nearly two decades into the democratic dispensation for which we fought, an apparent climate still exists within the University that condones and, what's more, appears actively to facilitate such sexual transgression," the missive, which Daily Maverick has a copy of, read.
Signed by fifty former students from the school, the letter continued: "Our collective outrage is partly rooted in our own experience of an environment that prevailed some thirty years ago, which was tolerant of sexual misconduct: there are some among us who still carry the emotional scars from having endured such assaults.
While the development of our individual careers has seen us spread far and wide, an unfortunate number chose to abandon their intended career path altogether as a direct consequence of sustained violations which were kept hidden from view by an apparent collegial code of silence."
Kidson claims that there was a collegiate environment at the varsity that tolerated this, and that lecturers readily fraternised with students. "There was student gossip about lecturers being involved with other students, so there was low-key awareness that this sort of thing went on," said Kidson, talking about how some lecturers would approach students, before she paused and told Daily Maverick her own story.
"There was an after-play party and a lecturer offered me a lift home. This was something that happened a lot – lecturers and students fraternised a lot – it wasn't that unusual. It was improper, it was wildly improper," says Kidson. "I remember I wasn't that ecstatic about getting a lift with him, but he was giving another lecturer a lift home so I thought that would be fine.
But he dropped the other lecturer off first, and I wondered if this was a logical route to take home. When he dropped me off we chatted for a bit and then he launched himself at me…" Kidson stated.
Seventeen years old at the time, Kidson was confused and got out the car and went inside. She next saw the Wits lecturer she accuses of being a sex pest at a tutorial he was giving to her and three other students. "He said he wanted to work more closely with me so he sent the other students away.
He then spent about an hour or two trying to talk me into having sex with him. I was really uncomfortable. He was the man who was teaching me and I didn't want to upset him, but I remember thinking: 'This is a really bad idea because I just don't see how there is a good outcome for me in this.' I felt it was really bad, but he just kept on and on and on," said Kidson.
"Twice or three times he would leave a note for me to see him in his office. Once when I went in, he said he had a very bad back and asked me to massage his back. It was very awkward and I felt that I was walking this very fine line of trying to dissuade him whilst still being diplomatic and gentle.
It then became apparent that I meant 'no' and after that he just turned savage. He was just horrible and mean. I went from having the top marks to the bottom. From doing no wrong I could do no right," said Kidson, who added that she realised she could report the lecturer, but did not feel that the environment was right for her to do this.
"I felt that this was condoned and I felt that if I reported him I would be disturbing what was 'normal practice' at the university; I felt I would come up against other people's loyalty towards the lecturing staff and peer loyalty, which I felt was very high. It was a choice then to minimise the contact I had with him or to leave Wits.
What I did was to avoid any subjects that he could have had a presence in," she said, echoing a statement expressed by students thirty years later.
Kidson stopped doing all the courses that the lecturer was in, denying her participation in a field of study that was a big part of the very reason she was at Wits. It was a decision that would impact her future. "I should have reported him, but I didn't know who to report him to. Now I feel resentful about the decision that I did make.
The thing is that I wasn't a timid student. I was brave enough to rebuff him three or four times after hours of badgering. But the last hurdle of reporting him… I just couldn't do that," she said.
Ten years after the incident, Kidson was sitting in London's The Royal Court Theatre, watching David Mamet's Oleanner, when she was overcome with anger. "I was furious and shaking with rage. How dare he? Why did he think that was an okay way to behave? That play just raised so many issues," she explained.
Oleanner is the play, and later film, that enrages both female and male audiences. It tells the story of a university professor and his student who is failing his class, and creates a lens through which men and women can see the same event, but perceive it very differently. The play is a work on the relationship between trust, power and academic freedom.
The name of the person Kidson has accused is known to Daily Maverick, but to be ethical and avoid a 'trial by media', Daily Maverick has suggested Kidson rather report the matter, should she choose to do so.
At Wits the relationship between trust, power and academic freedom appears to have been damaged for decades. The precursor to the latest series of allegations is a Friday 21 September 2012 story in Wits Vuvuzela. Six months before the Sunday Times article, the university's own newspaper published a damning story headlined: 'Professor asked students for sex'.
In the report, three women told how they'd been hounded by a professor for sex through SMSes and social media. The story revealed that the academic's advances were widely known amongst students reluctant to report the man, because as one student was told: "You don't want to be that girl. You don't want to be that girl that exposes the lecturer. You don't want that reputation".
Wits responded by asking 'victims' of sexual harassment to consult with the University's Sexual Harassment Advisor. The glaring question is why the problem wasn't adequately dealt with then? In February 2013, the university witnessed a march against sexual violence, and three weeks later the Sunday Times would run its front page expose.
The next day, Monday 04 March 2013, Twitter was aflame with the story, and social media chatter showed that the problem was much bigger than Wits thought it was. More allegations started to surface and claims were made online that the problem was widespread and reached back over years.
In the days that followed, wa Mamatu was placed on special leave; while allegations of sexual misconduct were made against Dr Last Moyo, head of Wits' Media Studies. Moyo stepped down pending an investigation. On Tuesday 12 March 2013, Professor Daryl Glaser of the Political Studies department penned an email that was widely circulated, and published onPoliticsWeb.
The communique indicated that the Wits Legal Office had allegedly tried to gag the politics department from speaking out about another alleged sex pest within their own fold, this time related to the September 2012 allegations published in Wits Vuvuzela.
Wrote Glaser: "The Vuvuzela report implicated our head of department, it was also decided that the department would formally ask the person involved - Prof Rupert Taylor - to step down until the investigation could be completed. He immediately agreed to this request, and also independently asked the Head of School to conduct an investigation, and he has repeatedly denied the reports in Vuvuzela in the strongest possible terms."
Several requests were made by the politics department for an investigation, and after four weeks the university's legal office responded and advised that the issue should not be discussed or made public as it would 'complicate' future investigations.
The letter from the politics department contained a damning indictment of how the university first handled the issue of alleged sexual predation: "When we repeatedly pushed for a public statement from the university in response to the Vuvuzela article, nothing was forthcoming. No public comment of any sort was permissible. Asking students to come forward was not permissible, because the act of asking them about sexual harassment would compromise anything that they reported in response," Glaser wrote.
"Bound by these restrictions, members of the Department pushed instead for acknowledgement of sexual harassment as a widespread problem on campus and to proactively be part of the revision of relevant policies and work towards establishing best practices on this campus.
In our opinion, the extreme conservatism and lack of responsiveness of the legal department has been a major stumbling block in addressing this issue," the letter stated.
This wasn't the first time Wits has tried to hide its shame. In April 2011 Mail & Guardian revealed that a plagiarism case was kept under wraps by the university. "Wits University's most senior executives appear to have colluded in hushing up one of academe's deadliest sins: plagiarism.
They convicted and dismissed the high-flying professorial sinner last year, but have never announced it," read the report. The story only broke after Mail & Guardian got a copy of a confidential, 100-page arbitration in the case brought against Professor Abebe Zegeye, a onetime director of the highly respected Wits Institute for Social and Economic Research.
The sex predator scandal has hit Wits' reputation hard, and in response the university launched two investigations. The first into specific staff accused of being sex pests, which will be led by independent law firm Bowman Gilfillan on Wits' behalf.
"Anyone who would like to make submissions relating to this specific investigation or to report any other complaints related to sexual harassment by staff members, can contact Xolisile Selatela on +27 11 669 9268 or +27 82 338 0915 or emailx.molepo@bowman.co.za directly," the university said in a statement to Daily Maverick.
The second investigation is led by the Head of the Centre of Applied Legal Studies, Professor Bonita Meyersfeld and Joe Mathibi from Norton Rose, another independent law firm. The scope of this investigation is to assess existing policies and procedures with a view to preventing further instances of sexual harassment."
The investigation will also establish whether sexual harassment and quid pro quo relationships are commonplace at the University; whether staff and students are aware of the policy and procedures on sexual harassment and whether they feel comfortable reporting sexual harassment incidents," the university stated.
Wits' alumni are sceptical. "We understand that a campus-wide investigation has been instituted involving a leading law firm and a team of senior administrators. However, we fear this is too little, too late and that it offers slight comfort to survivors; we suspect the strategy is driven, not by a sincere desire for truth and justice, but by a need to shore-up the university's own legal defences," stated the letter, signed by 50 former drama students including Gilda Blacher, Dan Robbertse, Andrew Worsdale and Adrian Galley.
Back at Wits, students are still fearful about coming forward with their allegations, while others said the incidents were ongoing. Spokesperson of the Student Representative Council, Tasneem Essop says: "This reflects that sexual harassment is ravaging our university. This is a weekly occurrence, and reflects the failings of the University in how they have been handling these issues."
Essop argues that the fact that students are unaware that they can lay anonymous complaints is another example of Wits' failings in handling the trauma.
Student and activist, Dikeledi Selowa, stated: "The spate of sexual harassment cases at Wits is disgusting. Such things should simply not occur in an institution of study where students need to feel safe."
In the wake of the scandal, the School of Literature, Language and Media constituted a sexual harassment committee with a view to instilling a zero tolerance policy towards sexual harassment; breaking the culture of silence pervasive at Wits; and addressing these complaints with a greater sense of gravitas. The committee held a number of open discussions and these meetings indicated that students fear reprisals and aren't aware that they can report cases anonymously.
A Wits student, who asked to remain anonymous, claimed to have been sexually harassed by a lecturer on a continual basis. She refused to lay a formal complaint due to the shame it would bring her family.
"I have left my family and am staying around the campus to complete my studies. I have no support structure here and my family has sacrificed a lot for me to study. I feel as if the university has failed me. If I complain I bring shame upon my family, and if I don't I bring shame upon myself," the student says.
When asked why she didn't want to lay an anonymous report, the unnamed student replied, "He will know it's me who complained, and I have no evidence – only my words," the student told Daily Maverick.
"It is never the victim's fault. Often when people remain silent, it is the silence that allows the individual harassment to continue," Dr Mehita Iqani, acting Head of Department in Media Studies and a member of the sexual harassment committee, told Daily Maverick.
Iqani explained: "Students need to be brave and know that their confidentiality will be protected, but they need to follow through with formal complaints in order to effect change, even if they choose to do it anonymously".
But at Wits, different departments involved in the sexual allegations are addressing the matter in differing ways, showing little coherence. Critics say this is problematic because it creates a chaotic system where the university appears unapproachable to students within these different departments. "An overhaul of the entire system and manner of dealing with sexual harassment charges needs to be done on Wits' part," said one student.
Another Wits student told Daily Maverick that she had experienced an altercation with a lecturer related to sexual harassment. When asked how she dealt with the issue she simply stated, "I just moved classes, even though I joined a class that didn't interest me as much, it was better for me in the end."
The shame for Wits is not only that this happened and that the university failed the students for years by not dealing with the problem. The shame is that trust was broken at an institution responsible for higher learning, a place where young minds should be safely opened to new knowledge. It will take hard work, sincere change and time before this trust can be regained.
Photo by ign11 via Flickr.
MANDY DE WAAL & ERIN MCLUCKIE
Source: The Daily Maverick