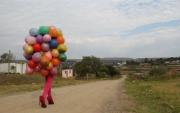 It was a sight that demanded interpretation. Athi-Patra Ruga, wearing stilettos and stockings, his upper body and head hidden under a cloud of balloons, was stuck outside a revolving door. He and his collaborators had walked from Joubert Park, across downtown Joburg, to the headquarters of Standard Bank, where they were due to appear at the opening of an exhibition at the bank's gallery. But Ruga and his balloons couldn't fit through the door.
Ruga's interrupted journey, his incomplete arrival, has a broad symbolic value; it represents, felicitously, the central motif of the exhibition itself. Making Way: Contemporary Art from South Africa and China, curated by Ruth Simbao, invokes the Chinese concept kailu and the Xhosa phrase ukuvul'indlela — "opening up the road" — to present a range of responses to migration, travel and movement. Yet many of the works gesture towards a "closing down" of the road and barriers to motion: dead ends, broken pathways, restricted access, disappointing destinations.
Simbao's curation is motivated by a desire to find the middle way between two opposing but equally popular views about China-and-Africa. On the one hand, there is the narrative of China as economic saviour of our continent, seeking to establish mutually beneficial trade and industry agreements. On the other, there is Sinophobia: China is the new imperial power in Africa, it shows scant regard for democracy and human rights, Chinese are racist, and so on.
Simbao allows geopolitical discourses to recede or blur as the artists she has selected focus on the lives of individuals and communities. Some of the works address China-Africa relations directly; we learn, for instance, about "Chocolate City", an area in Guangzhou that is home to tens of thousands of African immigrants. Some are more concerned with patterns of movement and stasis within China or across Africa, but resonate with the general theme.
A curious line of continuity is provided by those ubiquitous and instantly recognisable forms of packaging, the nylon or vinyl carriers variously referred to as Chinese totes (because they are manufactured in China), Zimbabwe bags and Ghana-Must-Go bags. As these names suggest, the bags connote transit and forced migration.
They appear in Cape-based Zimbabwean artist Vulindlela Nyoni's Murambatsvina series, which alludes to Robert Mugabe's notorious "get rid of filth" campaign. If Nyoni's work gestures towards the causes of the Zimbabwean diaspora, then compatriot-in-exile Dan Halter uses the bags as metonyms to give insight into the lives of those who have fled. In Halter's Space Invaders, Zimbabwe bags are arranged into shapes recognisable from the 1980s arcade game; the sites he chooses (a Joburg taxi rank, a refugee centre in Cape Town) indicate the "ports of entry" for these unwelcome "aliens".
Gerald Machona's use of the banknotes — mostly in performances captured through photographs — ranges from the cynical to the poignant, giving expression to both the aspiration and the despair represented by mari ye phepa (paper money).
The Zimbabwe government's "Look East" policy, combined with the relentless mistreatment of its citizens, gives the Chinese provenance of the bags greater consequence.
In Dotun Makun's Ghana-Must-Go portraits, the blue and white weave of the bags is a background presence, reminding one of their use by Ghanaians expelled from Nigeria in 1983. Makun, a Nigerian graduate of the Master of Fine Arts programme at Rhodes University, painted subjects from various African countries living in Grahamstown in a series ostensibly portraying Nigerians.
There is a complex web of signification here. The phrase "Ghana-Must-Go" is a hangover of Nigerian xenophobia; 30 years later, Nigerians in South Africa are subject to diverse forms of vilification. Moreover, such is the ignorance of many attitudes towards those from the north that "Nigerian" becomes a generic word for foreign, and "Nigerian" features are supposed markers of foreignness.
This complexity is echoed in James Webb's sound installations. In 2005, as part of his worldwide There is No Place Called Home project, Webb broadcast the calls of South African carnivorous birds from speakers hidden in trees along the concrete banks of the Pearl River in Guangzhou. In 2006, he applied the same technique to Joubert Park, this time using the calls of restricted-range or nonmigratory birds from China and Nigeria. If asked which nationalities are known for "wandering", most residents of Joburg would probably answer: Chinese and Nigerians. But Webb's point is clear: in the 21st century, notions of "home" and "belonging" are moribund and potentially dangerous concepts.
In Lebogang Rasethaba's short film, Sino, China again becomes a medium for exposing trans-African tensions. Two African students, one from a Francophone country and one from an Anglophone country (we are not told which), find themselves sharing a room in a Chinese university dormitory. The Francophone student speaks fluent Mandarin and is comfortably acculturated; the Anglophone student is a disoriented newcomer. What transpires between them says a little about China, but a lot about Africa, and the prejudices of English-speaking Africans in particular.
More insight into China is gained from the work of Wu Junyong, Hua Jiming, Qin Ga and Maleonn. Wu's nightmarish animations hint at the machinery of a powerful centralised state: surveillance and voyeurism, controlled puppetry and a libidinous desire for freedom. Maleonn and Qin Ga appropriate and interrogate communist icons — the shadow of Chairman Mao is undermined by Maleonn's playful expressions of individuality, and Qin has the much-mythologised Long March of the Red Army tattooed onto his back.
Hua's four-day walk across Hubei province and his painstaking leopard crawl along a section of the Great Wall of China emphasised the endurance required to undertake a journey. This is an interest shared by Brent Meistre, whose stop-frame animations depict the physical and emotional suffering of displacement. Even bewildered colonisers of the 19th century are met with sympathy: Meistre evokes the Dorsland Trekkers and Doung Anwar Jahangeer "humanises" the English by painting imbovu, red clay, onto the cold bronze of the Settler Family statue at the 1820 Settler monument in Grahamstown.
Jahangeer's clay has long since been washed away by the rain. Like many of the works exhibited, his was an ephemeral performance to which photographs and film do only partial justice. But this evanescence is something Simbao celebrates, quoting Amelia Jones's affirmation that live art emphasises "the impossibility of knowing, keeping or anchoring the present". And, as Making Way suggests, assumed "knowledge" about the global economic patterns of the present cannot always account for lived experience, which entails a collapsing of national, cultural and geographical categories even as different environments remain distinct — Simbao calls it "cosmo-localism".
Written by: Chris Thurman
Picture credit: Business Day Live
• Making Way runs until March 28, Standard Bank Gallery, Cnr Frederick and Harrison St, Jhb. This article was published on Business Day Live.