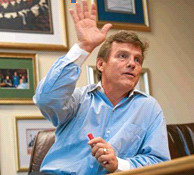 After North-West varsity fired transformation adviser, allegations of discrimination emerge
Tensions are simmering at the North-West University since the dismissal two weeks ago of its executive adviser on transformation, Ingrid Tufvesson — coincidentally just after Higher Education and Training Minister Blade Nzimande announced an already controversial permanent committee to oversee transformation at all 23 universities.
Staff and students accuse the university's management of discrimination on grounds of race, gender and sexuality.
"I wouldn't be surprised if the Reitz incident happened here, and worse," a North-West University staff member said this week. "And the university would cover it up. They wouldn't be open about it like the University of the Free State was," the Potchefstroom-based staffer said, asking not to be named.
She was referring to the 2007 incident in which four white students from the Reitz hostel at the Free State University made a video of themselves putting black workers through humiliating, racist initiation-type rituals.
This week the vice-chancellor, Theuns Eloff, conceded that "there are some levels of intolerance … It's not heaven here, but I haven't seen real issues that haven't been dealt with properly."
He admitted, though, that the largest of its three campuses, Potchefstroom, where only about 25% of students are black, would not mirror the country's almost 80% black profile any time soon. "By 2020, we want 30% black students and 30% black staff," he said.
Tufvesson, a coloured woman, became the university's first executive adviser for transformation and diversity management in 2011. She said she was dismissed because she questioned the way the university approached transformation ("NWU transformation officer to fight dismissal in court", M&G Online, February 13).
The university goes to "great pains to present to the world that it is non-racist, non-sexist and has moved away from the old way", she said. "But where are its explicit policies on racism, hate speech, sexism, sexuality and xenophobia?"
The university, which has a total of 55 000 students, is the product of one of the country's most unlikely tertiary mergers: the union in 2004 of the Potchefstroom University for Christian Higher Education and the former University of Bophuthatswana.
The former was a white institution with a strong Afrikaner Calvinist identity, the second a black Bantustan institution that apartheid designed for second-rate status. Eloff himself alluded to this vexed history: "What we should be asking is: Are these issues an institutional thing or is it a thing of our past that we must still work on?"
Tufvesson claimed she knew of more than 20 staff members, or "difficult people", who were "pushed out" by the University for raising concerns similar to hers — "some white but overwhelmingly and predominantly black".
She said her trouble began when she showed empathy to the family of a black student who drowned last year in the Potchefstroom campus swimming pool under "highly contested circumstances", and was quoted in the media about this.
The university also took issue with her participation in a gay pride march on the Potchefstroom campus last year, and her speaking at South African Students' Congress meetings.
John Maloma, the university's director of marketing and communication, said the institution was "feeding a monster of racism at the Potchefstroom campus".
The management used language to "protect the Afrikaner dominion there", he said. Lectures were predominantly in Afrikaans and it could be difficult to navigate around the campus if you did not speak the language — as the Mail & Guardian discovered this week, because all the signs are in Afrikaans.
He showed the M&G a report on employment equity Eloff submitted to the labour department last year. Senior management comprised six black men, six black and coloured women, 10 white women and 36 white men, the report said.
After raising questions last year about what Maloma said was the inadequacy of the university's transformation charter, it "put in place strategies to make me so uncomfortable that I would resign … like, I wasn't allocated new staff, my budget was slashed".
He recently submitted his resignation and has lodged a grievance with the Commission for Conciliation, Mediation and Arbitration, alleging unfair labour practice. The case will be heard next month.
But the university's transformation difficulties extend beyond race. One staff member said some meetings were opened with the routine greeting, "Môre, dametjies" [Morning, little women]. "But they would never call the men 'little men'."
At a gender workshop held on campus last year, Tufvesson said a student suggested that a safe haven be created for lesbian, gay, bisexual, transgender and intersex people. A dean allegedly objected to this and said: "But wouldn't this promote homosexuality?"
Seven black and coloured students, who did not want to give their names, said transformation was not a "spoken-about thing on campus".
One said: "Most of the university management is white and we are the minority on campus, so we don't talk out. We just want to get a degree, keep our heads down and leave."
Transformation could move faster, said another, but the student representative council and the residences "don't organise talks, marches and workshops about this stuff like they do at other universities".
Orapeleng Matshediso, president of the student representative council of all three campuses, said the university hid behind the two other campuses, in Mafikeng and Vanderbijlpark, which had higher black profiles. That allowed the management to claim that the whole university was racially transformed.
By contrast, a second-year white student, Carla Taljaard, said she had not heard of the word "transformation" but "everyone, the coloureds and the whites, in my res get along very well".
The university "makes an effort to accommodate English speakers" and had created awareness through things such as "Aids day and … days to talk about sexuality", she said.
Another student said: "If you're white and Afrikaans, and you're not concerned about transformation, then to you it's a well-run university and you will never see the deep underlying issues behind the mask."
A gay student, Cobi Hayes, said he knew of a black student, suspected of being gay, who had been "gay bashed" last year. " 'Christian higher education' used to be in the name of this university but [its underlying racist ethic] is still in the hearts of many of the people here."
Eloff cautioned that transformation was not just about racial or gender equity.
"It's also about success," he said. "Our first-year drop-out rate is 13% and the national average is between 20% and 30%. We are doing well in this."
He said the "trust" between him and Tufvesson had been lost but rebutted claims that the university was not serious about transformation. "We have staff equity targets [and] we do lose people, white and black, like every university, [but] we don't see a trend of people who leave saying 'we are being victimised'."
The ANC's view that institutions should mirror the country's racial profile — 79% black — was dangerously "mechanistic", he said. "It's not practicable … it pushes minorities into a corner. The ANC's track record of being mechanistic has had a devastating impact on the civil service because it's lost skills. We believe [doing this at institutions] is unconstitutional. Change is a process."
He said the Constitution "allows people to be educated in the language of their choice where it is practicably reasonable. In 30% of our modules, we have live translation to English."
Story by VICTORIA JOHN
Caption: Hands off: Theuns Eloff, vice-chancellor of North-West University, says there cannot be 'mechanistic' transformation.
Photo by: Delwyn Verasamy
Source: Mail & Guardian