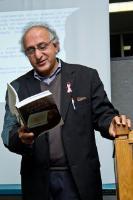 In 2001, Dumisa Ntsebeza and Terry Bell complained in Unfinished Business: South Africa, Apartheid and Truth, that "like so much of South Africa's recent brutal history we shall probably never know exactly how many people were banished and what happened to all of them".
My new book, The Forgotten People: Political Banishment under Apartheid, now answers many questions about banishment and reveals a largely unknown aspect of our indeed brutal history.
During the apartheid period, those resisting tyranny were killed, assassinated, hanged, imprisoned, banned, detained, deported, endorsed out of urban areas, forcibly removed and forced to flee into exile.
In the early years of apartheid, political opponents from rural areas were condemned to the living hell of banishment: an administrative weapon used to expel opponents to distant and often arid and desolate places for unlimited periods.
Banishment was used to punish, intimidate and control political opponents, part of a strategy for suppressing opposition to state policies and maintaining apartheid rule.
Apartheid's opponents were plucked from their families and communities and cast into the most abandoned parts of the country, there to live, perhaps to die, to suffer and starve, or to stretch out a survival by poorly paid labour, if and when they could get it.
Between 1948 and 1986, 150 men and 10 women were banished of whom 140 were from rural areas, 78 from seven places: Mabieskraal, Witzieshoek and GaMatlala, Sekhukhuneland, Bahurutshe, Thembuland and Mpondoland.
Common to all these rural areas was widespread resistance to new apartheid policies and measures: "betterment" schemes that affected land and livestock possession and use; the new Bantu Authorities system and the creation of bantustans, and introduction of Bantu education and passes for women.
Banishment was not created by the Afrikaner Nationalists who came to power in 1948. The law that permitted banishment came from the colonial period in Natal, presided over by imperial Britain. It became national law in 1927.
Those banished had no court trial. They were neither charged nor told the nature of their crimes. They were given no opportunity to defend themselves, yet they were deprived of their liberty, of their homes. They were punished within the law, but outside justice.
The banished were people who broke no laws and who possessed no hidden information, but whose very presence presented a problem. Often they were community leaders or elected chiefs in rural areas who did not accept without question government edicts; leaders who were perceived as insubordinate - "cheeky" - by one or other authority figure.
For the state it was a most efficient piece of legislation. It did away with the time-consuming necessity of judicial procedures and allowed the authorities to decide on the appropriate place to which to send each individual, and do it quickly.
Although those banished were dispersed to far-flung rural locations, they were largely concentrated in a handful of districts such as Vryburg, Mafeking, Kuruman and Sibasa. Two inhospitable camps at Driefontein and Frenchdale in the Northern Cape were gulags to 26 people and 14 people respectively.
On average, banishment orders were in force for nine years; 110 people were banished for more than five years; eight between 15 and 20, and three for more than 20 years. Some of those served banishment orders escaped into exile. Elizabeth Mafekeng from Paarl and Gilbert Hani (father of Chris) from Cape Town fled into exile soon after being served banishment orders. For 17 banished people, there was no journey back home. They died in banishment.
The harshness of banishment forced some to agree to various restrictions to secure their release. Others bore banishment with great courage, refusing to collaborate or compromise with the apartheid state.
In the Tugela Valley, Kenneth Mosenyi from Bahurutshe looked on his banishment as "an honour in the struggle of our people". He refused to request release, saying: "I did not bring myself here. If he feels like it let the Native Commissioner send me home. It is not for me to go on my knees to ask for a favour."
Maema Matlala in Bushbuckridge resisted all efforts by state officials to win him over, determined that "when I go home, I shall be accepted by the people". In 1962, Helen Joseph, Amina Cachalia, Joe Morolong and others undertook a remarkable 11 000 km car journey to visit banished people across South Africa.
After the journey Joseph wrote that "sometimes the plight of these people, the stories of what they have endured, was almost too unbearable to behold, to hear. There are no words which can really tell how deeply these banished people have suffered." Banishment was "slow torture of the soul, a living death".
The Human Rights Welfare Committee did much to highlight banishment, to draw attention to South Africa's "Siberias" and to mobilise support to assist the banished and their families.
The Truth and Reconciliation Commission (TRC) ruled that banishment constituted "severe ill treatment" and was "a gross violation of human rights". But the banished were largely ignored by the TRC; only 14 were recorded as having their human rights violated under apartheid. Unlike the "islanders", there is no monument or memorial for the banished. There have been no special pensions and reparations. They remain the forgotten people of South Africa.
Ariel Dorfman insists that "a fragile democracy is strengthened by expressing for all to see the deep dramas and sorrows and hopes that underlie its existence and that it is not by hiding the damage we have inflicted on ourselves that we will avoid its repetition". Indeed, "to hide the horrors of the past in a collective amnesia would leave posterity with a legacy of festering guilt and unrelieved pain".
This is edited from a speech Badat gave at the launch of The Forgotten People: Political Banishment under Apartheid by Saleem Badat (Jacaria Media). This article was published on Cape Times.