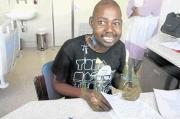 In April last year I attended a graduation ceremony at Rhodes University to ululate for a very close friend of mine.
It was a very emotional event, but not in the manner one would have expected from ceremonies of this nature.
The emotions were not triggered by merely watching graduates heal the wounds inflicted by hot midnight oil.
It was not anything I had experienced when I graduated a few years ago. Nor did it have anything to do with my friend, who looked absolutely stunning.
Something much more important came out of the graduation ceremony. I don't mean to downplay my friend's looks nor the Masters degree awarded - I am merely referring to something much more profound.
I am not focusing on the fact that on that day former president Thabo Mbeki and his brother Moeletsi were conspicuously absent when their mother, Epainette Mbeki, received an honorary doctorate for her community work.
Had it not been for what moved me so much - which I explain below - and the fact that my friend was graduating, MaMbeki's offer to advise the university would have taken the cake.
At 96, Mbeki remarked: "I'm at your service".
For her statement after she was honoured she received applause from a packed graduation hall. It was therapeutic, given the unbelievable story we had heard earlier from the vice chancellor Dr Saleem Badat - which is what really touched me.
In his address Badat told the heart-breaking story of Makabongwe Ndzwayiba, a committed economics student who was a sub-warden and community engagement representative.
Ndzwayiba was looking forward to graduating with a Bachelor of Economics degree in 2012. He had also planned to pursue post-graduate studies in economics.
Badat quoted from the glowing testimony of Professor Gavin Keeton, Ndzwayiba's lecturer, about the student's unquestionable work ethic.
According to Keeton, Ndzwayiba missed most of the first term during his second year of study in 2010 due to illness. He returned at the start of the second term and 10 days later, got 83% for a test based on the previous term's work.
"Quite remarkable," Keeton had commented.
"He got 87% in the final exam, finishing 6th in a class of 570. Imagine if he had not been ill."
Keeton said Ndzwayiba had missed most of the second semester in 2011 but wrote an aegrotat in January 2012.
"The first two answers in his exam were excellent. But he wrote almost nothing for the third question," Keeton said.
"And I realised then just how ill he was. He had obviously just run out of physical strength to finish the exam. Yet he still managed to get an upper second."
Ndzwayiba was suffering from cancer.
After it became clear that he had overcome the odds the university prepared itself to award him his degree wherever he was on graduation day.
But his health deteriorated quicker than expected. Two weeks before graduation Ndzwayiba died.
He was buried in his Rhodes graduation gown and hood.
Ndzwayiba missed the deep feeling of satisfaction that comes with being awarded a degree.
He also missed the fascinating graduation hymn and its contradictions. Part of the sound still rings in my head, though I must say I have had to consult a colleague to sort out my own problematic version of the Latin lyrics of the song Gaudeamus Igitur:
Vita nostra brevis est
Brevi finietur
Venit mors velociter
Rapit nos atrociter
Nemini parcetur...
Loosely translated:
Our life is brief
Soon it will end
Death comes quickly
Snatches us cruelly
To nobody shall it be spared.
Unfortunately, cruel death snatched Ndzwayiba too soon.
Keeton remarked: "What a fine intellect, but what a fine young man also, always cheerful, always positive. Never angry with the massive struggle he was having to fight. I do hope his fellow students will be inspired by his example."
Rhodes University has since launched a scholarship in Ndzwayiba's name for students who courageously overcome hardship.
I was reminded of Ndzwayiba's story when we reported the similar story of Remember Mashabela, a dedicated 2012 matric pupil from Limpopo.
Mashabela wrote his matric examinations from a Pretoria hospital bed, where he was being treated for leukaemia. The young man could not sit through the whole three hours of exam papers because he needed to take 15-minute breaks while under supervision.
Mashabela died in December last year, just a few weeks after completing the matric examination. His results last week showed that he had obtained university entrance.
As the academic year is about to start university students and pupils - the majority of whom are able-bodied and healthy - should make full use of their energies.
Ndzwayiba and Mashabela, who respectively received their degree and matric certificate shortly after their death certificates had been issued, showed that nothing is insurmountable.
Both young men had proved that even death cannot stop one from achieving what one wants to achieve.
But Ndzwayiba and Mashabela are no longer with us to further pursue their dreams. It is left to those in the land of the living to expand the frontiers of knowledge acquisition.
In memory of Ndzwayiba and Mashabela, let this be a year of academic excellence - from Grade 0 to PhD.
Written by: Mpumelelo Mkhabela
Picture credit: www.sowetanlive.co.za
Mpumelelo Mkhabela is the editor of Sowetan newspaper. This article was published on www.sowetanlive.co.za.