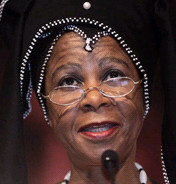 LAUNCHING a political party is fairly easy — getting people to vote for it is the difficult bit. Particularly since a great deal more is needed than good ideas and the respect of the people who drive the national debate.
Excitement at Mamphela Ramphele's political plans seems based on wishful thinking more than sound analysis — and on very little appreciation of what it takes to get large numbers of people to vote for a party.
Ramphele has formed a "political party platform", Agang. Why she has chosen to call it a platform rather than a party is unclear since its website declares that it hopes to contest the next general election: whether it does this or not, it is hard to see the logic of those who see a Ramphele-led party as a political game-changer.
It is difficult for any party to get very far unless it can tap into organised networks. This is so because getting out the vote in large numbers is a product of organisation. Individuals with ideas might win admiration but, unless there are lots of people on the ground persuading those with whom they mix to vote for them, the admiration is unlikely to turn into votes: the townships are filled with networks encouraging people to vote African National
Congress (ANC) just as the Democratic Alliance (DA) benefits from networks in the suburbs.
The much-maligned Congress of the People (COPE) won more than 1-million votes at its first try because it could rely on the ANC branches that had supported Thabo Mbeki. It was always likely that Zanele MagwazaMsibi's National Freedom Party (NFP) would do better than many other breakaways because it took Inkatha Freedom Party (IFP) branches with it. And Bantu Holomisa's United Democratic Movement (UDM), in the days when it won more than a dozen seats, could rely on his Eastern Cape networks.
These networks can be mobilised by parties only if their leaders are closely in touch with them. But with which networks is Ramphele in touch? In the past couple of decades she has been a university vicechancellor, a World Bank vice-president and chairwoman of a mining company: none of these posts open up doors to rich banks of voters. There is no sign that her activism has had a strong grassroots flavour.
A second key factor is that here, as in many other countries, most voters support a party if they feel that it represents their identity. Voters — of all races and backgrounds — do not shop around looking for parties: they gravitate to the party that seems to speak for people like them.
People do not vote only on racial lines — it is far more complicated than that. Many parties with black leaders have won very few votes; the DA's Mmusi Maimane would no doubt easily win a suburban ward in which most voters are white and the South African Communist Party's Jeremy Cronin would win in Soweto.
So the fact that Ramphele is black does not make her an automatic vote winner. But, because identity — a complex mix of race, language and other factors — is crucial, Ramphele's vote-winning ability does depend on whether she can represent one of our political identities.
She is admired in the DA's constituency but DA voters will not desert a growing party for a new one, no matter how much they like its leader. And she does not speak for the identities that dominate among ANC voters or supporters of other black-led parties.
Among ANC voters, it is not being black that counts but a background in the ANC: that is why COPE won over 1-million votes in a few months. Ramphele has no ANC background. Her original political identity was in the Black Consciousness Movement but she has moved away from both the movement and many of its positions. It is hard to see her appealing to IFP or NFP voters. That leaves COPE members — and probably only those who support Mbhazima Shilowa.
Even if she does win their support, this is not a substantial vote bank. Ramphele could win seats in Parliament. But she is unlikely to attract enough support to make her entry into party politics a gamechanger.
The UDM and COPE were hailed as logjam-breakers only to become another opposition party. There seems little reason to expect a party led by Ramphele to do any better. It may, as some predict, be absorbed into or enter an alliance with the DA: it is unlikely to lead a political realignment.
For some, this is disappointing because it means that our party politics remain stuck in the divisions of the past. They need not worry: politics here is shifting, but shifts happen gradually, not in a big bang. Whether, as this columnist believes, the game will finally be changed by another split in the ANC or, as others argue, by an erosion of the ANC vote, the shift is likely to ripen in time, not burst forth with the arrival of a new messiah.
In party politics, as in anything else to do with society, the hope for quick fixes often hides the more important processes growing slowly but more surely beneath the surface.
Source: Business Day
Story by: Steven Friedman
Friedman is director of the Centre for the Study of Democracy.
Photo by Reuters