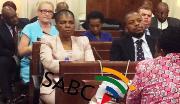 In an utterly farcical day's proceedings, the board of the SABC was dissolved and the process to appoint an interim board begun. The individuals who will sit on this temporary body cannot be envied: what Tuesday's events made clear was just how chaotic dynamics have become among the state broadcaster's top leadership, and in particular their relationship with Communications Minister Dina Pule.
When the sun rose on Tuesday morning, the SABC had just three non-executive directors sitting on its board: Pippa Green, Suzanne Vos and Clare O'Neil. These lonely individuals had been left by six colleagues who tendered their resignation to President Jacob Zuma on Sunday: Lumko Mtimde, John Danana, Cedric Gina, Cawe Mahlati, Desmond Golding and Noluthando Gosa.
But even prior to the six resignations, the board had been operating pointlessly for a week, lacking either a board chairman or a deputy. The Broadcasting Act requires either a chairman or a deputy to preside over SABC board meetings, but the chairman, Ben Ngubane, and his deputy, Thamika Plaatjie, had already resigned last week.
The beleaguered broadcaster is also rather thin on executive directors at the moment. Lulama Mokhobo is still group CEO, a rare point of stability. There is only an acting CFO, since Gugu Duda was shown the door last September – despite her tight links to Minister Pule – pending an investigation into financial misconduct. As for the question of who exactly is the board's COO at the moment – well, technically there isn't supposed to be one. Hlaudi Motsoeneng was removed from the position in February, after reportedly beginning to radically overstep his powers, by a decision of the board signed off by deputy KaPlaatjie, and replaced by veteran broadcaster Mike Siluma.
But following an outcry from both Ngubane and Pule, Siluma resigned. Ngubane said Motsoeneng was back in charge and that KaPlaatjie had made a mistake; Pule said the board hadn't followed proper procedure. The board insisted it had, and Ngubane and Pule resigned. Motsoeneng, meanwhile, apparently simply refused to leave his office. The City Press reported on 10 March that Motsoeneng – dubbed "the Julius Malema of the SABC" – simply continued to call himself COO even in the presence of his replacement, Siluma.
"The corporation at present has no acting COO," said non-executive director Suzanne Vos in her submission to the parliamentary portfolio committee on communication on Tuesday. It would seem that Vos's words were technically accurate – but the message clearly hadn't reached Motsoeneng. Despite objections from opposition MPs, Motsoeneng took a seat next to Pule at the start of the committee meeting, and remained there throughout – as would be appropriate for a COO. After proceedings, he told journalists that he was simply continuing to "do his work". If the new interim SABC board really wants to end things with Motsoeneng – though there's not much sign of this as long as Pule continues to back him – it may have to send him a stronger "it's over" message.
Pule herself, who has had a torrid few months following the revelation of her involvement in the ICT indaba scandal which saw her boyfriend profit handsomely from a sponsorship deal, complained of ill health, and said she was disobeying doctor's orders by appearing before the committee. Her jaunty red Louboutins were nowhere in sight. Clearly aware that her position is looking increasingly tenuous, Pule sought to shift blame continuously to the outgoing board. In particular, she had strong criticism for board members who leaked information to the media. (It later emerged that the proceedings of one entire meeting had been leaked, a matter being investigated by the National Intelligence Agency.) Pule said that such leaks weakened the SABC as they allowed competitors to access strategic information, and thereby steal audiences.
She also accused board members of being sloppy about meeting attendance, saying that the third-quarter meeting supposed to happen last year did not take place. She reminded the committee of the Special Investigations Unit (SIU) report which allegedly implicates current and former board members in financial malfeasance, and said that it was bizarre that the report should have been submitted to the SABC board rather than the minister.
Referring to a meeting held with the board on 5 March, Pule said "it appeared that they were not in unison, either on the SIU report or any other issue", a claim rejected by Vos, whose testimony to the committee asserted that "immediately prior to this week's resignations there was no disharmony nor dysfunction among the remaining SABC directors". There was a clear sense of a communication breakdown between Pule and the board, highlighted by Pule's admission that she learnt of Ngubane and KaPlaatjie's resignations from the media.
It was directly after Pule's initial testimony that communications committee chairman Eric Kholwane announced that the resignation of one of the three remaining non-exec directors, Pippa Green, had been received. And then there were two.
Committee members wanted Pule to clarify the nature of her relationship with the board. Cope MP Juli Kilian – who last week called for Pule's dismissal in the National Assembly – asked for Pule's response to the allegations that there was constant ministerial interference in the operation of the board. (Cedric Gina had appeared on radio on Tuesday morning explaining that the reason for his resignation was the deteriorating relationship with Pule.)
Pule scoffed in response: "If this minister had interfered, maybe some of these things wouldn't have happened… I wish I had interfered then if that is the attitude." The communications minister pointed out that her predecessors had also had "problems" with the SABC, and then turned her sights on the members of the parliamentary portfolio committee on communications. "The board members resigning today were your recommendations," she said; a point taken up by her deputy, Stella Ndabeni, shortly thereafter: "You are responsible: you hire them, you fire them," insisted Ndabeni.
At this stage only Suzanne Vos and Clare O'Neil remained as non-executive directors, and O'Neil is reportedly overseas at the moment. As such, the only person available to address the committee on behalf of the board was Vos, a former IFP MP. "Being a non-executive director of the SABC is not for the fainthearted," Vos began. (Incidentally, it is apparently not for the get-rich-quick faction, either – the Daily Maverick was informed that the non-executive directors take home around R8,000 a month.)
Vos described relations between the board and Pule as extremely strained: "It would appear that the honourable minister of communications does not trust this board and has of late seemed to have been openly contemptuous of our perfectly legal decision-making," Vos said, a likely reference to the board's decision to demote Motsoeneng. Vos also said that Pule had made it "perfectly clear" that she wanted to get rid of the rest of the board. Given this situation, Vos said: "It greatly pains me to do so… but I believe I am honour-bound to also respectfully tender my resignation."
And then there was one.
Vos painted the picture of a state broadcaster in a pretty messy state. "The SABC has few executives and middle managers with required capacity and skill sets for a corporation of the complexity of the SABC," she said. In some cases, she claimed, the non-executive board had been forced into "actually teaching management their responsibilities in terms of legislative and regulatory requirements".
She reserved her harshest criticism for former chairman Ngubane, who she said acted illegally time and again, seeming to believe that he was the SABC's executive chairman. "For too long board members kindly and generously covered up his quixotic behaviour and also his desire to bow to ministerial dictates," Vos asserted.
This point was seized upon by the fearsome Ndabeni, who asked how we could be expected to trust a board that was complicit in covering up illegal happenings. "We should have been told," she said. Vos's rebuttal was that the rest of the board hadn't been properly heard when they complained about Ngubane. "We got the inference from this committee that we should do the best we can," she said.
Enough had been heard: ANC MPs began vocally agitating for the dissolution of the board. Opposition MPs weren't so thrilled with the idea: shouldn't there be a full inquiry first, asked Kilian. Chairman Kholwane assured her that a "forensic audit is still going to happen", and the reservations were breezed past: the National Assembly would be asked to approve the board being dissolved.
And then there were none.
According to the Broadcasting Act, the interim board to be appointed in its place should be established within 10 days, comprise five members, and cannot stay in office for longer than six months. (This is not a novel situation for the revolving-door SABC: Vos herself initially joined an interim board in 2009.) The ANC's Gregory Schneemann had come prepared with a list of names that the ruling party considered appropriate replacements. Schneemann assured the committee that all had indicated their willingness to serve as non-executive directors of the SABC.
Cope's Kilian made a heartfelt plea for the ANC to consider other nominations. "We are facing a crisis," she said, "and we need to depoliticise the SABC. The SABC has collapsed because of ANC meddling." With the chairman indicating that Cope could supply alternative suggestions, Kilian submitted three names, although she stressed that they had not been consulted as to their willingness to serve because "we don't want to tag them as Cope nominees".
The ANC agreed to make the concession of replacing one of its candidates with one of Cope's. The final list, then, was: Zandile Tshabalala (a banker); Ronnie Lubisi (a chartered accountant); Vusimuzi Mavuso (former chairman of the board of directors of Transparency International SA), Iraj Abedian (Development Bank economist; Cope's choice), and finally Noluthando Gosa – one of the non-executive directors who tendered their resignation on Sunday. Gosa has also resigned from the board once previously.
The DA, the IFP and Cope all expressed unhappiness about the procedure for appointing an interim board, and indicated that they could not support the names without having time to scrutinise them in any meaningful way. "The appointment of this interim board must be seen for what it is: a rushed, non-transparent and inadequate affair," DA MP Marian Shinn told the National Assembly. But both the dissolution of the old board and the names of interim board members were approved by the House, and the list now goes to President Jacob Zuma to be rubber-stamped.
And so it will be a new dawn – after so many other new dawns – for the SABC. But questions still hang over the sudden rash of resignations from the board on Sunday. Shinn told the National Assembly that the impression she had received from chatting to resigned board members was that they had given up their posts "in disgust" at the amount of political interference with their positions. But Kilian hinted to journalists her belief that the order to resign en masse had come directly from Luthuli House, leaving behind only Vos, Green and O'Neil.
Perhaps the truth will out, and perhaps it will be buried firmly beneath the corridors of Auckland Park. Either way, those new interim board members face one hell of a job to restore public confidence in a broadcaster fast becoming a laughing stock.
Written by: Rebecca Davis
Picture credit: Daily Maverick
Rebecca Davis studied at Rhodes University and Oxford University. This article was published on Daily Maverick.