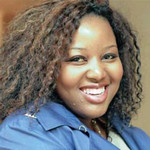 Like her peers, she's giggly, fashionable, likes to date as much as possible, is on the lookout for that special someone and would like a family when she's older. But Mbali Ntuli from Durban is not your typical 25-year-old.
She plans to change the world. The DAs newly elected youth leader has set herself the ambitious — some would say unrealistic — target of recruiting 50 000 new members by next year's general election and persuading 1 million of the 3 million first-time voters to vote for the DA in the poll.
And that's just the short-term mission. The longer-term dream is to ensure the DA makes headway in the ANC's traditional heartlands — the rural areas and townships. In keeping with her sheer force of personality, Ntuli appears to have no doubt that it can be done. "The DA Youth is already making headway in places that the DA has never been able to get into," she pointed out this week.
"The DA doesn't really have a foot in the door in rural areas. The DA Youth is going to have to do it for the party" It may be this forceful personality that has ensured that the privateschool educated Mbali with her cutglass accent has not been ridiculed as a "coconut" by the same ANC detractors who dismissed DA parliamentary leader Lindiwe Mazibuko as that.
Or it may be, Ntuli who is also a councillor for Inanda, that her family name and gender have saved her from being labelled with that uncomplimentary tag. Her father, Big Ben Ntuli, was chairman of a taxi association in KwaZulu-Natal who died when she was only eight. "It's partly because of my family legacy — even ANC members seem to honour that — but I think it also helps that I'm female.
Even Buti Manamela (the national secretary of the Young Communist League of SA) called me to congratulate my on my election," she says. But Ntuli is not unaware of the comparisons she draws with Mazibuko, comparisons she is quick to try and quash. "People try to say that she and I are alike, but I'm cheekier.
Lindiwe has to be quite saintly and guarded in what she says. I pack a bit more of a punch," she insists. Ntuli, who admits to "not trusting politicians" despite being a politician herself, is well aware of the public's impatience with partisan politics.
It's something she dislikes as well, especially as one of the reasons she got into politics was because of the atmosphere of unity and inclusion engendered by the 1994 election. The sight of South Africans united and pulling in the same direction inspired the the sixyear-old, and it is one she'd like to see re-emerge - and one she's hoping to foster as a politician.
But Ntuli is no rose-tinted optimist. She is aware that young people are increasingly disenfranchised and battling to deal with rising unemployment, poverty and disempowerment. And she believes the DA - which she joined while a student at Rhodes University because she is a "liberal" - can provide the answers.
She says reception of the DA in the townships when the DAs youth wing was being established in 2007/8 convinced her of that. "When we started branches, the most receptive were the townships. There were young people there who wanted to get involved with politics," she says.
"The most important thing is to convince people that there's still a reason they should be voting. They can change the government and make the playing field more equal; somebody needs to say that. The DAs really changing and moving fast. Over the next few years the party's going to have changed so much that it literally can do anything."
As, it seems, so can Ntuli. Yet despite seeming to have the world at her feet, she's adamant that she won't be following Mazibuko to Parliament any time soon. "I'm only 25," she says, "What am I going to do in Parliament?
If I do a really good job as youth leader, maybe I can come back to KZN to do more. There's a great opportunity here (to grow the DA)." And maybe also to meet that someone special... and have that family
Caption: FEISTY: The DA's newly elected youth leader, Mbali Ntuli, is not your typical 25-year-old. She plans to change the world. And she's no (DA parliamentary leader) Lindiwe Mazibuko. 'I'm cheekier, Lindiwe has to be quite saintly and guarded in what she says. I pack a bit more of a punch.'
By: Lee-Ann Alfred
Source: INDEPENDENT ON SATURDAY