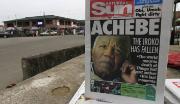 Chinua Achebe's death at 82 is an enormous loss to African literature. REBECCA DAVIS explores the significant debt we owe him for his work challenging offensive Western portrayals of Africa and helping generations of African writers find their voice.
Would Chinua Achebe have been happy to be called the "father of African literature", as numerous obituaries have professed? The Nigerian man of letters might well have protested, for the label suggests that it was he who produced the first literature on the continent. Though it is undoubtedly true that it was Achebe who helped to bring African writing to the eyes of the world, Achebe was well aware of his African literary forebears and frequently used his writing and speeches to pay tribute to them.
Four years before Achebe's game-changing first novel Things Fall Apart was published in 1958, a Nigerian writer called Cyprian Ekwensi had brought out People of the City, a novel about the travails of a journalist, set in a milieu not unlike Nigeria. It was this book that became widely regarded as the first significant literary work written in English to emerge from West Africa. Shortly before Ekwensi's debut, another Nigerian novel – Amos Tutuola's The Palm-Wine Drinkard – had also attracted the attention of Western publishers.
But more than 150 years before the emergence of the promising Nigerian novelists of the 1950s, at least one piece of literature in English by what we would now call a Nigerian was being produced and widely read in the UK. In 1789, a man called Olaudah Equiano published his life story, under the title The Interesting Narrative of the Life of Olaudah Equiano, or GustavusVassa, the African. Equiano's account of his life as a slave became a vital tool for the English abolitionist movement, but the book also became a sensation for the quality of its writing, and multiple editions followed.
Achebe often made reference to works like these because they supported what was in many ways the defining argument of his life: that Africa had a vibrant intellectual culture in the pre-colonial era, and that Africans should take charge of their own narratives rather than letting the West define them. Things Fall Apart is a savage critique of colonialism's effects on both communities and the individual, though written with a lyricism that belies its cutting political message.
Nigerian writer Biyi Bandele suggests that the opening lines of Things Fall Apart are "perhaps the most celebrated, certainly the most famous" in all of African literature. "Okonkwo was well known throughout the nine villages and even beyond," Achebe writes. "His fame rested on solid personal achievements. As a young man of eighteen he had brought honour to his village by throwing Amalinze the Cat."
White missionaries arrive in Okonkwo's life only in the novel's second half. "I am greatly afraid," says a character. "We have heard stories about white men who made the powerful guns and the strong drinks and took slaves away across the seas, but no one thought the stories were true." But true they were: indeed, Achebe's father was one of the first in his village to be converted to Christianity by the missionaries. Achebe's upbringing was consequently religious: within his village – Ogidi, Eastern Nigeria – the non-Christians were known derisively as "the people of nothing".
In Things Fall Apart, the missionaries' arrival brings trouble: Okonkwo cannot adapt to the shifting value system introduced by the white men, and this brings about his downfall. In this culture clash, the white men win – particularly on a psychological level, as Okonkwo ultimately orchestrates his own demise. The psychological effects of colonialism formed another central preoccupation within Achebe's work.
In a 1994 interview with the Paris Review, Achebe explained how his early reading of Western literature led him to unwittingly internalise negative messages about black people. "I didn't know that I was supposed to be on the side of those savages who were encountered by the good white man," Achebe said. "I instinctively took sides with the white people. They were fine! They were excellent. They were intelligent. The others were not…they were stupid and ugly. That was the way I was introduced to the danger of not having your own stories. There is that great proverb – that until the lions have their own historians, the history of the hunt will always glorify the hunter. That did not come to me until much later. Once I realised that, I had to be a writer."
Another lion of Nigerian literature, Wole Soyinka, has said in the past that the reason Things Fall Apart was so important was because it was "the first novel in English which spoke from the interior of an African character, rather than portraying the African as exotic, as the white man would see him". As we noted before, that statement is not quite accurate, in terms of the primacy it attributes the novel. But it captures well the sense of excitement that many African writers have reported upon picking up Things Fall Apart. Contemporary Nigerian author Chimamanda Ngozi Adichie (author of the award-winning Half of a Yellow Sun) said in 2006: "Reading [Achebe] emboldened me, gave me permission to write about the things I knew well."
The title, Things Fall Apart, was taken from the William Butler Yeats poem The Second Coming, written just after the First World War, which darkly imagines that "Things fall apart; the centre cannot hold; Mere anarchy is loosed upon the world". To give a nod to a staunchly canonical fixture of the Western literary establishment in a novel critiquing colonialism might seem an unusual choice, particularly as Achebe has said that he was not aware of Yeats's theories of civilisation cycles when he chose it. In his 1994 interview, Achebe advised literary critics not to spend much time agonising over the title: "I wouldn't make too much of that. I was showing off more than anything else," he said. "I took a general degree, with English as part of it, and you had to show some evidence of that."
Achebe's decision to write in English attracted criticism from the likes of Kenyan author Ngugiwa Thiong'o, who renounced English for his native Gikuyu in 1977, on the grounds that he wanted to write in a language that his mother and ordinary people could understand. Achebe mounted his defence in the 1975 essay The African Writer and the English Language, in which he suggested that the African writer "should aim at fashioning out an English which is at once universal and able to carry his peculiar experience."
The ability to do just this was one of Achebe's greatest technical strengths. Things Fall Apart brims with metaphors and figures of speech which give the sense of Igbo-in-English: this is English beautifully deployed, but loaded with the scents, sights and sounds of Nigeria. Okonkwo's fame grows "like a bush-fire in the harmattan". Those who meet with success are said to have had their "palm-kernels cracked for them by a benevolent spirit". When Okonkwois weakened, he feels "like a drunken giant walking with the limbs of a mosquito".
Achebe said that writing in English was an easy decision because "for me there is no other choice. I have been given this language and I intend to use it." But, he said, in order to "carry the weight of my African experience", it would have to be used differently: "it will have to be a new English, still in full communion with its ancestral home but altered to suit its new African surroundings". In later life he reported occasionally writing poetry in Igbo: "Maybe someday I will, myself, translate Things Fall Apart into the Igbo language", he once mused.
Achebe wrote four other novels. By the time Anthills of the Savannah was published (1987), the target of his critique was not the West but Africa itself, and the kleptocracies of corrupt governments. Achebe continued speaking truth to power throughout his life, turning down national honours on principle and remaining a vocal critic of Nigerian governance right up to the end of his life. The car accident which left him paralysed from the waist down in 1990 necessitated his move to the US. Once there, he spoke often with fondness and regret about the land of his birth, despite his conflicted political relationship with it; he once said that he wrote best in Nigeria. It is still not clear in which country he will be buried.
None of Achebe's other novels attracted the same admiration as Things Fall Apart. This may be one reason why Achebe never won a Nobel, even though Soyinka got his in 1986. This slight clearly still burns for many Nigerians: an obituary of Achebe in the Nigerian Daily Sun was headlined "The Nobel Laureate we never had". Some saw something more suspicious in the overlooking of Achebe for the prize, suggesting that his critiques of the West and Western literature made him an unpalatable prospect in the eyes of the judges.
Asked in 1994 if it bothered him that Things Fall Apart was discussed so much more than his other novels, Achebe replied "sometimes, but I don't let it become a problem". Things Fall Apart may just be a better novel than his later works, but part of its popularity was due to the freshness of its voice and the novelty of its position. It remains the most widely-read work of African literature ever published.
But Achebe should also be remembered for what is arguably one of the most important pieces of literary criticism ever written: his searing, exhilarating takedown of Joseph Conrad's Heart of Darkness, published in the Massachusetts Review in 1977. Achebe's view was simple, though his explication thereof highly sophisticated: "Joseph Conrad was a thoroughgoing racist"; and the reason why nobody had previously sought to problematise this aspect of Heart of Darkness was that "white racism against Africa is such a normal way of thinking that its manifestations go completely unremarked."
Achebe noted that Conrad simply made use of the dominant image of Africa in the Western imagination. "For reasons which can certainly use close psychological inquiry, the West seems to suffer deep anxieties about the precariousness of its civilisation and to have a need for constant reassurance by comparison with Africa… Africa is to Europe as the pictures is to Dorian Gray – a carrier on to whom the master unloads his physical and moral deformities so that he may go forward, erect and immaculate."
To those who would argue that Heart of Darkness was a product of its historical moment, Achebe had the following riposte: "Whatever Conrad's problems were, you might say he is now safely dead. Quite true. Unfortunately his heart of darkness plagues us still."
Achebe's writing took the West into the feared "heart of darkness" and bathed it in bright illumination. His death is a loss not only for literature fans, but for anyone who cares about Africa.
Written by: Rebecca Davis
Picture credit: Daily Maverick
Rebecca Davis studied at Rhodes University and Oxford University. This article was published on Daily Maverick.