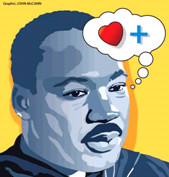 Schools need managing to survive, but with principles and passion they thrive.
'Two Chinamen [sic] stay with us for three months at a time. They love staying here," the Nelspruit bed-and-breakfast owner said.
A few minutes later, he gave us directions to a nearby restaurant — and proceeded to repeat them in his best Indian accent. And then, walking us out to the car, he continued: "Next time I'll tell you how I make black people laugh."
Once inside the car, I said: "Wow. Well, that was offensive." I wasn't angry, just completely thrown off by such a blatant display of ignorance and racism.
"People just say things. It doesn't mean anything," said the guy I was with. I couldn't have known this then, but these questions about race were an appropriate introduction to my journey into schools in Mpumalanga. I would go from embedded stereotypes to a history lesson on black consciousness, then to a business studies class on laws enacted after 1994 to equalise the playing field. From today to yesterday and back.
At Sitintile Secondary School in KaNyamazane, the history teacher Bongi Gondwe began her discussion of the Black Consciousness Movement by asking the students to reflect on Steve Biko and the goals of the organisation. Whenever a student answered, regardless of their response, Gondwe's voice would rise with an enthusiastic "brilliant" or "definitely".
It was the call and response that were most striking.
Sometimes she would start a sentence, pause and wait for the students to respond. "It was to do with the …" and students then completed the sentence in unison: "… mind", or "… the shifting of the paradigm". Imagine a crowded class of 60 pupils, all heads turned towards the teacher, affirming the change that they subsequently benefited from. Shifting the paradigm: what a powerful concept.
The day before, I interviewed Rere Tlou, an English teacher at the school, who presciently spoke about how much he thinks the paradigm has shifted.
"Sometimes it's difficult to make them believe that they can make it," he said. "We are from an era where we've been brainwashed into thinking that blacks cannot think beyond this, blacks can do only these traditional professions … I haven't come across a kid who says, 'I want to be an astronaut'.
"I normally tell them that this is all up to them. What they want to achieve in life is all up to them."
Using history, Gondwe is offering the same encouragement in a different way. "Black is …" she said strongly. "Beautiful," replied her students emphatically.
She then reminded them that this is not just history. "Walk tall," she said, referencing Martin Luther King Jr. "Your skin colour is not what is important, it is what is inside you, your character."
The next morning, I went right into a business studies lesson at Masana Secondary School in Bushbuckridge. The list on the chalkboard read: Employment Equity Act, BBBEE, Skills Development Act, Basic Conditions of Employment Act, Labour Relations Act.
It was a lesson on the Acts created to offer opportunity to all and fill the massive inequality that apartheid created. "What is the purpose of the Employment Equity Act?" asked teacher Rames Sibuyi.
"To address the historical imbalances of the past," answered Freedom, a grade 12 pupil. "To implement affirmative action," replied another pupil. Sibuyi affirmed these replies: "All of this legislation was designed by the government to make sure certain things are being corrected."
Here was a conversation directly linked to the imbalances students had discussed the day before — one about actions that have been taken to remedy the past.
Watching these pupils explain government policies in the new South Africa was fascinating. They were discussing policies that everyone around them, including themselves, could benefit from.
Some of the potential solutions might give Tlou hope that his students could get further than they thought. Then again, several years down the line, many of these ambitious Acts have not achieved what their creators had hoped.
But I enjoyed hearing these students talk and was inspired by their articulation of the promise of the new South Africa.
What do they understand of today? Broad-based black economic empowerment is "a mechanism to transform businesses in South Africa", and "a way to give people land, infrastructure and skills".
The Skills Development Act is intended "to promote self-employment", and "to improve employment opportunities for disadvantaged people".
And the Basic Conditions of Employment Act? It "eliminates the discrimination of employees when they are treated unfairly" and "ensures that working conditions of unorganised and vulnerable workers meet minimum standards".
Then Sibuyi also noted: "All these Acts are crucial to us as pupils, to us as citizens of this country."
There was hope in both of these classrooms. Teachers told me that principal Harold Gondwe of Sitintile is an "agent of democracy" and that "he makes us feel at home. He makes us have … ownership."
Gondwe said: "We work as a team and go an extra mile, showing love. I'm also a principal, but they call me Baba, father. It pleases me to know that I'm a father to so many kids." I only spent 30 minutes with David Masinga, principal of Masana Secondary.
When he sat down for the interview, he handed me a business card. It said School Manager. Not principal — school manager.
In addition to commitment to excellence, an ability to inspire teachers and pupils, and providing pupils with the extra support they need to succeed, there is one other important aspect that I have found in successful principals I have met: heart.
When I think "school manager", I don't really think heart. He told me he tries to motivate pupils, but that 90% of his job is delegation. He communicates with pupils through his deputy. But he doesn't delegate accountability.
I saw commitment, and I heard he was a good principal: "We are able to come to terms with our daily activities because of his support and encouragement," one teacher said.
"He helps us to understand when the pupils have not achieved at the end of the year we will have contributed towards the non-achievement."
It feels a bit unfair for me to judge because I never got to see him in action, in a classroom, talking to students and teachers, around the school, although his interview suggested he doesn't do a lot of that. I did see him give out awards, though.
In summary, I interviewed one passionate teacher at Masana, but the beating heart that I felt at Sitintile was much weaker there.
The series was conceived by University of the Free State rector Jonathan Jansen. For more information go to vimeo.com/schoolsthatwork   or email schoolsthatwork@gmail.com  
By: Molly Blank
Molly Blank is a documentary filmmaker. This is her fourth article about the video series, Schools That Work, that she is researching on disadvantaged schools that achieve exceptional results.
Source: Mail & Guardian