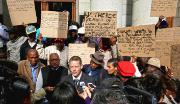 J Arthur Brown has been one of the most unpopular men in South Africa for a long time now. As the former CEO of Fidentia, he was at the wheel while R1,4 billion went missing from funds administered by the firm, including a fund meant to support widows and orphans of mine workers. It remains one of the biggest corporate scandals in South Africa's history. Last week, to the shock and disgust of many, the Western Cape High Court ended six years of legal proceedings by handing Brown only a R150,000 fine and a suspended jail sentence. But Brown is receiving loyal support from an unexpected quarter: some of the very people whose money disappeared under his watch, and who most need it back.
In Cape Town, the name "J Arthur Brown" is most commonly prefaced with the label "conman" or "fraudster". Among other instances of financial misappropriation, Brown's firm Fidentia embezzled R1,1 billion from the Living Hands Umbrella Trust, formerly the Mineworkers' Provident Fund, leaving mineworkers' descendants financially high and dry while Brown continued to rack up purchases of expensive properties and cars and make investments in his favourite sports teams. Taken into custody in March 2007, Brown has reportedly seen his fortune dwindle to nothing over the course of six years' legal proceedings, although he was able to secure payment of the R150,000 fine slapped on him by Judge Anton Veldhuizen last week.
Brown is now a free man, and many credit this to the prosecution's inability to build a decent case against him. Brown was initially facing 192 counts of fraud, theft, money-laundering and corruption, but these charges were scaled down to just nine. Legal proceedings were postponed 16 times, thanks to Brown's delaying tactics, and his day in court finally started only in November last year. In April he was convicted of just two counts of fraud – related to the Transport Education and Training Authority (Teta) and the Mantadia Asset Trust Company – and acquitted on seven others. By contrast, two men in subordinate positions to Brown – financial director Graham Maddock and broker Stephen Goodwin – were previously handed down seven-year jail terms.
Brown's wife and children left South Africa for Australia in 2009 after what Brown alleged were threats to their safety, and Brown told journalists that one of his first priorities would be to visit his children. But topping his to-do list at the moment seems to be a campaign to clear his name. Brown is claiming R350 million from the Financial Services Board (FSB) and the curators of Fidentia, who he says are responsible for the loss of investors' money. Fidentia was placed under curatorship in 2007. Brown maintains that up until the curatorship took effect, there were sufficient assets in the company to cover its liabilities. He told journalists outside the Western Cape High Court last Wednesday that he would "only be free" once he had assisted Fidentia's victims to recover their lost money.
On Monday, J Arthur Brown could be found in the company of two allies in a sparsely-furnished office in the centre of Cape Town with a "To Let" sign over the door. Brown, casually dressed in stonewashed jeans, looked tired and stressed, despite last week's court success. He was there to meet with a small group of people who had lost vital income through the Fidentia scandal. But of the 10 individuals gathered around the table, none was there to harangue or chastise Brown. They were there to support him.
The unofficial leader of the Fidentia beneficiaries seemed to be a former SA Nylon Spinners employee, Woodrow Christian, who had invested money in Fidentia via one of the affected funds, the Antheru Beleggings Trust. Christian last received a payment in 2007, before Fidentia went into curatorship. "We got our money on time, no problems, before that," Christian said. "From 2004 until 2007, no problems. The money paid directly into our bank accounts."
In January 2007, Christian said, he received his last payment when the curators took over.
"After that, all fall down," said the man sitting next to him, 70-year-old Dudley Johnson, shaking his head ruefully. "All fall down."
Most of the people around the table carried bags stuffed with documents relating to the monies owed. Former mineworker Edwin Shibani had a dossier of liberally-underlined news printouts. He passed me a document while a general discussion was ongoing, and looked at me meaningfully.
I wasn't sure which bit of the news story I was supposed to be looking at. "Brown allegedly stole R12,6 million of Antheru finds to buy the Eastern Cape farm Thaba Manzi," one paragraph read, though it seemed as if Shibani was willing to skip over that bit. "Brown admitted the money used to purchase the farm was in fact investors' money held by Fidentia Holdings."
Langa resident Maureen Williams said that the monthly payments she normally received from the Living Hands Umbrella Trust also dried up after 2007. Williams, a widow, had money in trust for her children. "I'm phoning, phoning," she explained. "I asked where is Living Hands offices, I am a beneficiary! They say I must go to Joburg. I say, this is my children's money, they are waiting to go to school! There are five of them."
Williams says she had previously received R370 per child per month. In January 2010, she said she received a final payment which was less than the usual amount. After this, there has been no more money.
"My mother passed in June 2012," said Christian. "As the only son, I couldn't afford to contribute towards the funeral. That made me feel inhuman. I was brought up with integrity and discipline."
One of Brown's allies entered the room to summon the group for a photograph. Huisgenoot had arrived to snap a group shot of J Arthur Brown and Fidentia's victims. Brown stood in the middle. "Smiling, if you feel like it!" the photographer said. There were smiles and laughter.
Upon returning to their meeting, the group was vocal in expressing their support for Brown, who they referred to respectfully as either "Mr Brown" or "Arthur". Shibani laid it out for me. "The reason we support him is that Mr Brown tried to pay us but the curators took the money," he explained. "We decided to support Mr Brown because he is not guilty at all. Now we plan to open the case against the curators."
Fidentia's curators, appointed in 2007, are Dines Gihwala and George Papadakis. Their names were mentioned continuously at the meeting, where the group had clearly been led to believe by Brown and his friends that Gihwala and Papadakis were the true villains. Brown's associate Brandon Abelgas sent me an email on late Monday afternoon which included a claim that Gihwala is currently embroiled in another case of financial misappropriation involving a Swiss investment group called Montague Goldsmith.
"Gihwala trial starts tom[orrow] at high court regarding the money he stole from Montague Goldsmith," Abelgas said in a text message. "We can't all be telling the same story on this man."
In 2009 Gihwala lost a case against Montague Goldsmith and was compelled by the court to explain what he did with R4 million deposited into his firm's trust account. In 2011, it was reported that the Hawks were investigating Gihwala as a result of Brown's allegations against him.
But Stuart Theobald, managing director of investment research firm Intellidex, pointed out to the Daily Maverick that applications brought by Brown regarding Fidentia's curators have been repeatedly dismissed. Reviewing one such application in March 2011, Judge Lee Bozalek concluded that it could be described "as falling into the category of litigation which is 'vexatious, reckless or an abuse of the process of court'". It is Theobald's firm belief, accordingly, that Brown's allegations against the Fidentia curators are "brazenly without merit".
Try telling that to Brown's supporters. "We are the people affected," insisted Shibani. "He was the person who invested our money. The road is clear now. We have a lawyer. We support him fully and no one can tell us we can't support him." When Shibani finished speaking, an impromptu round of applause broke out.
"We believe Arthur didn't do anything wrong," Christian added earnestly. "We need to stand by him and trust him."
Shibani said: "There is money, and Arthur will help us."
"We are human beings," Christian chimed in again. "Beings, not B-E-A-N-S."
J Arthur Brown popped his head around the door. He was leaving. "I'll be in touch as soon as I have an affidavit," he said, touching one person lightly on the shoulder as he spoke. "Thank you for coming."
"Thank you Mr Brown," the table chorused.
After Brown's exit, the group began to discuss their plans for future "mobilising". They intended to picket the high court, but Christian warned that only 200 would be allowed on the court stairs, according to police regulations.
"We'll stand with placards near where the curators live!" Dudley Johnson submitted.
I asked what the placards would say.
"Please remove corrupt curators," was one suggestion. "Six years on the curators are eating caviar while we are eating dry bread," Johnson suggested. "Children are suffering and we don't have money for fees," proposed Maureen Williams.
"There's a lot of things we can write on the placards," Christian summed up.
Earlier, a Brown associate called Matthew Machin had come to chat to the group, and to lead their conversation down journalist-friendly routes for my benefit. Machin was keen to point fingers at Fidentia's curators, and encouraged the group to do the same. "If you think Mr Brown stole your money, you don't ask questions," he explained. An Internet search of Machin, who is British, reveals that he has also been a subject of accusations himself.
The group described their euphoria at the judge's finding last week that Brown should be acquitted on most counts. "When the judge said Fidentia was not a Ponzi scheme, I was elated! I was jumping in the air," Christian said. "It tells us that our law system really works."
Theobald told the Daily Maverick that he felt "very sorry" for the beneficiaries. "They have a right to see that justice is done. They placed a great deal of faith in the management of Fidentia to look after their funds. That faith was terribly abused, and unfortunately, the NPA has so far blundered in prosecuting the case," Theobald said.
"What [the beneficiaries] can do now is hope that the curators are able to deliver as much value as possible out of the winding up of the business. To start, they should discourage spurious legal action which merely wastes the money the curators are trying to realise. It is fair that they should exercise some oversight over the curators. Curators can make errors, be improperly influenced, etc. The oversight should be over how effectively the curators manage the assets they still hold, and how effectively they realise returns from those assets – i.e. sell at the best price," Theobald explained. "Unfortunately, conducting that sort of oversight requires specialist financial skills. I'm not sure the beneficiaries have access to such skills. They should make sure any such advisors have the qualifications, licenses and references to ensure they are worthy of their trust."
Back in the ad-hoc Fidentia boardroom, matters looked like they were rounding up on a very positive note, despite the financial losses suffered by those present. "There is a lawyer in place, a very good person," Christian said. "[J Arthur Brown] is busy trying to claim back all our money."
Written by: Rebecca Davis
Picture credit: Daily Maverick
This article was published on Daily Maverick.