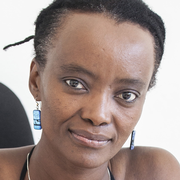 This past weekend was the annual meeting for lovers of fiction, history, politics, poetry, humour, wine and food. The Franschhoek Literary Festival is growing as a meeting place to contemplate the history and future of the written word in South Africa. World-renowned historian and the author of Stalingrad and The Fall of Berlin, Antony Beevor, provided a welcome antidote to the all-too-common South African tendency to navel-gaze. His account of the battle for Stalingrad during the Second World War makes the fight against apartheid seem like a walk in the park.
As usual, the festival had a few surprises. I chaired a session with a group of women who collaborated on a book called Prodigal Daughters: Stories of South African Women in Exile, edited by author Lauretta Ngcobo, who brought together a cross-section of women who spent a large part of their lives in exile. These women poured their hearts out in the book, narrating harrowing stories of escape, attempts to settle in foreign lands, the politics of exile, coming of age and the confusion about where and what is home.
There are 17 "prodigal daughters" in the book, and their stories stretch from the 1960s to the homecoming celebrations in the 1990s. Five of these women participated in the panel discussion: Barbara Bell, Ruth Carneson, Ngcobo, Gonda Perez and Annemarie Wolpe. We covered a range of issues, including the position of women in exile, loneliness, dislocation and the hierarchy of privilege in exile based on class and race. But the highlight was witnessing the meeting of Ngcobo and Wolpe, who came face to face in Franschhoek for the first time, despite having shared a similar life experience spanning almost 50 years.
The two women studied at universities at about the same time. Ngcobo went to Fort Hare and Wolpe to Wits University. This was in the 1950s, and very few women, especially African women, had the chance of getting a university education.
They also married men with high political profiles; Harold Wolpe, a well-known lawyer and senior leader of the South African Communist Party; and AB Ngcobo, a former leader of the African National Congress Youth League and founding member of the Pan Africanist Congress.
In the early 1960s, shortly after the Sharpeville massacre, Harold and AB found themselves in trouble with the apartheid government. They were arrested and served time in prison, and their wives had to make tough decisions about what to do.
They decided to leave the country. Their escape from South Africa is almost surreal. Their husbands were doing time in jail. They both had little kids and were scared that they too might end up in prison. They left their young children behind.
After a dramatic escape, Lauretta settled in Swaziland and got a job as a matron at St Michael's school. While working there, she read that two South African Jewish anti-apartheid activists, Harold and Arthur Goldreich, had escaped from prison disguised as priests. She discovered they were actually hiding at the school. From St Michael's, the "priests" went to Botswana, before settling in the UK. Annemarie, on the other hand, tried and failed to get herself smuggled out of the country on a boat from Durban. When she finally got permission to leave the country, she went to London, where Harold and her children joined her after a short while.
In the meantime, Lauretta struggled to leave Swaziland to join AB, who was subsequently released and was living in Zambia. Her efforts to get to Zambia through Mozambique were blocked.
It took diplomatic interventions by the British high commissioner to Swaziland telling the apartheid government that it had allowed the wives of the two white South African "jail-breakers" free passage to join their husbands and would not allow Lauretta the same privilege. She was eventually allowed to fly through South Africa to join AB in Zambia, and they finally settled in the UK.
Seeing these two women, both in their 80s now, hug each other after discovering how their histories intertwined, was one of those truly special South African moments.
Written by: Palesa Morudu
Picture credit: Business Day
• Morudu is a writer based in Cape Town. This article was published on Business Day.