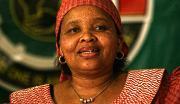 The 2013 UN Commission on the Status of Women ended last Friday, with a declaration on the matter of gender-based violence finally being agreed upon after two weeks of tense wrangling between liberal democracies and conservative governments. Our own Minister of Women, Children and People with Disabilities Lulu Xingwana led a delegation of big cheeses to New York for the occasion, though we haven't yet heard what Xingwana took home from it.
This year marked the 57th session of the UN's Commission on the Status of Women, which meets annually to discuss issues related to women globally. The 57th session carried the theme "Elimination and prevention of all forms of violence against women and girls": a lofty goal, and a timely one in a year which has seen a number of high-profile attacks against women which have drawn global outrage. Executive director of UN Women Michele Bachelet – who has since announced her resignation – opened proceedings with reference to 15-year-old Malala Yousafzai, shot in the head last October for daring to attend school. "It is for Malala – and for every girl and women, and every human being – that we must come to a strong action-oriented agreement to prevent and end violence against girls and women," Bachelet said.
It is also a theme with strong relevance for South Africa, a mere two months after the gang-rape and murder of Anene Booysen shocked the country. No doubt it was a testament to the timeliness of the theme in a South African context that a weighty delegation was dispatched to the UN to represent the country: aside from Xingwana, also in attendance were Social Development Minister Bathabile Dlamini; deputy minister of correctional Services Ngoako Ramathlodi; deputy minister of police Maggie Sotyu, a number of representatives from the National Prosecuting Authority and – rather perplexingly – the CEO of the Film and Publication Board, Yoliswa Makhasi.
We don't yet know what Makhasi's role was, what the trip cost, or whether the gang flew "lala-class". (That's Xingwana-speak for economy, you might recall, following criticisms of her jaunt to New York in 2011 at a cost of R6,8 million.) We were waiting with bated breath for the answers to these questions and more to be revealed at a media briefing by Xingwana on Monday morning, but the event was unexpectedly cancelled. All that Xingwana's spokesman Cornelius Monama would tell the Daily Maverick was that, "As a result of unforeseen circumstances, it was not possible to continue with the briefing."
We do know that Xingwana gave an address to the session on 6 March 6. You would think that she might have been feeling a fair amount of pressure on the global stage: after all, just two days later, a Huffington Post headline shrieked: "South Africa Violence Against Women Rate Highest In The World". But there was little sense of crisis in her statement, available on the UN website.
Indeed, Xingwana gave a pretty peppy account of South Africa's attempts to tackle gender-based violence, and gender inequality more widely. With regards to the latter, she drew attention to the progress made by South Africa in female political representation: 44% of parliament and 43% of the cabinet are women, figures which are among the highest in the world.
With regards to the less sunny topic of gender-based violence, Xingwana checked off a (short) list of measures taken to tackle the problem: among a few others, the roll-out of the Thuthuzela Care Centres, which provide services for rape survivors; the establishment of the Inter-Ministerial Committee on Violence against Women and Children; and the launch of the National Council against Gender-Based Violence. The Thuthuzela Care Centres are indeed highly regarded internationally, and gender activists welcomed the provisions made in this year's budget to extend their roll-out. It's hard to make as unequivocal a success story out of the establishment of the two other bodies Xingwana proudly listed, however.
The Inter-Ministerial Committee on Violence Against Women and Children is led by Xingwana and the ministers of social development, justice, health, home affairs, police and basic education. A powerful bunch, but they've yet to show their teeth yet. The committee was set up in May last year but appears to have little concrete to show for itself in terms of demonstrable outcomes thus far. In February this year it met again, and released a statement thereafter calling for the "move from policy to action", without specifying what this action might be.
The National Council against Gender-Based Violence, meanwhile, is made up of 30 members drawn from sectors ranging from the NGO world to academia. When the Daily Maverick spoke to one council member – UCT's Law Race & Gender Research unit head Dee Smythe – last December, she warned that the council's powers would likely be limited. "We won't have powers of implementation," she said at the time. "So the idea that 30 people can somehow coordinate the national strategy on gender-based violence is obviously not the case."
Well, as long as the rest of the world bought it. Xingwana's address made no mention of South Africa's high rape rates in particular, preferring to focus on "the global nature" of the problem of violence against women and girls. Nonetheless, her statement wasn't entirely without substance: for one thing, she condemned "in the strongest possible terms the targeting of the LGBTI community", and stressed the need to provide access to "reproductive health, including family planning and sexual health". (Read what Xingwana really feels about Lesbian art here. - Ed)
However commonsensical you might consider these utterances, deep divisions emerged early on in the UN's session on the matter of issues like these. The last time the Commission on the Status of Women tackled gender-based violence was 2003, and on that occasion delegates could not agree on a declaration, due to religious and cultural differences of opinion on issues ranging from gay rights to contraception. UN Women head Bachelet was evidently well aware of this possibility going in this time. From the outset, Bachelet made it clear that she would be willing to accept a declaration drafted with weakened language which nonetheless reflected the spirit of the issues. Language has been a particularly thorny issue at these conferences before. At the Rio+20 conference last year, the term "reproductive rights" was replaced in the outcome document with "reproductive health" as a sop to conservative delegates, to the disappointment of activists.
The secretary-general's report on violence against women and girls, released in advance of the session, painted a sobering picture of the global situation. UN-Women country data reveals that as many as seven in 10 women in the world report having experienced physical and/or sexual violence at some point in their lives – and, crucially, that statistics indicated this was "a universal phenomenon, irrespective of income, class and culture". For those moved more by money than bruises, a cost analysis of the economic impact of violence against women (carried out in countries including Australia, England and the US) revealed that the annual cost of such violence ranges from $1, 6 billion to $32,9 billion.
While progress has been made globally in improving criminal justice systems for dealing with perpetrators, and providing services for survivors, the report points out that there has been far less work done towards preventing violence against women. Preventative approaches are usually inextricable from wider social issues; consequently, the report cited a number of measures adopted by various countries which intersect with other contextual considerations. In Senegal, for instance, a national action plan has been adopted to address poverty as a means to address violence against women and girls. In Finland, a plan has been developed to address alcohol abuse as a means of limiting such violence. In Argentina, a law has reportedly been adopted which mandates the portrayal of men's and women's images in the media "in a way that promotes gender equality". Let's hope Lulu was taking some notes.
The draft declaration put before the member states over the past two weeks urged a number of steps in addition to the development of holistic preventative measures like the above. Namely, the strict prosecution of perpetrators of violence; allowing women access to sexual health care; outlawing practices like female genital mutilation; and allowing the survivors of violence access to emergency contraception and safe abortion where permitted by law.
But, inevitably, the mention of contraception and abortion – regardless of the circumstances – raised some hackles. From the session's beginning, it became clear that an alliance between the likes of Iran, Egypt, Russia, Saudi Arabia, Nigeria and the Vatican had serious reservations about references to reproductive rights and women's sexual rights. (The Vatican has a permanent observer seat on the UN.) It was not altogether clear why Russia had aligned itself in this manner, although some suggested it was an attempt by leader Vladimir Putin to curry favour with Islamic states.
Egypt's governing Muslim Brotherhood took a particularly hard line: last Thursday it put out a declaration on its English-language website announcing that the declaration, if ratified, "would lead to complete disintegration of society, and would certainly be the final step in the intellectual and cultural invasion of Muslim countries, eliminating the moral specificity that helps preserve cohesion of Islamic societies."
Examples of the "decadence" provided for in the declaration that the Muslim Brotherhood objected to included granting girls sexual freedom; granting equal rights to gay people; outlawing marital rape; and the sharing of home chores between women and men. Nonetheless, the Brotherhood wasn't able to stand in the way of the declaration eventually because the chief Egyptian official at the meeting, Mervat Tallawy – the head of the country's National Women's Council – backed the declaration.
On the other side of the fence, it was reportedly Scandinavian countries, together with the US, which led the charge for gay rights and sexual rights to be enshrined within the declaration. By last Thursday night, there was still no agreement. But in the end, on Friday, the 18-page document was adopted – and its wording explicitly criticises the use of culture or religion to justify gender-based violence. "The commission urges states to strongly condemn all forms of violence against women and girls and to refrain from invoking any custom, tradition or religious consideration to avoid their obligations with respect to its elimination," the declaration says.
In addition, it agrees on the need for emergency contraception and abortion for survivors of violence, as well as encouraging governments to promote and supply female condoms. Nonetheless, many were left dissatisfied on both sides. The US didn't like the fact that no particular references were made to lesbian and transgender women, a point also raised by civil society activists who would have liked to see stronger provisions on the topic of gender identity. The declaration was also criticised for containing no concrete targets, such as the Millennium Development Goals, and for not setting any clear steps as to how and when to implement recommended measures.
UK NGO Action Aid felt that the wrangling over the declaration had thrown up some worrying indications. "The process has raised some clear red flags about the state of global thinking on women's rights," the NGO stated. "A small but significant number of countries, led by Iran, Russia, Syria and the Vatican, have pushed hard to roll back language on women's rights to where we were decades ago."
But Bachelet declared herself satisfied with the outcome, and many others hailed the declaration as "historic", given the particular difficulty of getting Muslim states to come to the table on the matter of women's rights. Of course, as we see endlessly in South Africa, talk is cheap, and it remains to be seen whether any of this will translate to concrete action.
Perhaps Minister Xingwana returned home brimming with new ideas.
Written by: Rebecca Davis
Picture credit: Daily Maverick
Rebecca Davis studied at Rhodes University and Oxford University. This article was published on Daily Maverick.