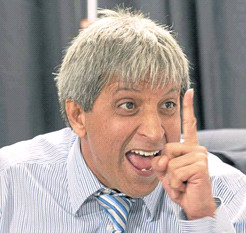 New Wits University vice-chancellor Adam Habib emphasises the need for balance in running SA'S universities, writes Sarah Wild.
You are there to create an environment for the academy. If rules are a hindrance to that, you must change them.
SITTING outside Prof Adam Habib's office, I hear emphatic shouts from within, punctuated with the occasional sound of a hand connecting with flesh. His secretary does not seem surprised.
When Habib, the deputy vice-chancellor of research, innovation and advancement at the University of Johannesburg and soon to be vice-chancellor of the University of the Witwatersrand, escorts the people he was meeting out of his office, there are no bruises, no missing teeth, no swelling eyes.
Within five minutes of meeting Habib, you realise that he communicates in impassioned statements and thigh-slaps, rather than fisticuffs. In the middle of a sentence, he leaps up from the couch and starts to pace the room.
This is the kind of energy he is expected to bring to the post of vice-chancellor at Wits University, which he will begin next month, although he will not commit to firm plans for his new role.
"My plans are bound to change — I have appreciated Wits from the outside by reading the system and documents," he says. And while he mentions the "great successes" of Wits — "it's old with an incredibly good pedigree, nationally and internationally, (as well as) incredible research centres and scholars" — he is forthright about the challenges it faces.
Last year was a difficult year for the institution, with academic staff unions going on strike twice in August, demanding that management address their concerns, which included higher wages.
Last year, a number of academics said the university was "declining" and pointed fingers at the institution's infamous bureaucracy. David Dickinson, president of the Academic Staff Association of Wits University, said: "The uncomfortable truth is that this decline has been dramatic. Between 2007 and 2011, we fell more than 100 places in the QS World University Rankings."
At the time, Wits' senior management vehemently denied that the university was declining.
Habib, however, was unequivocal in his comments: "Relative to its peers, Wits University is declining. In 1988, it had 10 less publications than in 2011.
In this 24-year cycle, the University of Stellenbosch has increased its research units 200%, Tukkies (the University of Pretoria) is up 100%; Wits is up 40%. A premier institution should not allow this to happen." How did this happen?
"It has become a research bureaucracy, and needs to be more supportive of the academy. This is true of many institutions, but there are particularly ominous trends at Wits."
Habib, a professor of political science, says the basic principle is that "support staff must realise that they are support, and that includes the vice-chancellor and deputy vice-chancellors. You are there to create an environment for the academy.
If rules are a hindrance to that, then you must change them. Rules are meant to enable outcomes. If they are not doing that, then they must change. But you must understand where the problem lies."
This is why he will not "do anything" for the first three months as vice-chancellor.
"For the first three months, (departing vice-chancellor) Loyiso (Nongxa) is still there. I'll go and talk to people: departments, academics, unions, postgraduates, the student representative council, and listen to what they think the problems are," he says, noting that this will enable him to create an institutional diagnostic report detailing the successes and weaknesses of the university.
Habib is candid and does not shy away from difficult topics — academic, political or both — and often introduces them. He is very concerned about the state's "anti-intellectualism" — "the anti-intellectualism at the heart of the government is worrying. It creates dangerous paths for our future."
In November last year, President Jacob Zuma spoke out against black people "who become too clever", saying "they become the most eloquent in criticising themselves about their own traditions and everything".
However, Habib is diplomatic: "At the same time, you have urban chauvinism against Zuma, deriding his education, and believing that he doesn't have feelings."
He shows the same candour when discussing academic topics and pokes into the heart of a number of sore points, such as academic incentives and remuneration.
The Department of Higher Education offers universities incentives for each unit of research published. The distribution of this funding in universities is a contentious issue: Does the individual researcher get it? Does the money go to the research group? Or should the money be spread out among all of the university's researchers?
Some academics and university staff do not believe academics should be incentivised to publish, arguing that the focus is then on quantity and not quality.
Habib not only believes that it is a good idea, but that researchers should get a portion of the incentive.
"There is an idea that academia is an island of equality and that academics don't need incentives, but this is an important component, and incentivising applies in multiple settings." He cites the successes and increased output at the University of KwaZulu-Natal, the Human Sciences Research Council (where he had been an executive director) and the University of Johannesburg following incentivising researchers.
But the reality is that "universities are only as good as their academy, so you have to get the best academics, and so salaries have to be competitive" and this includes incentivising them.
Academic remuneration is a hot topic at Wits University, following the academic strikes last year. Habib acknowledges there are "tensions between unions and management".
"There is a need for a university pack: there is a static budget, but students want a decrease in fees and academics want higher pay."
To reconcile these difficulties, "Wits needs a shared plan, and that needs trust."
Interestingly, when he talks about his possible plans for Wits, he doesn't talk about transformation or quotas — he homes in on research and academics.
"A university's reputation is defined by its research. The national need for serious professionals and skills — this is an immediate need. But the stature of a university is built by the nature of research — otherwise you can't get candidates to build the skills."
A word that peppers our discussion is "balance", from the fact that universities need to be places for "rich people with ability as much as poor people with ability" to balance between lower fees for students and increased pay for academics.
"The most important lesson is achieving balance between competing priorities," he says.
Story by: Sarah Wild
Picture: TYRONE ARTHUR
Caption: PASSION: Prof Adam Habib communicates in impassioned statements and thigh-slaps, rather than fisticuffs.
Source: Business Day