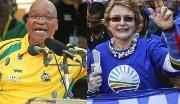 Politics is not exactly about manifestos. So when the DA, the EFF, Agang and the ACDP all launch their manifestos on the same weekend, it is not difficult to see that actually it is more about the pomp than the actual document, particularly for Julius Malema. That said, manifestos are important in their own way. Not only do they outline a different version of the future, they also give us an indication of what the party in question is trying to do. Thus the DA's and the ANC's documents reveal quite a bit.
There is always a fundamental difference in manifestos written by parties that know they are going to win elections, and those written by parties who know they are going to lose. If you are going to win, you have to know that there is a danger you will actually be held to your electoral promise. If you promise "radical change", and you become the government, people are going to try to hold you to account. If you know you'll lose, as the DA has already admitted, then you can be less timid.
So, in South Africa in 2014, the more radical the manifesto, the less that party judges its own chances.?Of course, ever an outlier, Julius Malema will never admit that. But it does explain why the ANC's manifesto is very much "more of the same".
It can't be blamed for that; most ruling parties in their position would do exactly the same.?As a party, the DA is the one organisation apart from the ANC that has the resources to make sure a group of clever people sit in a room for a long time and work out whether their promises are actually feasible. This means that it does in fact produce a document that would outline change, and viable change at the same time. But some of the promises are really of the same type as the ANC's, just going slightly further.
For example, the DA has promised seven million work opportunities, through the expanded public works programme. The ANC promised six million. That's just numbers.?But there are some quite radical differences, like with the issue of crime and justice. Of course the DA is going to lament how the ANC government has allowed way too many criminals to go free. It suggests that if it were in power, it would allow the victim of a crime to make representations before such a decision were taken. In other words, they would be able to make a case before a judge as to why that suspect should actually be tried. It's a great idea, and is likely to catch the imagination of some people. And it's an indictment on the National Prosecuting Authority, and President Jacob Zuma's management of it, that such a wide gap is open.
If Helen Zille one day were to be asked what her secret weapon was in this election, she would probably answer "Jacob Zuma". For a party that has its base in the middle class, Zuma has been a great weapon. And so it's entirely predictable that the manifesto starts by explaining how many jobs were created during the Mandela and Mbeki presidencies, and how so many have been lost under Zuma.
Running through the DA's manifesto is a simple focus on jobs. It's Zille's continued critique of the ANC policies that it's created "insiders with jobs, and outsiders without them". So there's a focus on reducing red tape, redefining a "large firm" under the various employment acts to be a company with more than 250 employees, and, very interestingly, changes to the way bargaining councils work. At the moment, smaller firms have to stick to the agreement struck between the bigger firms and their employees. This means that a small firm in Dannhauser has to pay its workers the same as a much larger operation in Gauteng. The DA wants to remove this, and allow workers and their employers to reach their own, realistic agreements. As an aside, this is also the subject of a court challenge by the Freemarket Foundation, which believes it may be unconstitutional for someone to agree to work for a certain wage, but be denied that opportunity, because someone somewhere else has struck a deal without that person, and their potential employer, being represented.
I realise I'm pretty boring on this subject by now, but it's worth saying again: if you can answer how those who voted for Cope in 2009 will vote in 2014, you can probably predict most of the outcome of this election. It's a calculated move to attract those very people, those who felt like booing too when they watched the Nelson Mandela memorial service at FNB, a bid to woo them. If they read the manifesto, it might work. If.?While we're here, the DA takes great pains to point out that if its policies were implemented (and that's a another pretty big if), the economy could double its size in ten years. And that would mean the national budget could double, which would mean more money for social grants. Oh, very clever. It's a great example of political targeting, extending your appeal to a group of people who would normally not consider voting for you.
For those who have been following the DA's recent issues around employment equity and black economic empowerment, and its growing pains on reaching the aspirational black middle classes, this particular piece of the manifesto will make interesting reading. The party is caught between trying to attract black votes on the one hand, and keeping its white base happy on the other. It's worth quoting how they get around it:
The DA rejects racial quotas in favour of programmes that actively promote black advancement by extending opportunity.
We support incentives for firms to implement programmes of black advancement rather than punitive measures that hamper growth and jobs.
We regard redress programmes as transitional measures that must be subject to regular review. This is to evaluate their on-going effectiveness and to ensure that the measures of disadvantage used are still valid and optimal.
If you are a politician and trying to have your cake and eat it, that's probably as close as you're going to get.?While much of the DA's manifesto is about what it would do, should it become the governing party, there is of course one province where it is the government and has a real track record to quote. And that place, the Western Cape, is mentioned throughout this document. Dotted all over it is how the province delivers, how it's poor people who really benefit, how even national government programmes are being rolled out better than in other places. It shows the real importance of governing somewhere, even if it is just one province that is quite different to the rest of the country. It demonstrates what the DA has tried to make our politics about for the last ten years: "service delivery, service delivery, service delivery".
Of course, it hasn't succeeded in that. South Africa is still largely about identity politics. This is why the ANC is allowed to get away with a "more of the same" message. But it's also because the ANC can use its manifesto, to a great extent, to point to its successes. Expect more of the phrase, "We have a good story to tell" in the future.
Here at the Daily Maverick, we like ideas. It is what we're for. Which is why we encourage you to read all the manifestos you can get your hands on. The ANC's has almost as many pictures of white people and black people working together as the DA's. And the EFF's doesn't appear to feature on their website. But read their founding manifesto anyway. And then decide.
By Stephen Grootes
Source: Daily Maverick
Grootes is the host of the Midday Report on Talk Radio 702 and 567 Cape Talk, and the Senior Political Correspondent for Eyewitness News. He's been part of the political hack pack since before the Polokwane Tsunami, and covers politics in a slightly obsessive manner. Those who love him have recommended help for his politics addiction. He quotes Amy Winehouse.
Grootes studied at Rhodes University
Photo: The ANC's Jacob Zuma and the DA's Hellen Zille (Reuters)