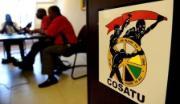 While most of the country is poring over recently published election manifestos, and pondering the different visions for the future of us all that they spell out, a political earthquake of possibly bigger significance is beginning to gather momentum. As you read this, Cosatu's Central Executive Committee is engaged in one of its traditional three-day meetings, but this one could culminate in a vote that sees metalworkers' union NUMSA being suspended, or even expelled. Should that happen, only a fool would think that NUMSA would be the only union to go. Which means that the entire playing field between unions, employers, and government is about to change. With AMCU sitting in the wings.
On the first floor of Cosatu House, in a room that is best described as "un-shabby", the leaders of the various unions that make up the federation are currently embroiled in yet another meeting. The context to this is that at their last meeting, NUMSA and the eight unions that support it were absent, resulting in only NUMSA's opponents voting on a resolution. That resolution was for Cosatu to formally write to NUMSA, and ask why it should not be "suspended or expelled" for taking a decision at its special congress in December, to withdraw its support for the ANC, and the Alliance in general. Since that decision was taken, letters have been exchanged. NUMSA has told Cosatu it wants the minutes of that CEC meeting, and wants to make sure it was quorate. Cosatu hasn't responded. Which means that NUMSA has not actually formally responded to this demand.
It may sound childish, but it's really setting the stage for part of the elaborate ballet that's seen NUMSA pretending to want to stay within Cosatu while really wanting to be expelled, and Cosatu pretending to want to expel them while really wanting to keep them in. (Or something like that.)
While Cosatu could calibrate its response, with perhaps a suspension of the entire union, or maybe just the suspension of NUMSA's leaders but not the union, or just delay a decision entirely, everyone knows how this movie will end. NUMSA will leave, taking the eight unions with it. Already the Food and Allied Workers Union (FAWU) has said that it won't tell its members to vote for the ANC but will "encourage" them to, to make sure that "right-wing elements, and opportunistic parties" don't benefit (that's more likely to be code for Julius Malema than the DA). Then parts of those unions will possibly decide to stay within Cosatu, while parts of the unions that decide to stay within Cosatu may actually leave as well.
In short, as we've mentioned before, it will get messy.
However, certain recent events in the platinum sector have revealed how the role of various parties is really going to change. The Association of Mineworkers and Construction Union's strike (AMCU) in that sector is now nearly a month long. It's been strongly rumoured that government, and the Department of Mineral Resources, has whispered to the three main employers (Implats, Amplats and Lonmin) that they should be as firm as possible with AMCU. That they should stand tough. At the same time, Amplats has done something that has never happened before. It's decided to sue AMCU for loss of earnings during the strike. The legislation for this has been on the books since the 1980s (no doubt put in place by a government that was not what you would call union-friendly), but has never been used before. On Monday, news broke that Amplats has decided to up the pressure even further, by suing the leaders of AMCU for contempt of court. It says that they should be fined, or thrown in jail, for breaking picketing rules.
In a dispute like this one, it makes sense for the employers to use every legal option they have to increase the pressure on their opponents. If AMCU wants to use violence (which it denies) then it makes sense to respond through law. It doesn't seem like Amplats really wants to get money out of AMCU, but it could well force the union to reveal its finances. Amid strong rumours that it has an income of R10 million a month from its members, that could well force its leader Joseph Mathunjwa to make a few hasty explanations.
What is interesting here is that in all the disputes between mines and the National Union of Mineworkers, these strategies have never been used by the employers before. Time and time again, we've had orders from the Labour Court that unions must not use violence, that they cannot occupy working areas, that they must abide by the law. Time and time again, they've broken those orders. And yet it's only now that someone is actually going to take action.
Why? And is the answer to that question linked to the fact that, in the past, government played a certain role in these strikes. It has also been felt that business perhaps felt it got a raw deal from government during these disputes. Government ministers could not really claim neutrality, when they ruled as part of an Alliance that included those unions. AMCU is not part of Cosatu, and thus the rules have changed.
This means that in future strikes, an ANC government could play more of a neutral role. It may find itself with its interests aligned more with the mine owners than with the mineworkers. Ministers might think that it's worth more to them to project the right international image, to protect the currency and the economy more generally, than to pressure employers to bow down to a union that is part of a political formation that is opposed to them anyway.
This could be extended even further. Business has complained before that during negotiations over labour laws at NEDLAC, it's often ignored, because it's simply outvoted. Government has generally gone with labour. This means that what happens at NEDLAC itself starts to change. Government might be forced to become more neutral, and be more about governing for the whole country, than for the interests of a certain union federation.
However, that's the simple part of this equation. Because within all of this, we will have unions competing for members. And in the current South African context, as a certain Mr Malema will tell you, the best way to market yourself is to be radical. The more you promise, the more members you might get. Which means that you could have unions all demanding higher wages in competition with each other.
Then, once they've made those promises, the pressure will be on them to deliver. In this scenario, strikes will last longer, and be bitter and violent.
There are also other scenarios. Government might intervene earlier and more often. If tensions rise to a point where a strike lasts a very long time, but the employer is seen to win after firing thousands of workers and actually making the decision stick, perhaps a less radical union will suddenly become more attractive.
It's difficult to say. But in a year in which so much seems to be realigning, this is a series of dynamics that are sowing the seeds of industrial relations for many years to come.
By Stephen Grootes
Source: Daily Maverick
Photo: Cosatu Gauteng secretary Dumisani Dakile and Gauteng chairman Phutas Tseki (background) hold a news conference in Johannesburg on Wednesday, 13 November 2013.Picture: Werner Beukes/SAPA – EDITED PHOTO.
Grootes is the host of the Midday Report on Talk Radio 702 and 567 Cape Talk, and the Senior Political Correspondent for Eyewitness News. He's been part of the political hack pack since before the Polokwane Tsunami, and covers politics in a slightly obsessive manner. Those who love him have recommended help for his politics addiction. He quotes Amy Winehouse.
Stephen Grootes studied at Rhodes University