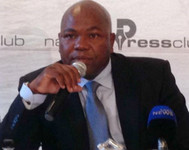 Over the course of the last few days it's emerged that there are serious claims as to the probity and past behaviour of the National Director of Public Prosecutions, Mxolisi Nxasana.
The Sunday Times, under the typically understated headline "Fire Him!" reported he'd been accused of murder and acquitted on the grounds of self-defence, convicted twice for assault as well as having been accused of reckless and negligent driving. It also detailed how the police reservist who'd arrested him after he refused to obey police officers could not find out what happened to the case, which had clearly disappeared.
Oh, and he acted for one of the accused in the "Amigos" case, which involves serious corruption charges against ANC MECs in Durban. These revelations, along with claims that he did not pass an intelligence clearance, shine a light once more on the relationship President Jacob Zuma has with our Constitution, and his powers under it.
When the History of the Zuma Years is written - and there will be a market for such a publication - about half of it is going to centre on his relationship with the Constitution. It's such an interesting philosophical question. Does Jacob Zuma really believe in the Constitution? What did he really think, in his own voice inside his own head, when he swore the oath, say, for the second time, to uphold it? Was he thinking about the checks and balances on his own power or about how to uphold them for the next generation? Or was he thinking about how to circumvent them? Or how to best keep the ANC in power? Or, quite naturally, was he just thinking about how he and Gwede had spent the night before arguing about the Cabinet he would have to announce in a few hours time?
The key to all of these questions may well lie with the person Zuma was facing as he took the oath. Not us as South Africans you understand, not the assembled VIP's who had finally shaken off the shivers they'd endured since being at the Park and Ride in Rietondale Park at 3am. But the man he was facing; Chief Justice Mogoeng Mogoeng. The man who 'God wanted to be Chief Justice'. Mogoeng himself clearly feels emboldened enough by the decision of the voters, guided appropriately by a higher hand, to feel comfortable in being a little more honest of late.
Whichever way you look at the decision by Zuma to appoint Nxasana, it is clear that not enough work went into it. Mind you, it was never understood at the time why he had chosen this person in the first place or what the unique attributes were that he possessed and that made him such a good choice for one of the country's most important jobs.
It's important to remember the context here. From the start, the NPA has been politicized. Mbeki appointed Bulelani Ngcuka who famously felt he should brief only black editors, Mokotedi Mpshe took the decision based on incorrect law, as it turned out, to withdraw the corruption charges against Zuma, and Vusi Pikoli was kicked out for daring to charge then National Police Commissioner Jackie Selebi, who was later convicted of aiding a drugs trafficker anyway.
By the time Zuma appointed Nxasana last year, the post had been vacant for around ten months. Zuma's first term choice, Menzi Simelane, had been overruled by the Constitutional Court on the ground that he was not a "fit and proper person" as the Constitution stipulates this person must be. So, for ten months Zuma did nothing. And it is now clear that that time was not spent researching Nxasana's past.
There is no evidence to suggest that any other person of substance was considered and vetted for this massively important position.
Certainly, we now know that there was no proper background check on Nxasana, as a check of someone's criminal record is a pretty straightforward thing to do. And once you find evidence of some criminal act, you then investigate further. Either way, warning lights would have flashed early on in this process.
So why wasn't all that done earlier?
It can sometimes be hard to not just assume that actually Zuma doesn't give, uhm, a flying fig for the appointments he makes. Nxasana was appointed with no checks, Mogoeng is clearly not the best possible person for the job (to be fair, he has not done anything while in his post that has been seen to go against the main thrust of the court, to give anyone evidence to claim he is "Zuma's man". That said, in a country with a secular constitution, someone claiming that God himself wants you as Chief Justice would surely get the red lights flushing in the very beginning of the process), Bheki Cele is fired because of findings of gross negligence, is still challenging that process in court while still becoming a deputy minister in the new government.
The post of head of the Special Investigating Unit was left open for eighteen months, despite Zuma's repeated claims that this was an important unit in the fight against corruption. The head of the Government Communication and Information Services is still open (Phumla Williams has been in an acting position for over a year since the departure of one J Manyi). And that's just off the top of my head.
And Zuma has given no explanation at all for any of these appointments, or non-appointments.
To look at the damage this causes, go to the NPA itself.
Once again, it has a head who is under fire. Once again, it appears there are political machinations behind a campaign to have him fired. Once again the NPA head is standing firm and refusing to leave and once again the entire organisation is going to be dragged through the mud.
Imagine being a prosecutor in the NPA? How on earth can you feel proud of the organisation you work for, and of what you do, when you have no continuity of leadership? One lesson we as South Africans have learnt over the last twenty years is that symbols matter, and that the person who is the face of your country is a very important symbol. Ask about the pride people felt during the Madiba years, and ask how they feel when they see Zuma at the FNB stadium.
And the NPA matters. Make no bones about it, in a country with a crime rates like ours, where it sometimes seems the very essence of law is under pressure, the NPA is vital. It must be seen as independent and as above reproach. The person leading it has to be someone of the utmost integrity. Someone who when they make a decision almost automatically has support for that decision, because of their track record, because of their very character. In order for South Africans to trust it, head of the NPA must be someone of Thuli Madonsela's stature.
Instead, we now have someone who it has become all too easy to question. Whenever they make a decision, whether it is political or otherwise, we will be able to hint at the deepest and worst possible motivations for it. Those who oppose him, i.e. suspected criminals, most certainly will use this whenever they can. If not in law, then certainly in the court of public opinion.
The most crucial cases that Nxasana will deal with, presuming he stays on in the post, will be the political ones. Those involving senior ANC figures, and at some point, possibly, the president himself. When that happens, he is going to need credibility. It will be the only asset he will have.
And that integrity has already gone. No matter what comes to light, which circumstances emerge that show all of the claims against him were baseless, once the headline in the second biggest media organisation in the country says "Fire Him!" you can't get it back. So, when he has to deal with the Zuma Spy Tapes, or even a decision to reinstate the charges against Zuma, no matter what he does, he's now down in the mud with the politicians. Not above them, being seen as impartial.
Which is maybe why he was made Number One at the NPA in the first place.
Photo Caption: National Director of Public Prosecutions, Mxolisi Nxasana (EWN)
By: STEPHEN GROOTES
Grootes is the host of the Midday Report on Talk Radio 702 and 567 Cape Talk, and the Senior Political Correspondent for Eyewitness News. He's been part of the political hack pack since before the Polokwane Tsunami, and covers politics in a slightly obsessive manner. Those who love him have recommended help for his politics addiction. He quotes Amy Winehouse.
Article Source: The Daily Maverick